The Edmonton Oilers entered free agency with a lot of issues. The two main jobs of summer—signing Connor McDavid and Leon Draisaitl—remained undun. Therefore it was no surprise that the Oilers didn't make a major investment on Day One of free agency. Prices were high, as expected, there are still names available—and the Oilers need help in at least two areas.
FREE AGENT LIST
R Radim Vrbata (81gp, 20-35-55). Scorer.
RD Christian Folin (51gp, 2-6-8). Young, available, skilled.
RD Cody Franson (68GP, 3-16-19). One-year deal? I would do it.
C-L Brandon Pirri  (60gp, 8-10-18). Low-cost scorer.
LC Dominic Moore  (82gp, 11-14-25). PK and FO option.
R P-A Parenteau  (67gp, 13-15-28). Can still score.
LD Yohann Auvitu (25gp, 2-2-4). He looks like a player.
LC Mikhail Grigorenko (75gp, 10-13-23). Good faceoff man, young, had utility.
R Alex Chiasson  (81gp, 12-12-24). Has some value.
R Ty Rattie (9gp, 0-2-2). Oilers signed him to a two-way deal. 
Have to sign McDavid and Draisaitl, so even this humble list of free agents may be off the board by the time Peter Chiarelli can go shopping with confidence.
50-MAN LIST (46+2SR)
G Cam Talbot. Martin Jones contract signed yesterday may inform his next deal.
G Laurent Brossoit. Backup job is his alone.
G Nick Ellis. Splendid first year pro, on par with Brossoit if he can sustain it.

G Edward Pasquale

. At the very least a capable AHL starter.
G Shane Starrett. Another college goalie with strong resume. First pro season coming up.
G Dylan Wells. Slide rule, he'll spend one more year in junior.
Five pro goalies means a full deck for the coming season. Talbot will be counted on for 60+ games but perhaps more important Laurent Brossoit will need to deliver 20 points or more from his 20 games in 2017-18. Nick Ellis is my bet for first callup, perhaps Pasquale sees his first NHL action. In what is going to be a theme on this roster, the Oilers are going to give inexperienced hands a chance in an important role. It is Laurent Brossoit's time to establish himself as a big league backup.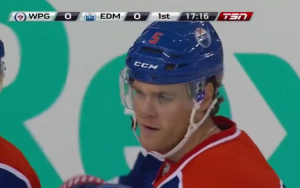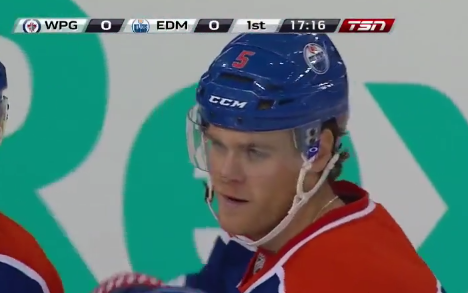 LD Oscar Klefbom. The club will need even more from him. 25 minutes?
RD Adam Larsson. Evens and PK, Larsson will be a major player.
LD Andrej Sekera. His injury casts a shadow over the first 40-50 games.
LD Kris Russell. He will play a major role on the team, may lead in TOI.
RD Matt Benning. May end up around 22 minutes a night and add PP time.
LD Darnell Nurse. If he can take a step forward, Oilers may muddle through.
RD Mark Fayne. If I didn't know better, I'd say the Oilers made room for him.
RD Eric Gryba. He is a solid 7D, but regular duty as 6D will expose him.
LD Ryan Stanton. Shutdown type, he is in the mix for NHL playing time.
LD Dillon Simpson. He is in a callup spot currently. Important for Bakersfield.

LD Keegan Lowe.

Takes on the David Musil role.
LD Ziyat Paigin. Wingspan of a Condor. We may see him in 2017-18.
LD Ben Betker. Big man should get a full AHL season.
RD Ethan Bear. A player to watch in Bakersfield, could get NHL cup of coffee.
LD Caleb Jones. Fastest and most mobile of the new pro defensemen.
RD Ryan Mantha. Big man, big shot, good speed. Duplicates Bear's skill set.
LD William Lagesson. He'll spend the year in SHL shutting down Swedish forwards.
There are 18 names, but Andrej Sekera is on LTIR and William Lagesson will be in Europe. If Sekera was healthy, I'd be defending this group as capable. We are looking at 40-60 games without him at 100 percent. Maybe more. I am onside with Mark Fayne as an NHL defender and that may well be the plan. I am more convinced of it with the signing of Stanton, who would be the obvious 8D down on the farm awaiting a recall. As of now, opening night may be Klefbom-Larsson; Russell-Benning, Nurse-Fayne with Eric Gryba as 7D and Stanton the prominent one in Bakersfield. If the Oilers add Cody Franson, that will change, if they add Jared Cowen it will not. Your Sekera replacement is Matt Benning.
LC Connor McDavid. Another 100-point season is vital.
LC Ryan Nugent-Hopkins. He must find his offensive touch at 5×5.

RC Ryan Strome.

 He'll be mirror man to Leon, could emerge as 97's RW.
RC Mark Letestu. Great utility, can he score 16 again?
LC Grayson Downing. He will be a feature player in Bakersfield.
LC Joe Gambardella. As of this instant, he has a chance to make the team.
RC Kyle Platzer. We'll know by Christmas if the Oilers have any plan for him.
LC Bogdan Yakimov, RFA. Genuinely shocked they qualified him.
The Oilers achieved equal lefty-righty balance at center (if they run the forwards this way) but most of the heavy work belongs to McDavid and Nuge. The 5C at the NHL level may be Jujhar Khaira but don't discount the idea of adding another NHL center to this group (the new Lander). The Condors also need a center, I wonder if Josh Currie will be signed to an AHL deal. A nice spot for Downing, who might see some NHL action (along with Gambardella).
L Milan Lucic. Expect improved 5×5 performance, possibly with Leon.
L Patrick Maroon. McDavid's winger again, can he post 30 goals?
L Drake Caggiula. I think he may see extended time with 97. 15 goals?
LC Jujhar Khaira. As of now, he is an NHL regular. Oilers showing confidence.
L Joey Laleggia, RFA. If PC is done, Laleggia has an outside chance to make the Oilers.

L Mitch Callahan.

Capable AHL veteran, does he have enough for an NHL look?
L Braden Christoffer. AHL energy winger.
L Tyler Benson. Slide rule, appears to be healthy and ready to go.
This area of the depth chart could use a boost, I think there's a real chance we see both Laleggia and Callahan in the NHL at some point. Drake Caggiula is the main beneficiary from the Pouliot buyout, he has shown some utility (PK now a really important part of his game). Lucic and Maroon have to repeat their 20+ goals from a year ago and getting Caggiula in double digits would be a big help. Jujhar Khaira has to be feeling good about things right now.
R Leon Draisiatl, RFA. Contract could drag out all summer. A fantastic young player.
R Jesse Puljujarvi. Oilers are all-in on him beginning this fall.
R Anton Slepyshev. PC mentioned him as being one of the youngsters who impressed.
R Zack Kassian. Will spend time higher up the depth chart.
R Iiro Pakarinen. The Rattie signing means direct competition, but Iiro can PK.

R Ty Rattie.

A very good chance he sees NHL playing time.
R Patrick Russell. Scored only 8 times as rookie pro. Needs to fill the net this year.

R Brian Ferlin.

Injuries have derailed him, can he recover?
R Greg Chase. Final year of entry-level deal ahead, has shown only flashes.
Chiarelli's comments about Strome at center yesterday were heartening for me, as the roster sets up with more balance if that is the case. Leon is a splendid RW, one of the best in the NHL a year ago. I imagine he remains at center for half the season or so, but the roster makes more sense with this alignment. Jesse Puljujarvi is listed as 2R, but Slepyshev and Kassian will have something to say and we may see shuffling all winter long. Pakarinen and Rattie will be fighting for that last spot and it's possible both men could make the team. Brian Ferlin's medical story makes him an easy player to cheer for, we'll see where he lands.
WHO WILL KILL PENALTIES?
Mark Letestu 2:08
Anton Lander 1:53
Ryan Nugent-Hopkins 1:43
Matt Hendricks 1:30
Benoit Pouliot 1:21
Zack Kassian 1:06
Connor McDavid 0:48
Drake Caggiula 0:41
You want three sets of two for the PK and you don't want McDavid out there a lot (if at all, in my opinion). I would expect Letestu, Nuge, Kassian, McDavid, Caggiula to get help from Pakarinen and Khaira but this is an issue and a concern. I prefer using 4×5 shots-against/60 as my measuring stick, and Pouliot was quality in the discipline. Any ideas who fills his 90 minutes?
EXTENDED FREE AGENT LIST (FORWARDS)
L Patrick Marleau FREE AGENT.

(82gp, 27-19-46). Knows the coach.

R Drew Stafford FREE AGENT 

(58gp, 8-13-21). Chiarelli type.

R-L Thomas Vanek FREE AGENT

 (68gp, 17-31-48). Offensive option.

R Jarome Iginla FREE AGENT

 (80gp, 14-13-27). He can still shoot the puck.

R Jaromir Jagr FREE AGENT

 (82gp, 16-30-46). Now 70, still going.

R Ales Hemsky FREE AGENT

 (15gp, 4-3-7). Still brilliantly creative.

C-L Brandon Pirri  FREE AGENT

(60gp, 8-10-18). Low-cost scorer.

R P-A Parenteau FREE AGENT

(67gp, 13-15-28). Can still score.

LC Mikhail Grigorenko FREE AGENT

(75gp, 10-13-23). Good faceoff man.

R Alex Chiasson FREE AGENT

(81gp, 12-12-24). Has some value.
I think Pirri is the top affordable name here, but who knows? Peter Chiarelli said yesterday that he wanted to see what the kids can do and didn't want to block them. That's kind of saying they are giving these kids jobs without making them earn it. I believe the correct course of action is signing a veteran (Jagr!) and then forcing Jesse Puljujarvi, Anton Slepyshev and Drake Caggiula to beat him for the job. I'm not the general manager, but be warned: If this team gets off to a slow start, I will be yelling bloody murder about it on this blog.
EXTENDED FREE AGENT LIST (DEFENSE)
RD Cody Franson FREE AGENT (68GP, 3-16-19). Out of the blue and into the black.
LD Brian Campbell FREE AGENT (80gp, 5-12-17). The man can still wheel.
LD Yohann Auvitu FREE AGENT (25gp, 2-2-4). He looks like a player.
RD Dennis Wideman FREE AGENT (57gp, 5-13-18). Going to the end of the line.
I don't know if Cody Franson has enough foot speed to play for Todd McLellan, but if he does then signing him to a short-term deal makes sense to me. Brian Campbell is likely Chicago or bust but I like him enough to list him here. Auvitu is available for just money and not very much of it. A nice bet.
OILERS PROJECTED ROSTER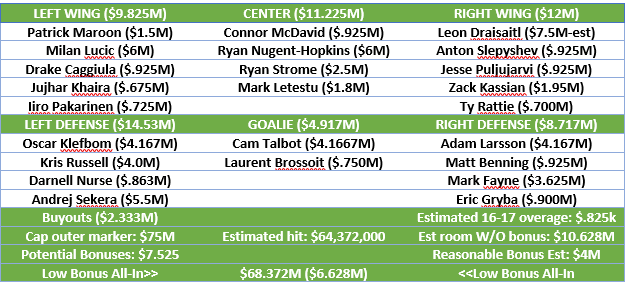 I was most interested in Radim Vrbata's signing yesterday as it pertains to the Oilers and the salary cap. If we project an offer sheet of $10 million for Leon (and my numbers are correct), there would still be $4.128 million in room if the club plans for payout of $4 million in bonuses. This could be accomplished by sending Jesse Puljujarvi to the farm for part of the season, as an example.
Still, at $3.25 million (with performance bonuses) that means money's too tight to mention against the cap. Therefore, if you are mad at Chiarelli today about not signing a $3.25 million free agent, I will refer you to the clearly contentious Draisaitl negotiations. Is there a veteran forward out there who will sign for $2 million and a guaranteed roster spot? Probably not today.