Now that Peter Chiarelli has cost certainty on the McDavid deal (woot!) he can safely move on to the next major item: Signing Leon Draisaitl.
CHIARELLI SUMMER LIST
Sign Connor McDavid

. (8 years, $100 million. $12.5 cap hit annually)
Sign Leon Draisaitl. (Still to come)
Negotiate the expansion draft rapids without giving up a valuable piece of the future. (Griffin Reinhart)

Find a way to trade Benoit Pouliot off the roster

. (Bought him out)

Find a second pairing RHD with two-way acumen

. (Matt Benning) 

Find a stopgap measure to replace Andrej Sekera's minutes until he returns

. (Kris Russell)

Find a C-R who can help the offense and cover off where Leon isn't at the time and to replace Jordan Eberle if he's dealt

. (Ryan Strome)

Make enough cap room to get everyone in under the number with enough room to spare for the trade deadline

. (Eberle and Pouliot)
That's the summer. We have Leon to go and the cap room is there there is there's someone out there who is of interest.
PROJECTED ROSTER 2017-18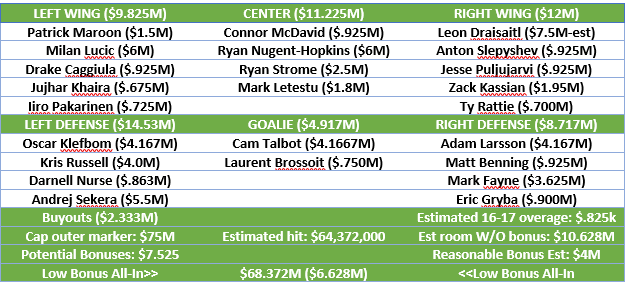 The Oilers have room and Chiarelli will spend (imo) before or during the season to tweak the roster. Who could they add? Reports (Bob) have the Oilers looking for a player who "fits the team" and offers leadership. That could be anything and is deliberately vague, so not much we can do beyond list names until the cows come home. Speed was mentioned, so Brandon Pirri could be a guy to help. If we imagine the Chiarelli template for a Bruin Oiler, it's pretty easy to see who might be of interest among forwards. Drew Stafford, Alex Chiasson, Jarome Iginla and Shane Doan are all physical wingers who can punish opponents. One area I think PC should be looking? Penalty kill. Here are the top PK men (by TOI per game) among free agent forwards:
Daniel Winnik 2:31
Chris VandeVelde 2:30
Matt Cullen 2:19
I think Pirri and Franson are reasonable bets, Oilers probably end up with a big winger like the ones above.
Photo by Mark Williams
PAL JOEY
Joey Laleggia filed for arbitration today, not sure of the plan here. JL has a shot at spending time in the NHL this season, the contract basically writes itself. The one item about him (increased AHL offense) is a curio, but I'm not sure it gets him paid anything this summer.
MCDAVID
Reading a bunch of things online that are basically insane regarding 97"s contract. Here's the deal. The outer marker was $15 million (I believe) and he settled for $12.5 million. Eight years, times 2.5, is $20 million. There will come a time when the best players in the game take what they're worth, and when they do I'm sure we'll hear even more howls than we have today.
It's still ridiculous. If McDavid makes $15 million, he's paid the maximum and a role player must take less money. This is a true fair market situation. What we have today is a class act showing all of us what matters to him. I hope he wins 12 Stanley's, all in Edmonton.