It's down to Leon. As each day passes without an offer sheet (Carolina, New Jersey, Nashville and Arizona could still do it), the Draisaitl side must come to grips with the idea that negotiation is once again necessary. Unless an offer sheet comes calling, or one side decides to move in order to close the gap in AAV ask, we are probably going to be talking about a bridge deal.
RE GP PROJECTIONS
I'm just getting started on the RE projections, it's an interesting process that shows areas of strengths and weakness on the roster. As you see below, this team badly needs a couple of these RW's to emerge as scorers and there's work to do on defense.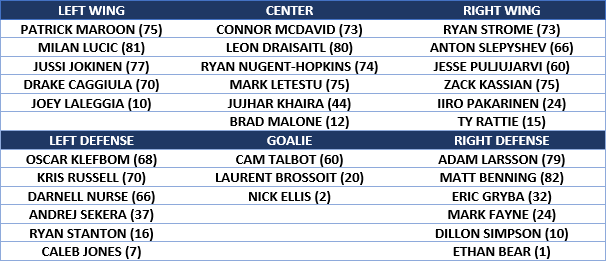 The addition of Jokinen gives structure to LW, to the point we can see Caggiula possibly getting some time on RW with skill (top 2 lines).
Center is rock solid if the depth chart ends up looking this way and everyone stays as healthy as I'm projecting here.
The starboard is the issue up front, Todd McLellan will be sorely tempted to play big Leon there. Ryan Strome has a fantastic chance to win a scoring role on McDavid's line. I bet he's dreaming about the opportunity coming this fall and what it might mean to his career. He's Ken Hodge 1967, right now.
I've projected the left side of the defense with Russell, seems to me Sekera is going to miss half the season and then take some time to get back to 100 percent. Klefbom and Nurse may have some injury issues this year, injuries have been part of their early pro careers.
On the right side, I have Larsson and Benning running most every night, and then the third pairing being a bit of a mess that includes Gryba, Fayne, Simpson and even Russell (Ryan Stanton and Caleb Jones playing LH side for a time).
Cam Talbot gets 60 games by my current estimate, I'll probably change it to 65 by the time I run the actual RE.
Despite misgivings about RW—McLellan may spend the entire season auditioning youngsters—the balance photo is a capable RHD away from appearing.
It looks like Foo Fighters for RE, I'll start with 97 probably a week from now.
ROOM TO WHEEL
One thing we can probably begin to discuss is the Nuge exit. Adding Jokinen (who can play center) gives PC a chance to make a move should a Justin Faulk or Tyson Barrie shake loose. The Russell signing complicates things moving forward, but we may see some movement anyway next summer when the Benning and Nurse renewals come into view. It may come down to asking Andrej Sekera to waive his no move or dealing Darnell Nurse in 2018.
PULJU
Jesse Puljujarvi could benefit from another 30 games in Bakersfield but the actions of management this summer suggest he'll go into camp with a job to lose. Added to Anton Slepyshev and Drake Caggiula, that's three players who could play top 9F for much of the season who we really don't know about offensively. Ryan Strome's experience gives him a big advantage over the rest of this group. Would Jaromir Jagr help the situation? Absolutely. That said, just because all these kids have arrived at the same time doesn't mean the Oilers can afford to make a rash decision. I honestly don't know who is going to emerge from this group as the goal-scorer and that may mean none of them do and we're back talking about this again summer 2018.
CURRENT 50-MAN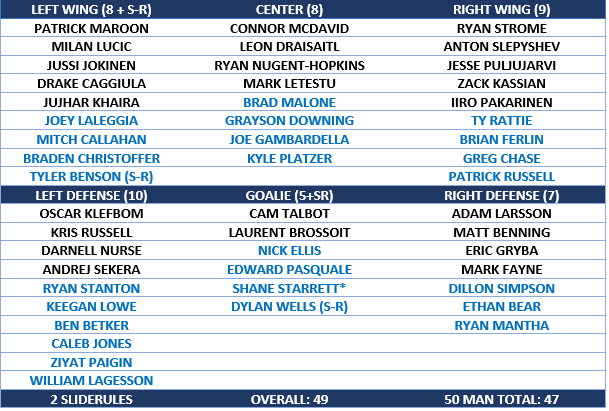 The Oilers are at 49, with two slides, meaning 47. We're very close to the period where Peter Chiarelli will call it done, close enough for jazz.
I do think we might see a straggling college free agent like Teemu Kivihalme. 

Colorado College coach Mike Haviland:

 "[Kivihalme] improved defensively from year to year. He came in with offensive skills and skating, but he needed to become better defensively to be trustworthy at the next level." Source
The Jokinen signing really does put this roster in a more balanced light.
If Edmonton doesn't sign another mid-level defensive option in the Stanton-Simpson area of the depth chart, don't be surprised if Caleb Jones or Ethan Bear emerge as a bona fide recall option.
CAM CONNOR
Former Oilers winger will join me this afternooon at 2:20 on SSE to discuss Dave Semenko and his passing. We'll also spend some time looking back on Connor's career, he was a very high pick and a power forward who had some exceptional years in the WHA.