I keep reading about all these goal-scorers bubbling under, and damned if I can find one sure thing in the whole bunch. What am I missing? The Edmonton Oilers have some fine offensive players at the NHL level but the group pushing up gives me a worried mind.
GOALS PER 82 NHL GAMES PLAYED
Connor McDavid 29.7
Leon Draisaitl 21.5
Milan Lucic 20.5
Ryan Nugent-Hopkins 19.7
Jussi Jokinen 17.1
Patrick Maroon 16.6
Mark Letestu 14.4
Ryan Strome 14.3
Zack Kassian 11.8

Drake Caggiula 9.6

Anton Slepyshev 6.3

Jesse Puljujarvi 2.9
The three men listed 10-12 are often mentioned as legit options and I do think all three will play on skill lines this winter in Edmonton. The question is can they hold on to the job? I'm honestly not certain any of the three is a lock to grab a scoring role on the 2017-18 Oilers.
OILERS PROSPECTS NHLE (GOALS)
Kailer Yamamoto, Spokane

(WHL) 15.4
Joe Gambardella, UMass-Lowell (H-E) 13.7

Jesse Puljujarvi, Bakersfield

(AHL) 13.4
Tyler Vesel, Nebraska-Omaha (NCHC) 12.7
Joey Laleggia, Bakersfield (AHL) 11.5
Jujhar Khaira, Bakersfield (AHL) 11.4
I don't think the Oilers are looking for Joe Gambardella to grab an NHL job, but math is telling us to take heed and watch his progress. It looks to me as though Yamamoto and Puljujarvi are the most promising scoring prospects (based on age and league). Laleggia scored 18 goals in his final 43 games of the season, so he's a player to watch in this category.
WHAT DOES IT ALL MEAN?
I get the sense there is a belief in Oilers Nation that this will all work out fine. Arrive at camp, instant chem, winning! Lots of chatter about Anton Slepyshev finishing strong but the actual boxcars over the last 20 games (including playoffs) were 4-1-5, 23 shots. Drake Caggiula final 20 games? 4-1-5, 33 shots. Jesse Puljujarvi in the AHL? Final 20: 5-7-12, 53 shots. I love the shot total, but have genuine concern about his ability to beat a goalie on anything other than a breakaway or fantastic chance. Can Jesse Puljujarvi beat a pro goalie clean with his shot? I mentioned my concerns about Puljujarvi's shot to Corey Travers from Copper & Blue yesterday, he agreed it was a fair criticism. The sample is now two seasons (Sm-Liiga, AHL) below the NHL and we are still looking for strong evidence of a quality goal-scorer.
Corey Travers: Despite his moderate success, the fact that he didn't dominate at the AHL level suggest that a return to Bakersfield next year certainly isn't out of the question.  Source
I think it's fairly obvious in watching Puljujarvi that he is going to have an NHL career of some note. I remain fixated on the offensive portion of his game. His NHLE's for the last two seasons (19.7 Sm-Liiga; 31.2 AHL) show progress and I think we can project him as (at least) a solid two-way winger. We can probably project him for 20-goal seasons if he spends enough time with Connor McDavid. What is the potential of Jesse Puljujarvi as a goal scorer? Sometimes we trick ourselves into the idea that more data is needed. The facts: JP has not been able to impact two leagues offensively. He is a teenager, and does not yet have "man strength", could that be what we're waiting for?
SERIOUSLY?
During the 2015-16 season, JP scored 13 goals on 175 shots, 7.4 percent. Patrik Laine played in the same league, scoring 17 goals on 253 shots, works out to 6.7 percent. Puljujarvi is not the volume shooter Laine is, but his success rate was in the range with the Jets sniper. Laine managed 19 shots per 60 minutes (in all disciplines) according to The Hockey News. Puljujarvi? He averaged 13.94 shots per 60 in all disciplines. He shoots less than Laine and that may impact his ability to flourish with Connor McDavid.
FORWARDS SHOTS PER 60 (ALL DISCIPLINES)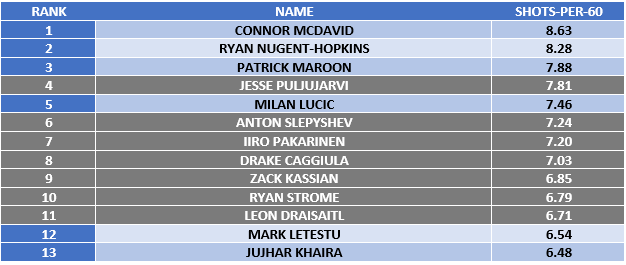 Perhaps the most encouraging bit of business is this graph showing Puljujarvi as the top RW shooting option. Can Jesse Puljujuarvi get 200 shots on goal this coming season? I think the answer is clearly yes. Can he score 10 percent of the time? That's the question.
I know he is a teenager and it is unfair to frame him so early. The numbers so far suggest he is going to be a less impressive scorer than we had originally hoped on draft day. My RE for Puljujarvi will reflect what we have seen, and I'm honestly uncertain he will play inside the top 6F all year. It's also possible he spends the year alongside 97, not cashing enough chances to make the investment worthwhile. That's probably the biggest concern of all.