As we discussed yesterday, it appears Andrej Sekera is a quick healer or a glass half full kind of guy, or both. Either way, the thought of 20 games without him is far easier to handle than 40 games without him. Edmonton's defense with Sekera healthy would represent bringing back the entire group from the spring playoff, something that must please Todd McLellan.
One thing I've been meaning to do is remind you about the progress (or regress) of the Leftorium since Peter Chiarelli arrived.
LEFTORIUM THE DAY PC TOOK OVER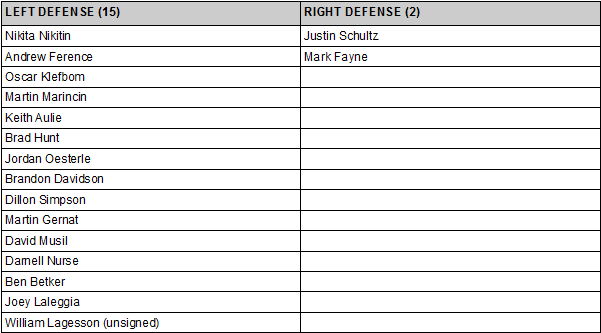 So this would be spring of 2015, before Andrej Sekera and Griffin Reinhart and Eric Gryba. The running total was 15-2 in favor of the lefties.
LEFTORIUM ONE YEAR LATER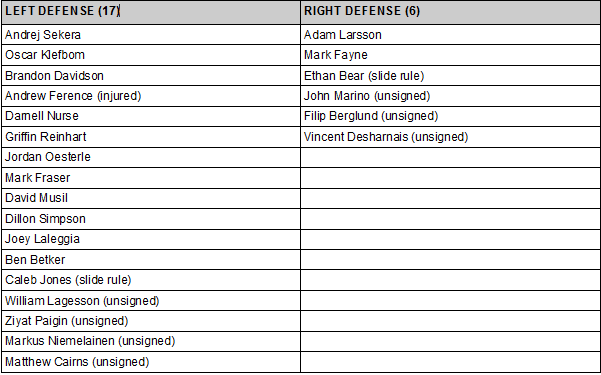 This is from July 2016, and things are looking up! Most of the improvement was via the draft though, only Adam Larsson added to the NHL group.
THE LEFTORIUM TODAY
We can argue over how he did it, and God knows we have, but balance has come to the defensive depth chart in Edmonton. I'm reminded of Bill James and his chapter on the Seattle Mariners (maybe 1985 or 1986). He talked about being in the army reserve and running up and down hills in (I think) Texas along with 200 other young males. Premise being the army (and the Mariners) treated young talent like an ever-renewable resource. Works for the army, the Mariners not so much. Just guess which column the Oilers belong in.
Percentage of righties the day Chiarelli arrived: 11.8
Percentage of righties July 2016: 26.1
Percentage of righties as of today: 44.0
The news yesterday about Sekera (not really news but Sekera says he'll be ready six months from surgery, making it mid-November) may be one reason we haven't seen an additional defender on the Oilers' roster. I think the Oilers may run with Eric Gryba or Mark Fayne as 6D, possibly inviting Cody Franson to camp if he can't find a contract. Edmonton could give him a one-year deal at $1 million and that wouldn't impact the cap either way.
REASONABLE EXPECTATIONS 2017-18
I'm finalizing numbers for the RE, starts Friday with Connor McDavid and none of you have guessed the song. Right now, I'm at the recalls and how much they will play. You know, we don't think about it much but the AHL team provides a lot of man games for NHL teams. The full allotment of NHL games for one team, one year is 1,558 plus the times a backup comes into the game (Oilers had six such games, making their total 1,564). Here are the recalls from a year ago (first time only) and the total games played in the NHL after recall:
October 17: Laurent Brossoit (8 games)
October 17: Matt Benning (62 games)
October 19: Ben Betker (0 games)
November 5: Dillon Simpson (3 games)
November 5: Taylor Beck (3 games)
December 7: David Musil (0 games)
December 30: Jordan Oesterle (2 games)
January 1: Jujhar Khaira (10 games)
February 4: Griffin Reinhart (0 games)
I didn't include players who began the year with the big club (Anton Lander, Jesse Puljujarvi, Anton Slepyshev, Jonas Gustavsson). The GP total is 88, or 5.6 percent of the man games the reprsent the entire season. Matt Benning is the big part of the recall story, obviously. Nine recalls, I have 12 currently in my RE. Last year (2015-16) Edmonton used one dozen recalls including Leon Draisaitl and Darnell Nurse.
CFRN Eyewitness News on the day Mark Messier was traded by the #oilers to NYR. https://t.co/XnzfMY7GmA

— heymannyg (@heymannyg) July 10, 2017
It's a long video but if you have the time check out the Messier trade coverage. Memories flooded back (I knew/know the broadcasters on the show, and remember exactly how I felt) for me, it's an interesting look back in history.
At Dom L's suggestion, I switched to a GAR/60 measure to account for players who were hurt, etc… last year. Here's that view. pic.twitter.com/ZOKN7cLlWA

— Sean Tierney (@ChartingHockey) July 9, 2017
Oilers look about even with a year ago based on this graph from Sean Tierney. Carolina has enjoyed a strong summer, holy hell Chicago and Washington.
PROJECTED LINES
Everyone's doing them, thought I would chime in. My idea is to use Ryan Strome as "Mirror Man" for Leon Draisaitl, so I'm going to list them together on these lines in order to avoid misunderstandings about preferences.
Maroon-McDavid-Draisaitl/Strome
Lucic-Draisaitl/Strome-Slepyshev
Jokinen-Nuge-Puljujarvi
Caggiula-Letestu-Kassian
I suspect we'll see lots of shuffling early in the year (as we did last season) but keeping the top two lines somewhat intact (Leon with Lucic and Slepy or Leon with McDavid and Maroon) makes the most sense to start. I think Jokinen-Nuge could emerge as a very effective tandem, although the other winger could be JP or Kassian or even Slepyshev. I also think Caggiula could be on the 1line from time to time, Jason Gregor mentioned him as a strong option Friday (we'll reprise that conversation at 11:05 today on the Lowdown).
PAIGIN & RE PLANNING
I am well into planning the "at-bats" portion of the RE, Andrej Sekera's news yesterday means a tweak or two. I've also had a longer look at the young blue, and think we might see Ziyat Paigin in Edmonton at some point this season. His 95 KHL games and the fact he is 22 give him an edge over Caleb Jones. I mentioned the other day that Jones (and Ethan Bear) would perhaps get a cup of coffee, wonder if Paigin is a candidate to make the club opening night and remain until Sekera is ready. If Paigin can stand up at the blue line while also making that retrieval play, he might be the bridge answer this fall.
LOWDOWN WITH LOWETIDE
We are officially into summer, so we spread our wings and tackle some other sports stories today. Still plenty of Oilers, with some football and basketball thrown in. 10 this morning, TSN1260, scheduled to appear:
Farhan Lalji, TSN

. Week 3 CFL review and a look ahead to the Eskimos game this weekend.

Eric Fawcett, Press Basketball

. Crazy free agency, Canada wins! Plus Raptors and what are they doing?

Jason Gregor, TSN1260.

Who plays with McDavid this winter? Where do you slot in Puljujarvi? Who gets the Sekera at-bats?

Sunil Agnihotri, Copper & Blue/The SuperFan

. Have the Oilers done more harm than good this summer?
10-1260 text, @Lowetide on twitter. Talk soon!