I watched a lot of New Jersey Devils games last season, call it checking in on Taylor Hall. I noticed a few things about the team, including a distinct lack of puck movers and headman passers. It's important to have them, and the Devils lacked in this area. One player I did notice was Yohann Auvitu, who played 25 games and showed some ability with the puck.
On another note, all last winter I was looking for defensemen on NHL rosters who weren't overpaid and might be able to outlet a pass to 97 on the fly. Auvitu made my list, and as you know I've mentioned him as a low-cost option. I wrote an item on him (here).
The Auvitu signing is a little like the Jokinen signing – a decent player at a good price. Who are you, Oilers? pic.twitter.com/V260824udZ

— Sean Tierney (@ChartingHockey) July 10, 2017
I like Tierney's work a lot, his graphs are top drawer. I think it shows this signing to be a most reasonable bet, especially considering Edmonton's need for a productive puck handler on the roster. I'm not certain where any of us might reasonably put him on the depth chart, but we can be fairly certain he'll be in the mix for 6-7-8-9D at training camp.
AUVITU PLAYER CARD
5×5 points per 60: 0.54 (5th among regular defensemen)
5×4 points per 60: 1.19 (one point in 50 minutes)
Corsi for 5×5 %: 49.8
Corsi Rel 5×5 %: 3.1
DFF Elite 5×5 %: 49.5
DFF Elite Rel 5×5 %:  1.1 (20 percent of TOI v. elites)
Shots on goal/percentage: 54 shots/3.7%
Boxcars: 25gp, 2-2-4
(All numbers via Puck IQ, Stats.HockeyAnalysis.com and hockey-reference)
This is 25 games, and it's the same for his AHL time (29 games, estimated 15 minutes a night). Solid, solid bet. The contract is for a very reasonable $700,000 and is for one year. The numbers from Stats.HockeyAnalysis.com tell us he struggled with Ben Lovejoy (Corsi for 5×5: 47.5) and flourished without him (53.4). He did very well with Kyle Quincey. Both of his NHL goals were from well outside prime scoring range, including this one that shows reasonable offensive instincts (to slowly move down the zone to give an attractive passing outlet). I am not saying 50 assists, but he has vision and puck-moving ability. He has a nifty way about him with the puck. Intelligent.
50-MAN LIST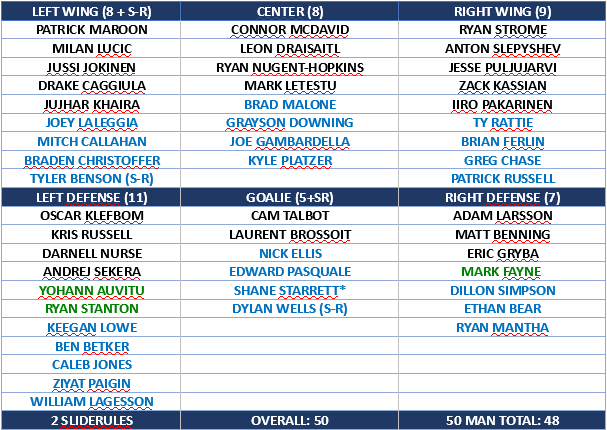 I think the men in black above are locks for the roster, meaning six of seven (plus Sekera) roster spots have been secured. In my opinion, Auvitu, Ryan Stanton and Mark Fayne will be battling for the 7D job in training camp. With the 50-man now at 48, we may have reached the outer marker for summer procurement. It's about signing Leon and getting players to camp. Maybe room for one college signing but this might be the final addition to the roster.