In the last two weeks, I have received many emails, dm's and shouts across the back fence from Oilers fans. Most wonder why Peter Chiarelli stopped where he did, an annual July tradition going back to the Sather years.
This year, I can see the reasoning, even as I do not agree with it. There are still names in free agency that are affordable, cap room remains even before placing Andrej Sekera on LTIR, and yet we are here. I believe there are three reasons Peter Chiarelli parked the car in the driveway when he did:
The Draisaitl contract is not yet complete, so reject all signals until it is done.
The Sekera LTIR possibility isn't one at all, as the team plans on covering the entire bonus total in order to ensure no overages heading into Connor McDavid's big contract.
The organization believes the kids showed enough in the postseason to warrant a full shot in 2017-18.
That has to be it, otherwise there is a Nuge trade laying in the weeds that will require $2 million or more in cap room.
OILERS FORWARDS, EVEN-STRENGTH PLAYOFF SCORING
I can't find the damn thing anywhere, so this is manually done via NHL.com and it is even strength (not 5×5). Apologies, if you know where the 5×5 numbers be, please let me know.
2.89 Leon Draisail

13, 5-5-10 in 207:33

2.10 Patrick Maroon

13, 2-5-7 in 200:25

1.97 David Desharnais

13, 1-3-4 in 121:42

1.34 Anton Slepyshev

12, 3-0-3 in 134:29

1.08 Drake Caggiula

13, 3-0-3 in 167:26

1.06 Connor McDavid

13, 3-1-4 in 226:45

0.98 Milan Lucic

13, 0-3-3 in 183:23

0.81 Zack Kassian

13, 2-0-2 in 148:59

0.78 Mark Letestu

13, 1-1-2 in 154:09

0.36 Jordan Eberle

13, 0-1-1 in 164:53

0.34 Ryan Nugent-Hopkins

13, 0-1-1 in 174:07
Slepyshev and Caggiula played significant roles (Caggiula was sixth in even-strength TOI) in the playoffs, and Peter Chiarelli mentioned giving the kids a chance was part of the plan. You don't have to agree with it, but there is an answer to the question you've been sending me. Why haven't the Oilers signed Jaromir Jagr? Anton Slepyshev, Drake Caggiula and Jesse Puljujarvi.
The Oilers are going to give some or all of these men 500 at-bats this coming regular season. If it doesn't work, expect an addition at the deadline. This is us.
50-MAN LIST
The Edmonton Oilers signed Dillon Simpson yesterday afternoon, meaning Leon Draisaitl is the final piece of business. Peter Chiarelli brings his roster in at exactly 50, with two slide rules.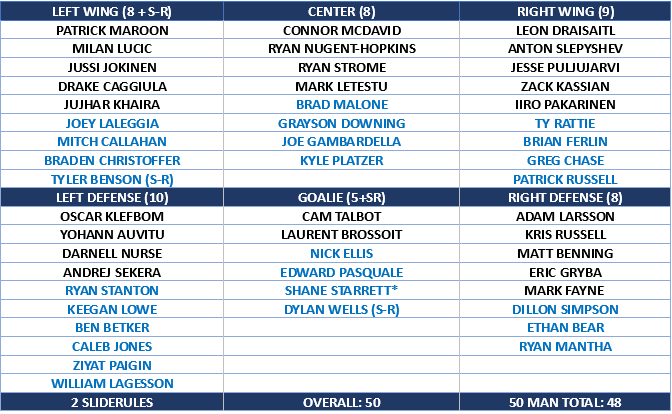 This is probably final final, with the next procurement window being training camp and invites. Edmonton should have some choice names, I'll guess Jared Cowen and Ryan White.
NUGE WITH MCDAVID
Bob tweeted out his lines awhile back and folks are discussing the idea of Nuge replacing Leon on RW next season. I'm all for RNH getting a push (even though he's extremely likely to be dealt) in an effort to jump start his offense.
I'm not sure it's a good idea for the center depth chart, though. The Woodmoney numbers show us how many elite-opp minutes were played by all of the major players in the conversation:
Connor McDavid 468
Ryan Nugent-Hopkins 444
Leon Draisaitl 410
Mark Letestu 167
Drake Caggiula 143
Anton Lander 41
It's also important to register how well each man performed under that special stress. Puck IQ measures Dangerous Fenwick and here are the numbers:
Connor McDavid 55.20
Leon Draisaitl 52.70
Ryan Nugent-Hopkins 44.30
Mark Letestu 40.90
Drake Caggiula 38.70
Anton Lander 28.70
Nuge is clearly underwater against the competition (my oh my, McDavid) so you want to change that equation if you're Peter Chiarelli. How best to go about it? Well, moving 93 to 97's line takes care of it for sure, but how much will Leon's number suffer as a stand alone center? That's the risk, and I would prefer Leon ease into the role of tough-minutes center (something I do think he will handle). Asking Leon to replace Nuge and his tough minutes role at age 22 (he has a late October birthday) is not close to the same situation as the ask of RNH in his second year. I'd still prefer an easing into the role. My preference? If the club is going to run Leon at center, this is my preferred lineup:
Patrick Maroon—Connor McDavid—Ryan Strome
Milan Lucic—Leon Draisaitl—Anton Slepyshev
Jussi Jokinen—Ryan Nugent-Hopkins—Jesse Puljujarvi
Drake Cagguila—Mark Letestu—Zack Kassian
Both 4line wingers can move up as required, Caggiula may end up being in the Strome or Slepyshev spot. If all of the youngsters fall, Jokinen could slide in on RW with McDavid or Leon. The one player who could lay waste to the competition? Jesse Puljujarvi.
I hate like hell counting on teenagers, but this is us.
NHLE'S FOR EVERY FORWARD PROSPECT IN THE SYSTEM