Everything about Milan Lucic is larger than life, including size, contract, presence and expectation. The 2016-17 season saw him hit his mark on the boxcars but the way he reached the total ran counter with his own history. The Oilers need 50+ points from Milan Lucic in 2017-18 but they need him to be far more effective 5×5 scoring. That is going to be the story of his season. (Big Me).
MILAN LUCIC 2016-17
5×5 points per 60: 1.22 (9th among regular forwards)
5×4 points per 60: 7.04 (1st among regular forwards, No. 6 among NHL regular F's)
Corsi for 5×5 %: 51.2
Corsi Rel 5×5 %; 1.4
DFF Elite 5×5 %: 46.1
DFF Elite Rel 5×5 %: -1.8
Shots on goal/percentage: 175 shots/13.1%
Boxcars: 82, 23-27-50
(All numbers via Puck IQ, Stats.HockeyAnalysis.com and hockey-reference)
VOLLMAN SLEDGEHAMMER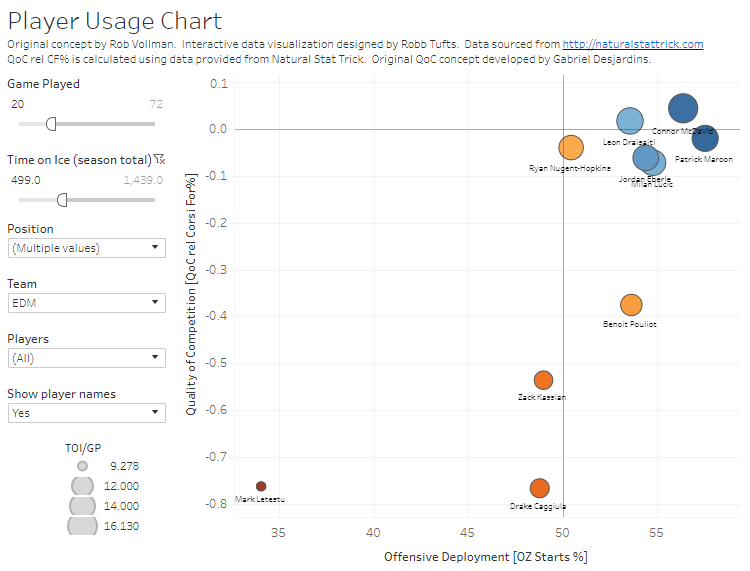 RE 17-18: 82GP, 18-28-46 (.561)
You have him running in place.

A slight decrease (four points) and I have reduced his playing time.

What happened last year?

He was poor at 5×5 scoring all year, never got enough traction to recover. Wildly disappointing, considering who he was playing with most of the year.

How was he with McDavid 5×5?

1.46/60 scoring, with 55.3 Corsi for 5×5 percentage.

How was he with Leon?

1.15/60 scoring, 52.7 Corsi for 5×5 percentage.

How was he with Nuge?

1.11/60 scoring 50.2 Corsi for 5×5 percentage.

Terrible!

Yes. Very poor.

He's done!

If he has another 5×5 season like this one, we'll have to hit the 'buyout this contract' button, but that's not realistic. This is a difficult contract if Lucic can't recover his 5×5 offense.

How far off base was his 5×5 v. 5×4 scoring compared to his past? 

Through his career (up until this season), ML posted 83 percent of his total points at evens. In 2016-17, he posted just 50 percent. That's a weird change of pace.

How good was his 5×4 offense?

Best on the team, No. 6 in the NHL. Crazy good, and he was never a strong option before last year.

Have to give credit to McDavid, no?

Yes for sure, but Lucic was given an opportunity, we have to give credit to him for taking such full advantage. He scored 25 points 5×4.
Why did Lucic get moved off the 1line? Lucic-McDavid-Eberle had 25 points in the first eight games of the season, then the offense dried up. McLellan promoted Patrick Maroon to LW early November, and that's all she wrote.

Okay, let's talk about this season and your RE.

Great.

Can you take me through your clearly flawed thought process?

Sure. First thing I did was temper his 5×4 point total from a year ago. I have him losing some minutes (213 a year ago, 180 this year) and posting a 6.0/60 at 5×4. So, that's 18 points, meaning seven fewer points than last year's total of 25.

 What about 5×5?

I think the LW slots will have more competition this year, with the addition of Jussi Jokinen. I believe both Maroon and Lucic will suffer a little in playing time because of it. I also think that may benefit Lucic, keep him fresher.

I'm seeing a lot of words but not a lot of information

. I'm estimating Lucic to play 1,000 5×5 minutes, a reduction year over year. I think Lucic will play about 350 with McDavid, 350 with Nuge and 300 with Leon (when Leon plays center). His reduced TOI will go to Jussi Jokinen, who I view as being capable in the same roles (plus PK).

Your 5×5 estimate?

1.70/60, meaning I think Milan Lucic will score 28 even-strength points this year and 46 points overall. The 5×5 recovery is key to his effectiveness and I am predicting he'll correct, although still below his LAK season of 2.04/60.

That isn't worth $6 million dollars

. Part of the equation this season is Jussi Jokinen, and I believe we'll see a sharing of opportunities on the portside with Lucic, Maroon and the Finn. That's the guess, any way.

That isn't worth $6 million dollars.

Milan Lucic is part of the Edmonton Oilers, deploying him in the most effective way is the only concern now. The trio of LW's are going to come in cap stupid good (Jokinen and Maroon are stunning value deals) and there is no way out of the Lucic deal. We are here.

I'm surprised your third leading scorer has only 46 points.

I suspect we'll see a lot of switching out this season and because of it a substantial gap after McDavid and Leon. Someone (say Jesse Puljujarvi) emerging would be splendid, and perhaps RNH will play LW and put it all to bed.

I am disappointed in your conclusions. Make new conclusions.

We are looking for reasonable, and I think reasonable on LW is three veterans (Lucic, Maroon, Jokinen) moving up and down the depth chart as required.

Who plays most with McDavid?

Patrick Maroon had the success last season, he should get the push this year. McLellan likes pairs and that one had some sustain.

Why doesn't Maroon outscore Lucic?

Power-play time. Although I am predicting less success 5×4 for Lucic, he still delivers enough to keep that job.
Again I would like to express rage over the unacceptable turn your RE has taken. It is reasonable, that's the goal. I don't see how we can give Lucic an RE of 60 points or even 50 based on his season. I do think he'll get the PP push and also believe he will lose 5×5 playing time to Jokinen. All of these things are factored in here.

Are the Dutch known for their pigheadedness?

I looked up 'stubborn dutchman' once and have regretted it since. Do not look up 'stubborn dutchman'.

Why this song?

Everything about Milan Lucic is big, including his impact on this team.