The 50-man set (save for Leon) we can talk about the jobs available and where the new recruits may land. Jussi Jokinen and Yohann Auvitu should play large roles, but is there anyone else? How many jobs are spoken for?
THE SURE THINGS ENTERING CAMP 
As you can see, 18 of the 23 roster spots (78 percent) have already been decided. This is a solid number and indicates we are getting closer to the 'balance' photo and the kind of team that leaves the gate loaded for Stanley.
Last year at this time there were 17 sure things (here) and one of the 2016 sure things didn't make the opening night roster: Nail Yakupov (traded October 7). What does that mean? My sure thing list is not an actual sure thing list.
This year's team should be better on defense, Matt Benning alone covers that equation. The only problem? Andrej Sekera's injury.
Right wing and Left Defense (Sekera) are areas of concern.
I have Ryan Nugent-Hopkins as 2C, Leon may be that player instead. If Draisaitl is 2C, imperative that the 3C (Strome in this case) post solid offensive numbers against the soft parade. RNH played over 40 percent of his 5×5 a year ago against elites, and his line was chasing a lot. However, he was offering cover to the third line, and that third line wasn't cashing. Nuge on a 2line that is getting caved is something to work on and should be improved, but I remain convinced the veteran center playing tougher minutes is the wise course of action.
UNCERTAIN OILERS ENTERING CAMP

My list of 'uncertain Oilers' from a year ago (here) who played opening night include Jesse Puljujarvi, Tyler Pitlick, Anton Slepyshev. Some of that was injury, some of it came from giving a push to a first-round pick.
I have Slepyshev on this list, that may be controversial but the organization is going to give Puljujarvi a push again. Slepyshev is a RW who can be sent down, and that means he is a little vulnerable.
Jujhar Khaira, Iiro Pakarinen and Ty Rattie may applying for the same job.
The Oilers may start with 8D, another reason Slepyshev is vulnerable.
Yohann Auvitu and Eric Gryba are both strong candidates for the opening night roster, but there are things in play that could derail them.
Nick Ellis is an interesting player.
All six defensemen listed here could play in the NHL in 2017-18.
THE DISTANT BELLS

None of last year's distant bells made the opening night lineup and I expect we'll see the same result.
Andrej Sekera is an unlisted distant bell, his injury making it impossible for us to even discuss the idea of making it back in time.
Tyler Benson will be 20 next fall and if he can put in a healthy season I expect there may be a job opportunity for him. Oilers have two UFA's on LW this year.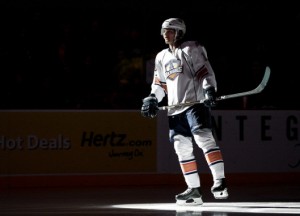 Teemu Hartikainen photo by Rob Ferguson. All rights reserved
FAMOUS ROOKIES OF BAKERSFIELD
BARONS 2010-11
C Teemu Hartikainen 66GP, 17-25-42
F Milan Kytnar 78GP, 13-16-29
D Jeff Petry 41GP, 7-17-24
L Phil Cornet 60GP, 7-16-23
C Mark Arcobello 26GP, 11-11-22
C Chris VandeVelde 67GP, 12-4-16
D Colten Teubert 20GP, 2-5-7
Todd Nelson's first rookie crew did pretty damn well if you ask me—all of them played in the NHL. Jeff Petry (445 NHL games) is a bona fide NHL defenseman, Chris VandeVelde (278), Mark Arcobello (139), Teemu Hartikainen (52) Colten Teubert (24), Phil Cornet (2) and Milan Kytnar (1) all saw playing time in the world's best league. Petry is among the real success stories for this organization over the last dozen years of drafting. No current Oilers here.
BARONS 2011-12
L Hunter Tremblay 68GP, 16-15-31
R Tyler Pitlick 62GP, 7-16-23
C Tanner House 68GP, 8-12-20
R Antti Tyrvainen 55GP, 6-13-19
L Curtis Hamilton 41GP, 5-6-11
D Kirill Tulupov 33GP, 1-7-8
R Cameron Abney 14GP, 0-0-0
This group wasn't as strong as year one, but Tyler Pitlick (58 NHL games) and Curtis Hamilton (1) did see some time. None of these players is currently part of the Oilers organization.
BARONS 2012-13
D Justin Schultz 34GP, 18-30-48
L Toni Rajala 46GP, 17-28-45
D Martin Marincin 69GP, 7-23-30
D Taylor Fedun 70GP, 8-19-27
C Anton Lander 47GP, 9-11-20
C Ryan Martindale 41GP, 6-8-14
C CJ Stretch 17GP, 5-3-8
L Kristians Pelss 20GP, 1-7-8
D Brandon Davidson 26GP, 2-3-5
Nelson was back to delivering considerable talent to the Oilers after one down year. Justin Schultz (344 NHL games), Anton Lander (215), Martin Marincin (175), Brandon Davidson (101) and Taylor Fedun (39) have NHL time and all played in the NHL last year. No player from this list is an Oiler now.
BARONS 2013-14
R Andrew Miller 52GP, 8-26-34
D Martin Gernat 57GP, 4-17-21
C Austin Fyten 47GP, 7-13-20
D David Musil 61GP, 2-10-12
C Travis Ewanyk 68GP, 7-5-12
D Oscar Klefbom 48GP, 1-9-10
L Kale Kessy 54GP, 2-4-6
G Tyler Bunz 5, 3.63 .901
Oscar Klefbom (189 NHL games) looks like a decade plus defensive option and a big fly in draft and development. Andrew Miller (15), David Musil (4) and Tyler Bunz (1) also appeared in the NHL. Klefbom is the only name still a part of the NHL organization.
BARONS 2014-15
C Bogdan Yakimov 57GP, 12-16-28
D Jordan Oesterle 65GP, 8-17-25
L Josh Winquist 46GP, 8-11-19
D Dillon Simpson 71GP, 3-14-17
F Kellen Jones 49GP, 5-10-15
C Connor Jones 41GP, 4-6-10
C Jujhar Khaira 51GP, 4-6-10
L Mitchell Moroz 66GP, 5-4-9
D CJ Ludwig 28GP, 1-4-5
G Laurent Brossoit 53GP, 2.56 .918
The final Barons season. Among the group who have played in the NHL: Jordan Oesterle (25 NHL games), Jujhar Khaira (25), Laurent Brossoit (14), Connor Jones (4), Dillon Simpson (3), Bogdan Yakimov (1). It seems unfair that Connor Jones has played in the NHL and Kellen has not, that is not the way it should go. Khaira, Brossoit, Simpson and Yakimov are still associated with the Oilers.
CONDORS 2015-16
LD Joey Laleggia 63, 8-19-27
R Anton Slepyshev 49, 13-8-21
C Marco Roy 42, 8-12-20
C Kyle Platzer 48, 6-11-17
R Greg Chase 19, 1-6-7
L Braden Christoffer 33, 1-4-5
G Eetu Laurikainen 18, 3.42 .907
The first Condors season saw Leon Draisaitl and Darnell Nurse get a cup of coffee before heading to the NHL for the next 15 years. Condors rookies from year one: Anton Slepyshev (52 NHL games) played in the big leagues before the AHL, and Laleggia did receive a paper recall to the show. All but Roy and Laurikainen are with the organization.
CONDORS 2016-17
R Jesse Puljujarvi 39, 12-16-28
R Patrick Russell 68, 8-9-17
R Jaedon Descheneau 38, 6-9-15
L Joey Benik 21, 4-1-5
G Nick Ellis 34, 2.69 .918
Jesse Puljujarvi (28 NHL games) will probably be the biggest name to play for the Condors as a rookie for many many years. Nick Ellis is the other rookie I believe will have something to say in the coming years.
ROOKIE CONDORS 2017-18
LC Joe Gambardella:

One year ago, we were talking about Drake Caggiula as an option for the Bakersfield Condors. Caggiula ended up playing the entire year in the NHL. Gambardella doesn't possess the same skill set, and his path to the NHL is likely more circuitous, but he has a chance beginning this fall.

LD Caleb Jones:

You'll notice the list above has several impressive defenders (Jeff Petry, Justin Schultz, Oscar Klefbom) and perhaps we'll see some good rookie blue this winter. Jones has a nice opportunity to establish himself in the AHL this year.

RD Ethan Bear:

Similar to Jones, although Bear is RH and may get a power-play push even in year one. Adjusting to the increased speed of the game may be more of a challenge to Bear than Jones, but his coverage (from what I have read) is considered to be better. A fascinating race to the NHL for these two.

LD Ziyat Paigin:

The Oilers like him and there's a good chance the big man is the first recall among the new AHL defenders. His issues will be mobility and coverage on the big ice, but Paigin won't be in Bakersfield a long time if he adjusts quickly in those areas.

RD Ryan Mantha:

A year older than Bear, I think there's a chance he gets some power-play time and there is a slight chance he moves ahead of Bear in their rookie pro seasons. It's very difficult to know what the pecking order will be at this time, we should be ready for any eventuality.

G Shane Starrett:

As was the case with Nick Ellis a year ago, Edmonton has a young college goalie who could make some noise as a pro. The numbers are strong, the scouting resume reads impressively.
WILL TO POWER
The Colorado Avalanche continue their 'opposite George' plan this summer with word that draft pick (and Hobey Baker winner) Will Butcher will be headed to free agency on August 15 instead of signing with the team. Source is Mike Chambers from The Denver Post. Butcher's NHLE (28.9 points) is a handsome number for a defenseman.
Hockey's Future:

 Butcher is a smart two-way defenseman. He has the ability to play the point on the power play and kill penalties but his talents lie in the offensive zone. While offensive play is his strength he is a responsible defender. For a player of his size and stature he plays a much bigger game. Source
Butcher is a lefty, so the Oilers have the position covered if not the player-type. Butcher is from Wisconsin, that usually means an American NHL team has the edge in procurement. At the very least an interesting name to keep in mind.
RE'S MORNING OR NIGHT?
Do you prefer the RE to run in the morning or at night time? I received a massive spike in visits after 5pm and the Lucic post yesterday. Historically, you prefer the hockey news in morning and the projection post in the evening, but I want to make sure. Please let me know.