If you're Peter Chiarelli, and looking for the next Patrick Maroon, where would you go? The Oilers general manager has Maroon and Jussi Jokinen on fantastic value deals but only for this coming season. The portside is about to become very expensive (Milan Lucic has a cap of $6 million, so savings elsewhere are vital), where can he find a value LW?
PROJECTED 2017-18 LINEUP AND CAP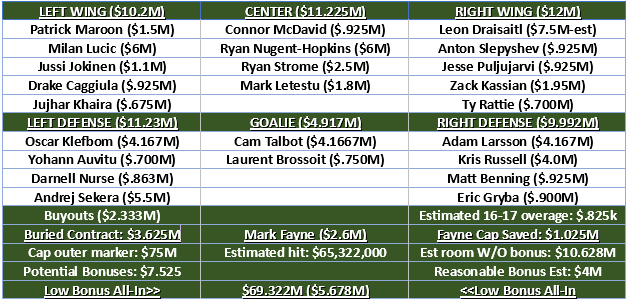 Chiarelli has the cap situation in a very good spot, maddeningly so when you think about it. If Leon comes in at $7.5 million, PC can include Sekera's full salary plus a reasonable bonus cap and still have $5.6 million left. Oilers could add a substantial talent by opening night and have lots of deadline room. It's also possible PC is being insanely careful about those bonuses but that would be a shame.
Where should he spend that money? Current pressures might be left defense, goaltending, right wing. Long term pressures? I see some trouble on LW after this season,  the two veteran value deals are coming off the books.
Some of the replacements could come from within, if (say) Tyler Benson flourishes in his final junior season or Drake Caggiula has a strong sophomore campaign some of that LW pressure will be diffused.
50-MAN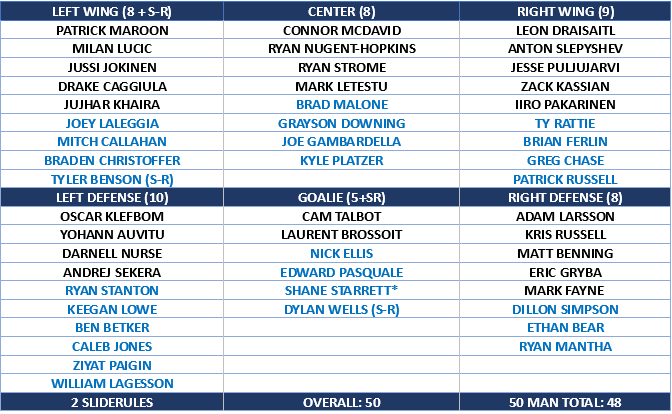 This time next season, we should be talking about Nick Ellis, Caleb Jones, Ziyat Paigin , Ethan Bear, Tyler Benson, Joe Gambardella and Kailer Yamamoto as NHL options. That's an attractive and lengthy list of prospects, some of them may play in the NHL this year.
Ideally someone like Paigin flourishes early in Bakersfield and announces his NHL readiness by winter. The same can be said for Gambardella up front, as the Oilers are going to need players pushing up without having a blue-chip forward prospect in Bakersfield.
Joey Laleggia is going to be an interesting player to watch this season. Inexpensive scoring is in vogue any time, but cap pressures and a strong training camp could see Laleggia hang around longer than expected.
I have a good feeling about Gambardella and some major curiosity about Brian Ferlin. How good can he be? Don't know, but a healthy season in Bakersfield will give us a better idea.
FINDING LEIVO
The Toronto Maple Leafs are flat out loaded up front now, and I remain convinced this young man is going to have a career. Listed as a LW (shoots right), the Maple Leafs don't play him and can't send him down because of waivers. Toronto is loaded up front and the Houston Astros of my youth taught me to look for solutions in places where possible answers are in abundance.
In 41 NHL games, Leivo is 9-9-18 and last season his 5×5/60 total was 3.12 (seven points in 13 games). He is 24 and his cap hit is $612,500. I used to think Edmonton could grab him on waivers but now a trade seems more likely. Lou is always fair in trade talk, so the 2018 first-round pick should do it (this is meant as a joke). Leivo is a hidden value, except everyone knows about him (or Toronto would have eased him through waivers last winter). Perhaps a prospect of note who can be sent down could successfully pry Leivo from Lou.
TWO SEASONS OF DOUGHTY
I got a text yesterday on SSE that had me thinking for some time about the possibilities. The gentleman (from Medicine Hat) asked if the Oilers would do Ryan Nugent-Hopkins and Darnell Nurse for Drew Doughty. I don't think the Kings do that deal (based on summer moves they aren't going to re-set) but would the Oilers? I think they have to do the trade, even though it means investing everything in the next two seasons (Doughty's deal expires 2019 summer).
COMMENTS
I tweaked only one comment yesterday, could have deleted 20. I was working yesterday so the section got away from me. It won't happen today, so you have been warned. If you were a dink yesterday and continue today, you'll be seeing a timeout. Respect each other, please and thanks.
THIS WEEK
The RE's will continue this week, hope you are enjoying them. My friend Dean Belanger has been the man behind the musical choices and it's nice to see they have been so well received.
TODAY AT 5PM
My plan is to write about the Condors and AHL available talents (primary points all-stars) but that could morph into something else.
OPENING NIGHT 2007-08
L1: Horcoff-Penner-Hemsky
L2: Stoll-Torres-Nilsson
L3: Reasoner-Sanderson-Brodziak
L4: Cogliano-Jacques-Gagner
D1: Pitkanen-Staios
D2: Souray-Greene
D3: Tarnstrom-Gilbert
G1: Roloson-Garon
I used to list the forward units properly, so the center appears first (C-L-R) above. I like the top line a lot, the 2line needed Pisani, third line is cool with me and the fourth line represented a long forgotten future. You can see what Lowe-MacT were trying to do with the defense, shame it couldn't work out.