We've seen the story play out a thousand times. A player is drafted, has some exceptional skills in a specific part of the game and pronounced areas of weakness. Drafting team focuses on the positive, entry-level deal proceeds with both promise and challenges and of course we know the odds of making it all the way to regular status in the world's best hockey league.
That was Joey Laleggia's story before his move to LW and it's still Joey Laleggia's story. All the move did was improve the odds of his making it. Can he make the NHL as a winger? He's on the right team to try.
BAKERSFIELD NHLE (FORWARDS)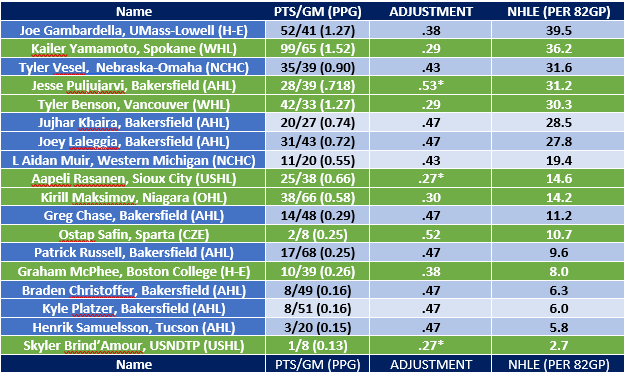 Laleggia isn't the first Bakersfield option (Puljujarvi) and he probably loses out to another (Khaira) Condors forward in the battle for an NHL roster spot. He could be a mid-season callup if the puck keeps going in down on the farm.
RE 17-18: 4GP, 0-0-0
What role will Laleggia apply for? Skill winger, 2PP time. He's blocked out based on the current depth chart by Patrick Maroon, Milan Lucic, Jussi Jokinen, Drake Caggiula, Jujhar Khaira. Iiro Pakarinen and Anton Slepyshev may be in the mix on both wings. Not all of these men will be applying for the same jobs as Laleggia but it's mighty crowded.
Does he have a real chance? He is a long shot. Even with his scoring success one year ago, Laleggia is running up a giant hill. Laleggia is two years older than Drake Caggiula, who is ahead of him.
What makes him attractive for this roster? He is a wonderful passer and can score goals. I think that should not be undersold, despite my projections. One dimensional players make the NHL if that one dimension can be of use to his team.
What will his role be in Bakersfield? I think he'll play big minutes on the top line with an unknown center and Ty Rattie on right wing. That line will fill the net.
What one thing will get him to the NHL? A strong training camp where he scores early and often will be key to his success this fall and winter but he needs some injuries and slumps ahead of him.
What will keep him from getting an NHL look? There are more promising youngsters ahead of him and the depth lines are going to feature players with more utility. With his speed and smarts, Laleggia should be a good penalty killer, maybe that's a way to get noticed.
When will we know he has a chance? Injuries impact during the year and he's lighting it up. I don't think it is realistic to suggest he will make the opening night roster.
How many players can he reasonably be expected to pass in one winter? On the LW depth chart, Laleggia is ahead of Braden Christoffer and the AHL-only contracts. I'd put him behind the rest. He might be able to catch Iiro Pakarinen. Laleggia is a LW, and Rattie a RW, but I think they are in competition with each other and Rattie will have a clear edge.