Leon Draisaitl's contract may not be the last piece of business for this summer but nothing else will happen until the deal is done. Yesterday afternoon, we had a tremor.
Source: Drai deal close, 8 X 8M. As @Lowetide says, "we wait"

— PunjabiOil (@PunjabiOil) July 26, 2017
In the interests of full disclosure, I will tell you that PunjabiOil goes way back with the author of this blog. He has, from time to time, passed along information both privately and publicly to me over the years. If he tells me there is a source that says the deal is close, I'm going to take it seriously. I do think, and have written, that the Oilers prefer the eight-year option.
Todd McLellan:

 "I'm confident we're going to see Leon in an [Oilers] uniform. We want him to be there, he wants to be there, and it's just a matter of getting a few things done over the summer." Source
POSSIBLE OPENING NIGHT ROSTER 17-18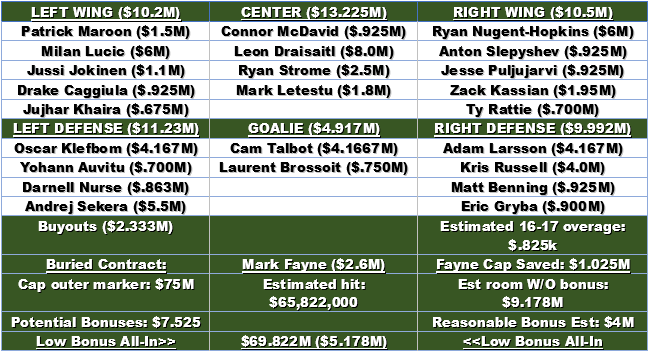 I have moved Leon to center and Nuge to RW as this seems to be the theme of summer. I don't think it makes a tremendous amount of sense (Nuge is a center, that's his position and he is good at it. Zooming his numbers to trade him implies opposition general managers aren't going to figure out McDavid isn't part of the deal) but since everyone and their cat loves the idea, so be it. The one benefit is that all of the really expensive contracts are in the top 6F with Patrick Maroon.
The other item is this: Even with Leon at $8 million (that is my estimate, based on Punjabi Oil's tweet) and Sekera on the roster, there is still over $5 million in cap! Edmonton could sign or trade for another $3 million bucks and still (imo) have enough for the trade deadline.
Riddle me this: What could they add?
STILL AVAILABLE IN FREE AGENCY
LD Andrei Markov.

The Oilers won't get him for $3 million but Markov is going to help some team and his addition in Edmonton would give the team a substantial boost. Markov is aging but can still play effectively.

RD Dennis Wideman.

Another older defenseman, Wideman has a terrific shot and would certainly be available for less than $3 million.

R Drew Stafford.

He had a tough season and is on the wrong side of 30, but Stafford fits the Chiarelli template, should have something left and won't cost the world.

R Jaromir Jagr.

The legend remains available for just money. He can help a team but I don't think it's going to be Edmonton. I'm curious as to why Calgary hasn't signed him.
I think the Oilers are done in free agency, signing Jussi Jokinen and Yohann Auvitu put the lid on this year's edition of hockey's free market for  Peter Chiarelli. That can only mean one thing: Trade!
TRADE OPTIONS
Vegas Golden Knights are holding on to 10 defensemen and some teams are over the cap, wonder if the Oilers can help while improving the team.
Toronto Maple Leafs:

According to CapFriendly, Toronto is in a world of hurt with the cap and could be a raging inferno if all of the bonuses cash from their brilliant youngsters. The Maple Leafs do have two LTIR possibilities so will likely get relief in that area. Among the players who could help Edmonton? RC Tyler Bozak.

Detroit Red Wings:

Between NTC's and strange signings, the Red Wings have both gone over the cap and have not enough to show for it. Weird roster. One player who might be of interest to Edmonton is Mike Green. He has $6 million owing for this year and then hits free agency. PC has a tendency to trade for older players and Green (31) qualifies in the Tomas Kaberle portion of Chiarelli's team building template.
I don't think we're going to see trade activity to be honest, in fact the most likely deal in my opinion would be Griffin Reinhart back to the Oilers for a 2018 pick.
COLLEGE FREE AGENTS
Bob Stauffer always says the American kids usually sign with American teams and that does seem to be the case. Kerfoot is from Vancouver, Kivihalme was born in the USA but is Finnish.
CURRENT 50-MAN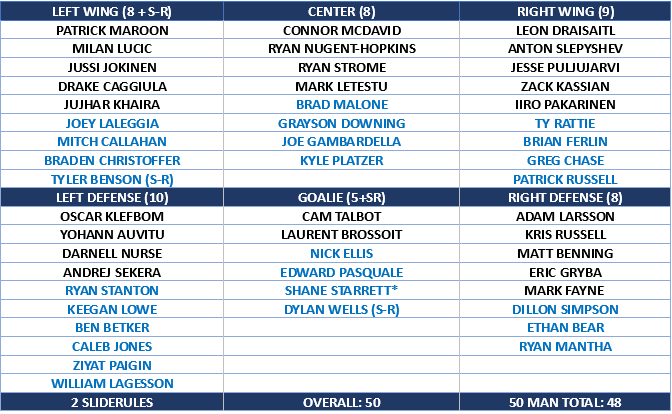 In reality, the Oilers look done. I cannot for the life of me understand why you'd leave the dock with $5 million burning a hole in your pocket (can't possibly acquire $5 million in players at the deadline, the contracts are basically done).
I think we can all name 12F, 7D and 2G, but who are the extra men for opening night? Well, we could see 8 defensemen make the roster, and I do think Ty Rattie and Brad Malone have a chance to break camp with the big team.
One player not on this list who could surprise in training camp? Kailer Yamamoto.
LOWDOWN WITH LOWETIDE
At 10 today, TSN1260, we hit the ground running with a full boat. Scheduled to appear:
Bruce McCurdy, Cult of Hockey.

Where does Bruce stand on Nuge playing with McDavid? What are his thoughts on Todd McLellan's media avail yesterday?

Andy McNamara, TSN1050.

NFL camps are opening, the Cowboys are doing unusual things and I believe the Giants are going to win the NFC East.

Dan Ukrainetz, Onside CFL Fantasy.

Week Six on the way! Where are the bargains?

Rob Vollman, ESPN and NHL.com.

How much cap room does an NHL team need at the deadline? How are the Oilers doing in Rob's long-term cap management model?
10-1260 text, @Lowetide on twitter. Talk soon!