I received an excellent email from Tempest the other day, it's three-pronged and worth at least three posts. The area I would like to talk about today is balance, and want to begin with three paragraphs sent me the other day.
Balance of Positions
This is the topic you're talking about most of the time when you're writing about balance on the blog. Having the correct amount of players to fill a roster properly, with enough depth to cover injuries. There's definite value in not requiring players to play out of position.
Balance of Playing Styles
This covers off the importance of having different types of players on the team. As fun as it would be to fill the team with explosive offensive talents, you still need players that can penalty kill. There are players that can do both and in a perfect world you would fill your team with as many of those types of players as possible (see: Team Canada at the Olympics), but for all intents and purposes in the NHL you will likely have to settle for some guys that do one better than the other.
Balance of Personalities
I work in an office where personalities are probably more important than talent. You can be the smartest person in the room, but if you have the personality of wet cardboard we're going to struggle working together. Along the same vein, if we hire too many type-A personalities we're going to have all sorts of problems from in-fighting to alienation of others. I'd much rather work with diverse group of people that get along with each other. That's how we build our team, I can only guess that it's an important factor when building a hockey team as well.
The third item is the one I'd like to spend a few minutes with this morning, because we cover the first two a lot on this blog. Tempest's paragraph on personalities makes a lot of sense, and as someone who has worked in the same industry for 37 years I read it nodding my head over and over. One of the reasons I generally ignore discussing this area is there's no way to know what happens behind a closed door. I can tell you what I think, but that's not really knowledge. I read (on this blog and elsewhere) many posts claiming to know, but I don't think there's any way to actually know what goes on. I will guess that Connor McDavid is pleased with Ryan Strome's arrival, that the room likes Eric Gryba and that Patrick Maroon is more likely to be re-signed than the other UFA's next summer. That's all based on guesswork and things I've heard (and you've heard the same things, maybe more). Is there value in knowing these things? Yes! Do we have the access to know? No. Not at all. It's a difficult part of the conversation to have.
Which leads to my question: Do you believe the Edmonton Oilers traded Taylor Hall, at least in part, because of his A personality? Do you think the Oilers traded him to New Jersey to make the transition to McDavid as leader easier? My answer: I wouldn't hazard a guess. Makes sense as a theory but there's simply no way to make an educated guess.
PROJECTED ROSTER 2017-18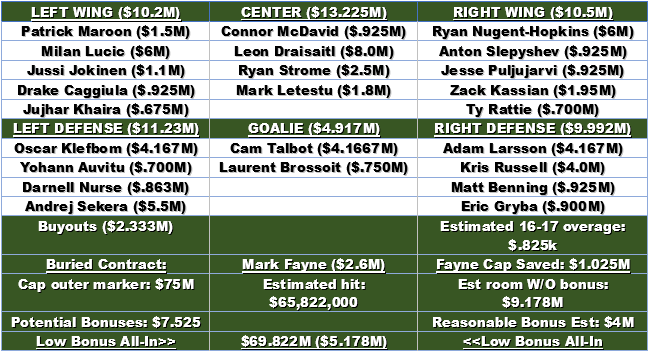 THINGS THAT MAKE YOU GO HMMM.
We've talked about this over the last few weeks, what Peter Chiarelli might be contemplating with those $5 million projected dollars of leftover cap room with Leon Draisaitl signed to $8 million. We talked about it yesterday, and I mentioned at that time (and believe now) there could be a trade. Now, if you read this blog, you know that July through June is 'three-for-one trade' season around here. Doubt that happens, but there does appear to be unfinished business at more than one NHL outpost. It seems there are other teams contemplating something large late July or early August.
Elliotte Friedman: "I get the impression that you've got Marc Bergevin sitting here with a lot of cap space and I think he's sitting on something, or some ideas. And I'm not necessarily saying that he's going to do something big, but I think he's dreaming big."
Trade? I think so. Edmonton dealing with Montreal? Jeff Petry? Alex Galchenyuk? Brendan Gallagher? Montreal dealing with Edmonton? Nuge? Man, I don't see it. I do believe the Oilers and Habs have room to wheel, if not with each other then elsewhere. Will they?
RUNNING RE

I will have posted most of the forwards by this time next week and will tackle the defensemen and goalies in August. A big trade now would screw over the RE numbers, so be warned that some of these totals would change in that case. Sorry for the unreadable graph, it looked good at midnight. Thanks to Digger 50 for the idea.
MAPLE LEAFS VERSUS OILERS
Michael Augello of The Sporting News has an interesting article out this week comparing the Toronto rebuild to the Oilers. The Maple Leafs young trio of brilliance (Auston Matthews, Mitch Marner and William Nylander) grab all the headlines—and rightly so—but there are really good players across this roster. I specifically value Nazem Kadri, Leo Komarov and defensemen like Jake Gardiner, Morgan Reilly and Nikita Zaitsev. Toronto also has some nice secondary talents like Martin Marincin, Connor Carrick, Connor Brown, Zach Hyman and Josh Leivo. I thought JVR and or Tyler Bozak would have been sent away for a RHD this summer but Lou is keeping his powder dry. Maybe they plan to fast track Timothy Liljegren (what a great pick at No. 17, I had him No. 5 overall) or maybe they'll just be patient. If you're Lou, getting a Stanley during Matthews entry-level deal is a thing worth pushing for, wonder how this turns out.
BALANCE
I have the photo. Had to check, it's been so long since I found it thought maybe it had disappeared into the ether. As things stand today, I don't think you'll see the balance photo at the end of August (my plan has always been to publish as part of an RE final flourish) but who knows what tomorrow brings.
Goaltending:

Brilliant starter, unproven backup

Defense:

The young cluster (Klefbom, Larsson, Nurse, Benning) has brilliant potential and the veterans (Sekera, Russell, Gryba) have given the kids room enough to grow.

Forwards:

Connor McDavid floats all boats and Leon Draisaitl may be able to drive his own line (we don't know what we don't know). Ryan Nugent-Hopkins could be a key performer in this group and strong seasons from Patrick Maroon and Milan Lucic are vital. The addition of  Jussi Jokinen was inspired, need another.
How close is this team to balance? I'll say closer than any team since 2005-06 fall, that team lacking only a goaltender worthy of the roster in front of him.
LOWDOWN WITH LOWETIDE
Friiiday, we're on the air at 10, TSN1260. Scheduled to appear:
Steve Lansky, BigMouthSports.

Our weekly feature guest is in Edmonton, we're going to hold onto him for two segments. We'll chat Oilers Stanley horizon, memories, the sports television industry and his fantastic website.

Matt Iwanyk, TSN1260

. A big night at Commonwealth.

Derek Taylor, TSN.

What a football game last night. Blue Bombers!

Dave Jamieson, TSN1260.

Dave chats about the historic aspect of this evening's game.
10-1260 text, @Lowetide on twitter. See you on the radio!