The Anton Lander role—No. 5 center, penalty killer—is wide open this fall and newcomer Brad Malone has a chance at the roster because of it. Malone fits under several Chiarelli/McLellan categories, including toughness and utility.
RE 17-18: 20GP, 1-1-2 (.100)
What role will Malone apply for? Malone would be 14F, No. 5 center and a penalty killing option with a physical presence.
Does he have a real chance? I think Malone has an excellent chance to play in the NHL this season, probably less than 50 percent to make the opening night roster, and I don't think he'll keep the job for a long stretch of the season.
What makes him attractive for this roster? Malone has some good numbers on the PK, leading the Hurricanes in 2015-16 with 35.80 Shots-against per 60. He was not effective in the previous season. Small sample size alert on both occasions.
What will his role be in Bakersfield? Condors don't have a lot in the way of centermen, so Malone should get a prominent place. Offensively he's more suited to a checking role even in the AHL.
What one thing will get him to the NHL? The PK option is intriguing. I have the Oilers with regulars Nuge, Letestu, McDavid, Caggiula, Jokinen, Kassian among what might be the top 12F. Some of those men were not outstanding in that role a year ago. Malone might be the seventh option out of camp and that could get him a job.
What will keep him from getting an NHL look? Numbers, goals for. In terms of getting into the lineup, there are 12 men who are going to be ahead of him and that means pressbox unless injury or a struggling PK. I think Jujhar Khaira has the edge but that's only on paper. Malone's path to an NHL job is narrow, but PK, faceoffs and being able to sit for a week at a time do have value.
How many players can he reasonably be expected to pass in one winter? I don't think he's going to pass anyone, but could complement the group. The key advantage Malone has is that he's a center. Edmonton's depth chart is impressive (McDavid, Draisaitl/Strome, Nuge, Letestu) but there are still enough chores to warrant a 5C.
Anyone else? There could be someone (Mitch Callahan?) among the wingers who can fill this role adequately. That's the sole reason for such a low GP RE. Malone has the clearest shot at this job based on what we know, but we'll see how things look in TC. Todd McLellan may decide he doesn't need an extra center.
RE 17-18 (SO FAR)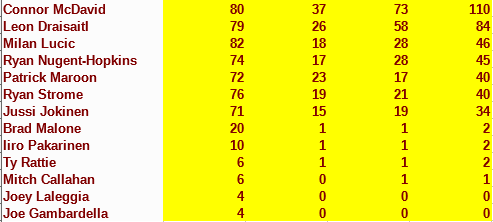 I should have the forwards done by this time next week, we'll spend the middle part of August on a fairly substantial group of defensemen and then the goalies. Hope you are enjoying the series!