We are coming up on August, a time when hockey news slows down to a crawl. Oilers fans have the Leon signing to look forward to but the rest of the summer's business is down. Edmonton's hockey team has made some moves in previous Augusts:
August 9, 1979:

Oilers acquired the rights to Dave Semenko and a draft pick in exchange for selection No. 42 (Neal Broten) and No. 63 (Kevin Maxwell). That would have been a steal for the North Stars, but Edmonton used the pick (No. 48) on Mark Messier.

August 19, 1982:

Oilers acquired Ken Linseman and Don Nachbaur from the Hartford Whalers for Risto Siltanen and the rights to Brent Loney.

August 9, 1988:

I don't want to talk about it.

August 4, 1995:

Oilers acquired Curtis Joseph and Mike Grier for first-round picks in 1996 and 1997.

August 2, 2005:

Oilers acquired Chris Pronger for Eric Brewer, Jeff Woywitka and Doug Lynch.
Maybe we see another massive deal this coming month, and I think a Leon Draisaitl 8-year deal would qualify. Either way, I think you'll agree the news was cold in July, free agency lacked a 'wow' moment despite two very interesting moves and the big trade of summer always comes last week of June.
THE SURE THINGS, 2017

The actual lines and pairings aren't there yet, but I think these 18 men are locks for opening night, with those not appearing here having one or more reasons for it.
There is room for a veteran RW and with Jaromir Jagr, Jarome Iginla and Shane Doan still out there, don't rule out the possibility. Foot speed is a factor but Jagr can still play and Iginla can shoot the puck.
If Andrej Sekera were here, we'd be talking about the balance photo. Sure as hell.
I'd give money to know what Todd McLellan is thinking in terms of lines.
We already know his opinion on the pairings (ideally the Swedes stick together) and I think Russell with Benning may end up being second pair.
UNCERTAIN OILERS, 2017

The obvious names from this list to ascend are Anton Slepyshev, Jujhar Khaira and Eric Gryba.
There are reasons to keep these players in the second tier. Slepyshev can be sent down without waivers, and if Edmonton adds a forward on a PTO that could be a factor. Khaira may get squeezed if the penalty killing looks bad and Gryba could be supplanted if the team needs more of a puck mover (Auvitu) and Stanton shows well.
That leaves room for one forward (Laleggia? Malone? Pakarinen? Rattie?) and one defenseman (Auvitu? Stanton? Fayne?).
The cap room that will be available to PC makes me hesitant to elevate any of these bubble players at this time. Is he done? He shouldn't be done.
DISTANT BELLS, 2017

If you had to pick one player who forced his way on to the opening night roster? From this list, I'm going to pick Zaiyat Paigin but the Oilers roster is now more mature and will be more difficult to crack.
Justin Fontaine agreed to terms with Dynamo Minsk of the #KHL

— Igor Eronko (@IgorEronko) July 31, 2017
Fontaine played three full seasons with the Minnesota Wild, they walked him, and he never got back to the NHL. You don't often see that in any era, but at age 29, with everyone busting a move now that the NHL teams are finalizing things, Fontaine went for the sure thing. Not a man alive can blame him.
Kailer Yamamoto utökade ledningen för USA 4-2. #WJSS #U20 #SweU20 #USAU20 #J20gifs pic.twitter.com/cVhe2SkZfp

— Anton Johansson (@antonj85) July 30, 2017
Yamamoto is probably going to need to wait one year before pushing for NHL employment, but his skill level compared to the other RW hopefuls is going to have a reckoning. Yamamoto isn't that much younger than Jesse Puljujarvi and he's going to be small next year too. I'm saying there's a chance.
JP, ANTON AND THE DRAKE
Later today I'll publish the first of three RE's from these young men, kept waiting and hoping for another shoe to drop. Peter Chiarelli's actions this summer, cap room through transactions, lead us to one unavoidable conclusion: He believes all three of these men will be productive NHL players. There's simply no other opinion that can be drawn. Peter Chiarelli is holding back some or all of JP's bonus money because he believes there is a chance he'll make those totals. Otherwise, we'd be looking at more than just TC invites that are going to cost no more than $2 million.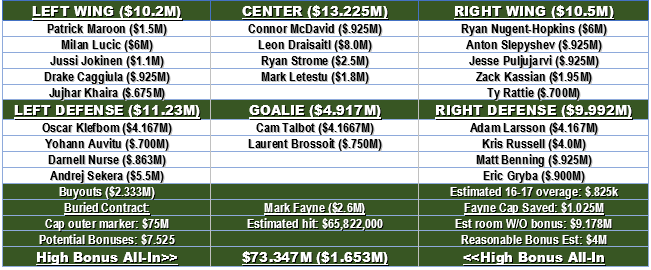 This must be the place Peter Chiarelli is in currently, thinking that he'll make damn good and certain there will be no cap overage in the coming snow. It's an extremely conservative way to go, I mean the chances of Puljujarvi getting max bonus in his first full season isn't high. Then again, McDavid.
BENSON
Rick Carriere: "We're trying to be cautious and make sure we get it right this year, so when he moves into the season, he's fully prepared to have a successful and productive season. He's excited about it. He's going through all the steps he has to from the end of the season, to rehab, into some training, and he's been skating a little while now with [Oilers skating coach] David Pelletier."
Benson has the resume, but the injuries have already cost him precious development time. It is imperative he gets a full WHL season and is productive.
LOWDOWN WITH LOWETIDE
It's a busy show today, beginning at 10 on TSN1260. Scheduled to appear:
Derek Taylor, TSN. A wild and crazy CFL weekend sees the west win everything and the Eskimos remain perfect.
Jared Book, Bluebird Banter and Habs Eyes on the Prize. Jays sellers? Habs after an Oilers C?
Jason Gregor, TSN1260. Eskimos weekend plus Oilers plans for JP, Slepy and the Drake.
10-1260 text and @Lowetide on twitter. Talk soon!