Sam Gagner was drafted in the early summer of 2007 and spent part of the next month on skates (Canada-Russia series) impressing his new bosses. By the time he arrived at training camp, he was a big story in a city that badly needed one. Samwise made the team, started the year 12, 1-6-7 in October of 2007. On an unrelated note, Kailer Yamamoto is showing well at the 2017 World Junior Summer Showcase.
YOU'RE KIDDING, RIGHT?
Yes, sort of. Kailer Yamamoto plays RW and the position is uncertain at this time, so there's a window of opportunity. That said, Edmonton has some interesting options and Yamamoto will turn 19 in late September. He is 5.08, 148 and has ridiculous skill. I have not included him in my RE but would not be shocked to see him in nine NHL games to start the season. Yamamoto and Phil Kemp made the final USA Roster.
22 @HC_Men selected to represent Team Canada at the #HlinkaMemorial Aug. 7-12 in Czech Republic/Slovakia. ROSTER: https://t.co/LZMWLvLQKW pic.twitter.com/oK0byIDGFO

— Hockey Canada (@HockeyCanada) August 1, 2017
Do you think the Oilers 2018 first-rounder is on this list? Will the Oilers pick a player in the first 31 next summer, or deal that pick at the deadline?
Chris Pronger traded by the St Louis Blues to the Edmonton Oilers for Eric Brewer, Woywitka & Lynch Aug 2 2005. @rbfallstromAP#stlblues pic.twitter.com/9jDGiDovSB

— STL Blues History (@STLBlueshistory) August 2, 2017
That was an amazing day. I know it ended badly, but the one year of Pronger was so beautiful. The Rake calmed the river and gave fans designated bathroom breaks (he and Michael Peca wouldn't let anything bad happen, so a quick run to the can was easily manageable). I still miss him.
50-MAN ROSTER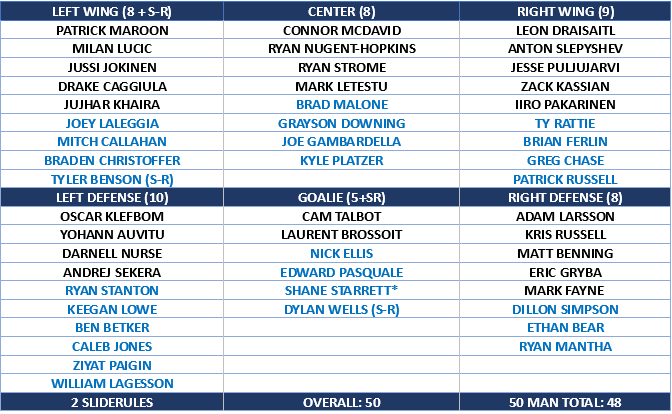 We are most of the way through the RE forwards and there are no more 'fringe' forwards on my list. In doing the RE series, the left wingers and centers are clear, the RW position is several shades of even. That makes it more difficult to separate these players and so the default is dividing TOI about evenly.
Also strange is that the C's (McDavid, Draisaitl, Nuge, Strome, Letestu) all get power play time, so Maroon and the right-wingers get the shaft.
Lots of interest in my starting lineup yesterday, specifically my listing Ryan Stanton as part of the lineup (over Iiro Pakarinen). My thinking is the Oilers may be in need of more than one extra option to start the season, and specifically penalty killing could be an issue. Stanton did quite a bit of it when he was in the NHL last time, could end up helping again.
PK is going to be an issue for both forwards and defensemen. On D, Sekera's absence (149 minutes 4×5 a year ago) is going to be noticeable based on last season's SA/60 4×5 stats.
CURRENT RE NUMBERS (FORWARDS)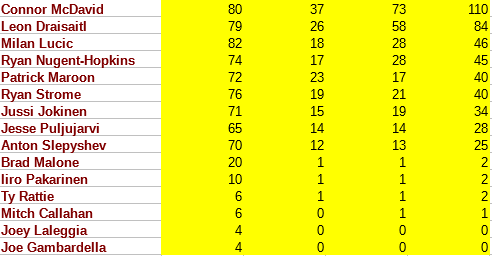 The top seven forwards will get the bulk of the overall playing time based on my estimates. The push in my model goes to Strome, he'll receive (imo) plenty of time with 97 and on a soft minutes line. I also project Strome to receive significant PP time, over the likes of Mark Letestu, Jesse Puljujarvi and Anton Slepyshev. There are four forwards to come, I'll wrap that group up on Saturday and we'll start the defensemen (there are 12 D) next week. Hoping to wrap up the entire RE series by the end of August.
LOWDOWN WITH LOWETIDE
At 10 this morning, TSN1260. Scheduled to appear:
Darcy McLeod, Because Oilers.

Darcy will join me for two segments as we drill down on the Oilers roster and talk about specifics.

Darrin Bauming, TSN1290 Winnipeg

. The Blue Bombers are in an exciting game every weekend and winning more than they lose.

Jeff Hauser, Radio Hauser.

Elway a lifetime Bronco.
10-1260 text @Lowetide on twitter. See you on the radio!