Drake Caggiula signed with the Edmonton Oilers in the spring of 2016, with the team on the upswing and in need of fast forwards with skill. His rookie pro season was a success, as he avoided the minors and improved as the season wore along. As he enters his second season, Todd McLellan knows he has a player with impressive utility and range. The question for Caggiula surrounds deployment. Where will he play? (All My Life).
DRAKE CAGGIULA 2016-17
5×5 points per 60: 1.04 (11th among regular forwards)
5×4 points per 60: 4.25 (5th among regular forwards)
Corsi for 5×5 %: 47.8
Corsi Rel 5×5 %: -2.0
DFF Elite 5×5 %: 38.7
DFF Elite Rel 5×5 %: -10.6 (23 percent of TOI v. elites)
Shots on goal/percentage: 93 shots/7.5%
Boxcars: 60gp, 7-11-18
(All numbers via Puck IQ, Stats.HockeyAnalysis.com and hockey-reference)
RE 17-18: 70GP, 12-10-22 (.314)
Your RE answers nothing!

 I gave you my reasonable expectation.

You have Puljujarvi, Slepyshev and Caggiula bunched together!

 Yes. The player who will emerge as the most prominent isn't clear to me, so I hedged the bet on all three.

Useless!

Reasonable.

Why do you favor Puljujarvi?

Based on what we know, and that could change before camp, the Oilers plan on giving the young Finn every chance to emerge as a top-six winger. It's important, because JP has already backed up the depth chart a little. Need that guy (Puljujarvi) to get his feet on the ground this season.

What if JP doesn't flourish early?

I think he gets the full season. Seriously.

Where does Caggiula fit in?

Ah, that is the question. I have him starting 4L and then getting plenty of PK work, but that could change and he may play in some prominent spots if some other kids struggle.

What is he?

I go back to what Ron Hextall (Flyers GM) told us before Caggiula signed with the Oilers. "He's got speed, he plays hard, he has a lot of good attributes.  He's got a shot at being a top six (player) based on his ability. He's not the biggest player, but he plays hard."

Will he score enough?

That is the question for all of these young forwards who spent at least some time in the NHL this past season.

Would you be shocked if Caggiula won the RW job next to McDavid?

 Yes. He played well with skill, scored 1-2-3 in 67 minutes with 97, but everyone plays well with McDavid. He was 2-1-3 with Leon (probably some overlap there) and had two points in about an hour with both Nuge and Eberle.

Can he play center?

I don't believe that will be the position people remember him playing.

Why can't you be more clear on these kids? I want to know who wins!

Long term, bet pedigree. That's Puljujarvi.

There's no separation?

Without McDavid, the three players we are discussing scored this way: Anton Slepyshev (1.13); Drake Caggiula (0.85); Jesse Puljujarvi (0.59).

Oh

. Yeah.
Play a lot on PK? He played less than 50 minutes total, but Caggiula's shots-against per 60 was solid and perhaps that's something he can continue. He was on the ice with McDavid and that has to help. Dangerous for opponents too, they had several fantastic 4×5 looks.

Will he play LW or RW?

I have him LW, he loses playing time to Jussi Jokinen I think, although Todd McLellan hits shuffle like mad.

Have you seen this kind of battle before?

Oh God yes. I've seen Oilers forward battles like this many times. Esa Tikkanen and Raimo Summanen in 1985-86 were looking for similar real estate, Toddy Marchant and Dean McAmmond were looking for the same spot for a time, Mike Comrie and Shawn Horcoff jockeyed for position as rookies, Marc Pouliot and Kyle Brodziak. Sometimes they arrive four at a time (Hall, Eberle, Paajarvi, Omark) and you lose some along the way.

Has there ever been a period where two rookies emerged at the same time and were wildly successful?

Jari Kurri and Glenn Anderson emerged in the same year as RWers of tremendous ability but we're not looking at that scenario here.

Final time I'll ask: Can you give your general feeling about these three players?

I think my opinion of all three is clouded by my frustration over Jesse Puljujarvi. By eye he's a power forward with 30-goal potential, by number he is not suggesting that kind of prediction is reasonable. That lack of offense brings the other two into the picture.

The other two?

I think Slepyshev is the better bet as a scorer, he was a pretty good offensive winger the year before he was drafted and those 15 KHL goals in 2014-15 were impressive.

Caggiula the least likely to succeed?

Yes, but that implies I see him as a poor bet and that is not the case. I think he could have a successful career, all three can have NHL careers.

Just not as Oilers?

Exactly. One is Jason Chimera, one is Fernando Pisani and one is Dan Lacouture (as an example). I can't identify the winner from here, maybe they all work out. I will say offense is their collective weakness and all seem to have at least some value as two-way players. That's a nice combination.

Why this song?

It speaks to opportunity, not letting these moments in time go to waste. There are so many big things that happen to us when we're 23, and they impact the rest of our lives in a major way. Drake Caggiula has a chance. What an amazing opportunity. I hope he makes it.
CURRENT RE FORWARDS 2017-18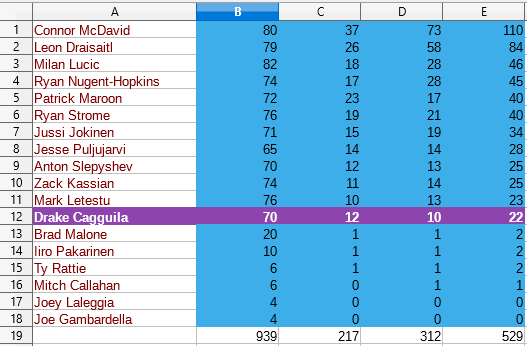 We have one forward to go in my RE. Last year's Oilers forwards played 984 games (that is the correct number btw) and scored 208 goals, 295 assists. Final forward tomorrow.