Please step this way ladies and gentlemen, we now bring you to the rarest of all things. During the period where the Edmonton Oilers changed out management every summer, dozens of young prospects would try and fail to make it through the system. Forwards were especially prone to derailment, so it was extremely rare to see a forward drafted, developed in the minors and emerge as a bona fide, successful NHL player. This is Jujhar Khaira, one such forward, who crawled through a river of shit and came out clean on the other side. (This is a Call).
JUJHAR KHAIRA 2016-17
5×5 points per 60: 0.66
5×4 points per 60: nil
Corsi for 5×5 %: 52.10
Corsi Rel 5×5 %: -1.78
DFF Elite 5×5 %: 81.70
DFF Elite Rel 5×5 %: 28.70 (18 percent of TOI v. elites)
Shots on goal/percentage: 10 shots/10%
Boxcars: 10gp, 1-0-1
(All numbers via Puck IQ, and hockey-reference)
RE 17-18: 45GP, 3-2-5 (.111)
You don't have him playing much.

 Khaira is waiver eligible now, so my guess is the Oilers keep him up all year. That said, he's going to need to fight for playing time.

What does he have to recommend him?

Big body, aggressive, he gets noticed out there and can play hockey. We're not talking about an enforcer.

Can he penalty kill?

In the AHL last season he was on the ice quite a bit on the PK based on goals against. Patrick Russell (14), Josh Currie (12 PPGA), Ryan Hamilton (11), Jere Sallinen (11), Anton Lander (7) and Khaira (6) were the top six forwards in the category. Also scored a SH goal.

Where are you getting this?

Eric Rodgers gifts me with this kind of information every year.

What else can he do?

Khaira's boxcars have been obscured by everything from Kevin Constantine to playing very little in the AHL as a rookie. I think he may have enough offense to make it as a fourth-line player and if he can achieve that maybe there's a little more fuel. My guess is that he's going to have enough offense to play in the NHL.

You're not showing it here.

No, I think this season will be a transition year for him, getting acclimated to playing a role as penalty killer and extra man.

Who are his comparables?

Tom Pyatt, Lance Bouma, Derek Dorsett. List is here.

How replaceable is he?

There are free agents currently available who could fill his role capably, and some who would bring more offense.

Why keep him?

Khaira has improved offensively in each season and may fill a role higher up the depth chart. He's inexpensive. He fills a role on the team that the management and coaching staff value (tough, rugged winger). The question is skill. We'll find out.

Has Chiarelli used these kinds of players on past teams?

Yes, for sure. He ran Shawn Thornton out there a lot (well Claude Julien did) over several seasons. Khaira will be a better hockey player than Thornton was in my opinion.

How much time does Khaira have to prove himself?

LW is in a weird spot currently, the only long-term certainty is Milan Lucic and we don't know how long he'll play on the top two lines.

You're kidding right?

Not at all. We could see a massive turnover at the position. Unlike RW, where Jesse Puljujarvi and Kailer Yamamoto are pushing up the depth chart, LW is wide open beyond Lucic.

What about Tyler Benson?

We need to see him healthy for an entire season before counting on him. Khaira isn't the same kind of prospect but is healthier.

What is Khaira's outer marker as a scorer?

He is probably a 10-15 goal scorer in his prime, 25-30 points. That's my guess.

That's good!

That's outer marker. Plus, I thought Marc Pouliot was going be a 2C for 15 years.

Is it possible he gets sent down or traded?

Yes. Oilers have to make a decision on him (waiver eligible) so that's part of the process.

Is it possible for him to play inside the top 9F during his career?

Yes. I've marked him as a third-line winger at the high end, but am less certain about his offense five years after his draft than anyone in memory. College, Constantine, the Oilers AHL rookie handling, then two years of steady growth at the level. You like to see a player progressing and he has, but the last two seasons are the ones that have convinced me he can have an NHL career.

How was that 2012 draft?

Very poor. Nail Yakupov didn't work out, I'm going to blame the Oilers from ownership down on that one. Mitch Moroz was an early second round pick and didn't score enough, that second round is a wasteland. Khaira has a chance in the third round and Erik Gustafsson has performed very well for a fourth-round pick.

Could he become an Ethan Moreau type?

I think Moreau had more offense to be honest.

Why this song?

The call is here, he earned it. A time to reflect on the past and look forward to the final furlong to an NHL career. It has been an unusual run but he's got a real chance.
FINAL RE 17-18 FORWARDS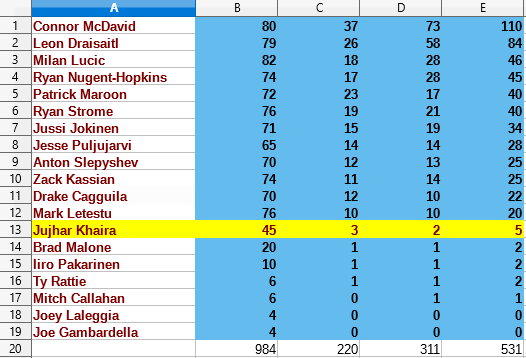 Final projection comes in at 220 goals, an increase of 12 from 2016-17 (208). The entire difference (plus a little) can be explained by Connor McDavid's increase (37, from 30 a year ago) and Jussi Jokinen's replacing Benoit Pouliot (15, from Poo's 8).
That's superficial but does explain the increase. I think the power play will be as good, believe the penalty kill is going to be a significant problem and that some of these kids are going to break out.
Jesse Puljujarvi is going to get a gigantic push.
We start the Defensemen next week.