It's been so long since we heard one damn thing about the Leon Draisasitl contract situation some are contemplating an SOS. We did get a fractured google translate message sent under the door yesterday:
Leon Draisaitl: "I am in Cologne a few days to visit the family. This is part of the professional sport. Of course I would like to have clarified the situation as quickly as possible. I will not say more." Source
Reading between the lines there appears to be very little between the lines. It would be nice to get an update but the truth is there's no actual hurry. All the agents and managers are in short pants, Hawaiian shirts and are running around with umbrella drinks. This might take awhile.
CLUSTER OPTIMAL
EDM – optimal lines

If I was in charge, I'd probably just play McDavid on every line all game long. pic.twitter.com/QzXiJsgEcc

— Sean Tierney (@ChartingHockey) August 8, 2017
Mr. Tierney is a worthy follow and his optimal lines are fascinating to me. He gathered the template for this lineup from Ryan Stimson's article Identifying Playing Styles with Clustering. The two main ideas are that distributing a team's best players throughout the lineup is optimal, and that certain "player types" complement some other player types more than others.  Recommend that linked article from Mr. Stimson.
There is no Zack Kassian as penalties took him out of the GAR race among Oilers forwards. I am fascinated by his lineup, expect you will be too, and have Sean coming on the Lowdown Friday to discuss.
I think it's an interesting idea. Universally Oilers fans would want to put Maroon on 1line, but one of the issues on this team is not having enough quality when 97 is not on the ice. Maybe that third line could be part of the answer.
NHL EQUIVALENCIES SHOULD PREDICT WINTER
Last summer, we were looking at NHL equivalencies and wondering how many players would make the NHL from the prospect group. There wasn't much work for prospect defensemen (Matt Benning aside), but the forwards saw a lot of work. Here are the pro players in the system a year ago:
2015-16
DEFENSE
Jordan Oesterle 4-18-22.

(2 NHL GAMES)

Joey Laleggia 5-12-17.

Matt Benning 5-9-14

. (62 NHL GAMES)
Dillon Simpson 3-11-14.  (3 NHL GAMES)
Griffin Reinhart 3-10-13. (1 NHL GAME)
David Musil 2-6-8. 
Ben Betker 1-5-6. 
FORWARDS
L Drake Cagguila 22-22-44 (60 NHL GAMES)
R Patrick Russell 17-17-34
L Jere Sallinen 10-15-25
R Jesse Puljujarvi 11-12-23 (28 NHL GAMES)

R Tyler Pitlick 7-15-22

(31 NHL GAMES)

C Jujhar Khaira 8-13-21

(10 NHL GAMES)

R Anton Slepyshev 10-7-17

(41 NHL GAMES)

R Greg Chase 8-8-16
C Bogdan Yakimov 5-11-15
C Kyle Platzer 5-9-14
Edmonton saw two college kids grab 51 percent of the available games gifted to prospects on this list. The winners were Matt Benning, Drake Caggiula and Anton Slepyshev, with Jesse Puljujarvi and Tyler Pitlick getting into a substantial number of games. What about this year?
Ryan Mantha
2016-17
DEFENSE
Ethan Bear 10-14-24

Ryan Mantha  7-16-23

Caleb Jones 4-19-23

Ziyat Paigin  4-11-15

Keegan Lowe 3-7-10

Dillon Simpson 2-6-8

Ben Betker 1-7-8
FORWARDS
Joe Gambardella  14-26-40

Kailer Yamamoto 15-20-35

Jujhar Khaira  11-18-29

Tyler Benson 8-21-29

Joey Laleggia 16-12-28

Jesse Puljujarvi 12-16-28

Ty Rattie 11-14-25 

Mitch Callahan 9-16-25

Grayson Downing 6-11-17

Greg Chase 2-9-11

Patrick Russell 5-5-10

Braden Christoffer 2-4-6

Kyle Platzer 1-5-6
I'm using NHLE's from Rob Vollman's new book. My RE has completed the forwards group, and I have Joe Gambardella, Jujhar Khaira, Joey Laleggia, Jesse Puljujarvi, Ty Rattie and Mitch Callahan all getting some work.
CONDORS BLUE 2016-17

After running some of the CHL defenders yesterday, I thought it might be interesting to revisit Prospect-Stats.com and check out the Bakersfield Seven. Jordan Oesterle was the best offensive player and played the most, with Mark Fayne and Griffin Reinhart next men up.
The qual comp looks absolutely equal from here, unless I am misunderstanding the measure all of these guys rotated equally or damn close. In a case of this kind, I believe 5×5 GF-GA  best reflects performance (and yes this is plus minus and yes it is universally panned).
Dillon Simpson 40-31 (+9)
Mark Fayne 35-27 (+8)
Griffin Reinhart 47-40 (+7)
Ben Betker 23-17 (+6)
Jordan Oesterle 43-31 (+2)
Mark Fraser 34-38 (-4)
Bryce Aneloski 12-16 (-4)
Interesting results. Dillon Simpson will be in tough this fall to get into NHL games, but his resume is quite good and always improves a little each season. Note: David Musil played for two teams, and I can't separate the numbers, so excluded him from this look.
50-MAN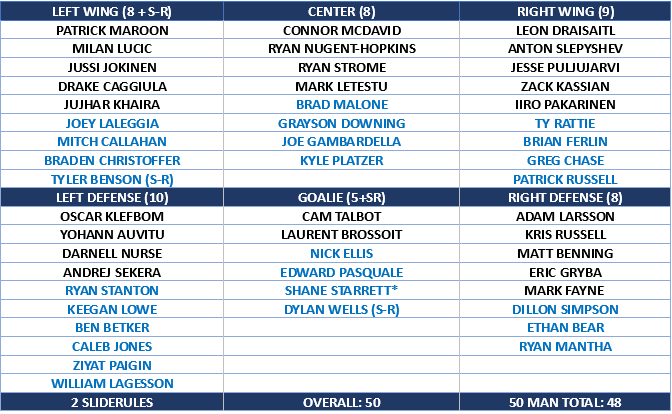 This week we're going to spend a little time discussing possible additions to the group. You may recall the Oilers added Matt Benning, Kris Russell and Eric Gryba via signing and invite.
August 15 will be a big day, as several college free agents will become full UFA. This might be an area of interest for Edmonton.
A few comments on the 50-man have come this way over the last seven days. There are ways, like a small trade, to make more room on the list. I don't think the Oilers are close to jeopardy in this area.
POSSIBLE COLLEGE FREE AGENTS
LC Alex Kerfoot, Harvard. He will be a free agent August 15. Shane Malloy, Hockey Prospect Radio: An intelligent puck possession playmaking center who can play on the wing that has good passing ability whether stationary or at speed. Uses the give and go well and can draw defenders to create time and space for his line-mates. Is a quick darting skater with the agility to dodge and roll off defenders. He defensive game has matured once his defensive habits such as an active stick, head on a swivel, taking correct angles became consistent.  Source
LC Dominic Toninato, Minnesota-Duluth. He will be a free agent August 15. SBNation: He's a top line center with the ability to play on the power play and penalty kill. He plays with a physical edge that sometimes goes too far. He's a decent skater, but will likely move from center to wing at the next level, where he should provide strong, gritty two-way play with the occasional offense chipped in as well. Source
LD Will Butcher, Denver. He will be a free agent August 15. Ben Kerr, LWS: Butcher is quick skater. He has excellent speed in both directions. He also has very good acceleration. Butcher has very good vision and the ability to thread the needle on passes both to start the transition game and in setting up plays in the offensive zone. He also has a good shot. While Butcher is a little undersized, and can be overpowered in the defensive zone, he works hard to avoid this making him a defensive liability. Expect Butcher to be NHL ready and push for a spot with whatever team signs him.  Source
NEW BLOG
Every once in awhile someone I've touched base with over the years starts a new adventure and I'm always happy to pass along the link. HockeyExtra is up and running after a lot of hard work, congratulations to them and if you have a chance check them out here.
LOWDOWN WITH LOWETIDE
We're back! At 10 this morning, TSN1260. Scheduled to appear:
Jonathan Willis, Oilers Nation. What will the Pacific Division look like this winter?
Keegan Matheson, MLB.com. Jays and Mike Trout.
Scott Cullen, TSN. CFL Power Rankings, Jagr still waiting.
10-1260 text, @Lowetide on twitter. I missed this!