The Edmonton Oilers signed first-round draft pick Kailer Yamamoto today. The signing comes later than Jesse Puljujarvi (July 13) but it is one of the earlier signings among the 31 first-round selections this summer.
50-MAN ROSTER, AUGUST 10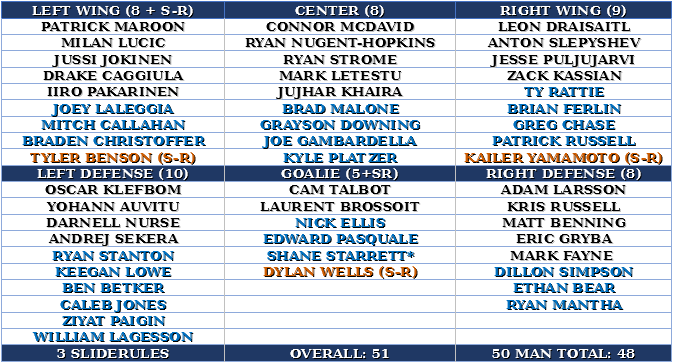 Yamamoto is a brilliant skill player and will no doubt get a lot of attention at rookie camp this fall and into main camp and preseason. There's a slight chance he catches fire in preseason games, Edmonton may be wise to send him down to junior earlier than later.
His 2016-17 numbers were fantastic. He was 28-20-48 at 5×5 this year, behind only Cody Glass among WHL draft-eligible players. Top skill, fantastic speed, good scorer but a better playmaker. Size the only issue and he's a lock for pro hockey fall 2018.
DRAFT DAY SCOUTING REPORTS
Corey Pronman:

 It takes a lot of talent for teams to be convinced that a player under 5.08
should go in the top 15, but Yamamoto clears that bar, partly on talent alone, and partly on a relatively weak draft class. He's a plus skater, puck handler and passer. Yamamoto has great agility on his edges, combined with a good top gear. Source
The Black Book:  "An electric player with dynamic offensive ability, easily some of highest skill of any forward I watched this year, he's just so small and at times took some big contact when I was viewing him. Love his aggressive nature and how he attacks puck carries from all angles, it puts players on edge."
I ranked Yamamoto No. 11 on draft day and have received some note in certain areas for saying the young winger might push for an NHL job next season. The push back on that verbal surrounds his size (he is 5.08, 153) and that's certainly a consideration. My response is that Yamamoto is one of the older players in the 2017 draft (he is just a few months younger than Jesse Puljujarvi) and his offensive ability is substantial. Among the players I looked at for the 2017 draft, only Elias Pettersson and Nick Suzuki posted better NHL equivalencies.