In April of 2015, 28 months ago, Peter Chiarelli took over the Edmonton Oilers. His team had more holes than swiss cheese, but he had some trump cards, led by the staggering lottery win just before PC's arrival. Chiarelli would have strength up the middle in Connor McDavid, Ryan Nugent-Hopkins and Leon Draisaitl, but a defense and goaltending situation that was sadly lacking. What areas could he use to trade his way to a balanced roster? Draft picks, and wingers.
50-MAN ROSTER WHEN CHIARELLI TOOK OVER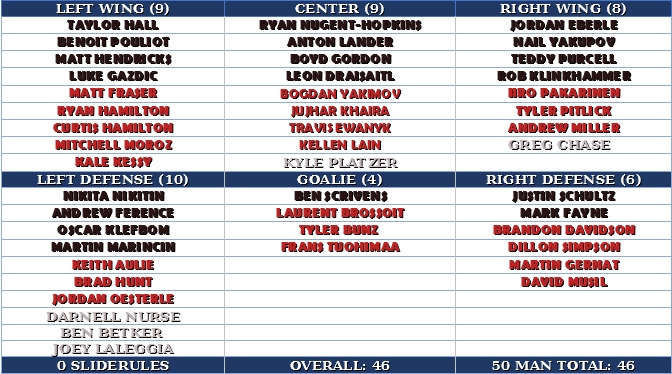 Peter Chiarelli didn't have to trade his wingers, dealing off the Nuge or Leon (or both) could have given him improved depth in other areas.
He also could have kept all of those draft picks, the ones sent away for Cam Talbot and Griffin Reinhart.
He could have dealt Leon Draisaitl in the P.K. Subban deal, kept Taylor Hall and passed on signing Milan Lucic.
He could have signed a free-agent goalie instead of trading for Cam Talbot.
What he did was trade the wings and draft picks, then built up the middle in goal and on defense. Further, he moved to replace the wingers sent away via the high draft picks.
CURRENT 50-MAN ROSTER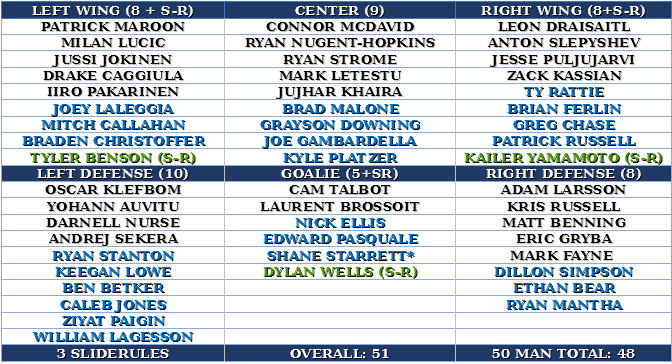 The Oilers now are opposite the entry roster. Peter Chiarelli has built the goaltending and defense while leaving the center position alone.
Although Chiarelli receives plenty of criticism for his big moves, there's also a general acknowledgement that the smaller moves (Patrick Maroon, Zack Kassian, Matt Benning, Jussi Jokinen) are impressive and very helpful.
There is also the first hints of real balance and depth, and it comes from the blue line. For the first time in one forever, there appears to be a plan to replace older players with internal options. In the summer of 2019, both Andrej Sekera and Kris Russell have a portion of the NMC lifted. At that time, one or more of Caleb Jones, Ethan Bear, Ziyat Paigin or Ryan Mantha may be NHL-ready. That's an impressive bit of building in a short space of time.
I think my view of Peter Chiarelli differs than most people for a couple of reasons.
I'm not terribly concerned with how he builds the Stanley winner, only that it happens. We've been over our various opinions on specific trades, but he does have a tendency to do a nice bit of recovery after the fact. The Griffin Reinhart trade didn't work out, but the Matt Benning signing got PC exactly what he needed (an effective plug and play).
The big consideration for Chiarelli in trade isn't the price to be paid, it's the value (to him) of the incoming asset. Perhaps because I saw him work in Boston, the trading of specific players was, and is, expected. I thought Taylor Hall was in a tough spot 2016 summer because his value was higher than the others. I also believe that players who we perceive as being untouchable at this time are in fact available if they are the ask in a deal that brings in a player he values.
Ryan Nugent-Hopkins, Jesse Puljujarvi, even Oscar Klefbom. I think he's still looking for his Chara and that may come into view over the next 12 months. Long way of saying that in the final week of June over the last three seasons, Peter Chiarelli has made a trade that was noxious to much of the fan base. No matter. His team finished with 103-points and the elements added (grit, size, goaltending, defending) have value in his mind.
You can argue Connor McDavid is carrying all of Peter Chiarelli's mistakes up the pop charts and (as you know) I agree with much of what you say. I'll tell you honestly: If and when Connor McDavid holds Stanley high, I'm not going to give a rat's ass about any of it. For me, the goal is the thing, the winning is the deal.
THIS SEASON
We're getting down to near the end on this summer's RE series, with the forwards scoring a dozen more goals than the year before and the defense in the same range as 2016-17. I'll tell you this club should be a strong one but there are darker clouds on the horizon. Another 103-point season is not guaranteed and the goaltending could have a little more wobble than one year ago. I'm reading more and more about 'this time they'll get past Anaheim' and would encourage you to have a quick look at history. Nothing is promised to the 2017-18 Oilers. If you are planning a parade, perhaps you are a little early.
KAILER YAMAMOTO
The signing of Kailer Yamamoto last night puts an interesting spin on the RW depth chart this fall. I've mentioned more than a few times the young man has the kind of elite skill set these gifted centers need alongside them. Chemistry is a funny thing, and Kailer Yamamoto strikes me as the kind of guy who is going to push for every inch of daylight made available.
This is going to be fascinating. Many (most) think keeping Yamamoto for nine games (or more) is full crazy, while others are curious and want to see if he can make an impact. For me, there's zero doubt in my mind Yamamoto can think, skate and create, he has more offensive potential than any other RW coming to camp. The only question is readiness. We wait.
LOWDOWN WITH LOWETIDE
A busy morning, TSN1260, starting at 10.
Steve Lansky, BigMouthSports

. Steve mentioned Waterton being a sublime vacation spot and now it's overrun with tourists! Also, the Gretzky trade 29 years later and the absolute joy of junior hockey.

Sean Tierney, The Athletic  & Hockey Graphs

.  Remember the graph from Sean I showed you the other day? It is here. We'll break it down.

Derek Taylor, TSN

. Mike Reilly kicks ass coast to coast.

Jimmy Morrison, Edmonton Prospects

. They won! On to the finals!
10-1260 text, @Lowetide on twitter. Friday on my mind!