If you want the God's honest I wasn't the least surprised to see Milan Lucic arrive in Edmonton as an Oiler. He is a unique player, Peter Chiarelli's first media avail mentioned "hard" and "heavy" more often than an AC/DC lyric. However, my second choice, after Lucic, would not have been David Pastrnak.
https://twitter.com/brianlawton9/status/897182106966773760
The Boston Bruins would be flat out nuts to trade David Pastrnak and frankly I very much doubt it happens. If he is available, it behooves Peter Chiarelli to pursue a trade with extreme prejudice. Pastrnak as first-person shooter on McDavid's line would be epic. The Bruins player I thought Chiarelli would acquire? David Krejci. However, the big ticket contract and flagging production probably disqualifies a deal (not to mention the NMC). Dealing for Krejci now would probably take Nuge, and set up something close to a Rick Middleton-for-Ken Hodge future (possibly).
STROME GONE WILD!!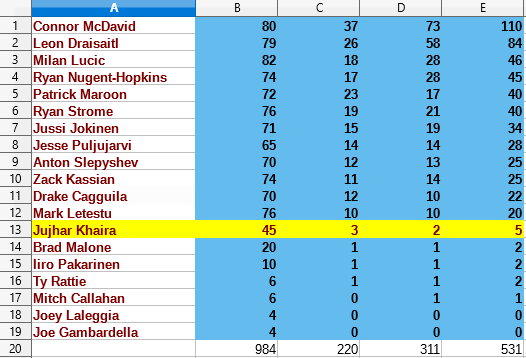 I see people talking about the Ryan Strome 70-point projection and wonder why there's such an uproar. Above you see my RE projections for forwards, which is far different than The Forecaster (I think it's the Forecaster) and what they're trying to do.
My projections are based on Connor McDavid playing 70 percent of his season with Leon Draisaitl, about 60 with Patrick Maroon (no time on No. 1 PP for Maroon), and then the rest with Strome, Lucic and Nuge. Maybe a little for Jokinen. It's a giant hedge from scorers No. 3 through No. 7.
The Forecaster can't do that, they have to make a decision and it's important they get it right. They could be wrong, but credit them for having the courage of their convictions. I don't envy them and sure as hell won't mock them. Tough thing to do, mind reading. Me, I'd try to figure out what the coach trusts and then go with that projection.
PROJECTED CONDORS

We talked yesterday about college signings, I think the center position (skill division) is the one area we might see an addition.
Corey Pronman has his Organizational Prospect Pipelines ranking out and the Oilers have fallen from No. 8 to No. 28. Pronman mentions Kailer Yamamoto and some defensive depth. My Top 20 list includes Jesse Puljujarvi but Pronman's general point is correct, this organization badly needs an infusion of top end prospects.
That's one reason why I was pleased with the 2017 draft. Edmonton tried to hit home runs with skill in taking Kailer Yamamoto, Ostap Safin and Kirill Maksimov. It's the kind of draft I can get behind, and represents a complete departure from the Mitch Moroz-Jujhar Khaira draft.
Although the Oilers prospect cupboard is not strong, the draft/procurement department has delivered some fantastic rookie classes in recent seasons.
LAST FIVE ROOKIE CLASSES
2012-13: Nail Yakupov, Justin Schultz, Chris VandeVelde

. A pair of talented if one-dimensional players whose only crime was arriving at a time when the organization couldn't offer them a situation in which to flourish. I wonder what would have happened it Ralph Krueger hadn't been skyped.

2013-14: Mark Arcobello, Martin Marincin, Luke Gazdic, Taylor Fedun, Brad Hunt

. Kind of a low ebb among these fantastic rookie clusters, Martin Marincin is a more effective player than he is given credit for by the vast majority of fans (in my opinion).

2014-15: Oscar Klefbom, Leon Draisaitl, Andrew Miller, Tyler Pitlick, David Musil, Curtis Hamilton, Bogdan Yakimov

. A brilliant pair (Oscar and Leon) of rookies arrive the same season, and both have grown quickly into major foundation pieces for this young and talented Oilers team.

2015-16: Connor McDavid, Iiro Pakarinen, Brandon Davidson, Darnell Nurse, Adam Clendening, Jordan Oesterle, Griffin Reinhart

.  The mother lode that is Connor McDavid also brought five rookie defensemen of varying quality and the Finn Pakarinen. A franchise altering rookie crop and in many ways the year the clocks began to keep time again for Oilers fans.
2016-17: Drake Caggiula, Matt Benning, Anton Slepyshev, Jesse Puljujarvi, Jujhar Khaira, Dillon Simpson. This could be a strong crop but we'll have to wait and see on many of these names. Benning arrived complete (easy assembly!) and the promise of Puljujarvi, Slepyshev and Caggiula may have a major impact on the future.
From 2014-17, that's a fantastic cluster of young talent. The addition of Matt Benning gets forgotten but it was a big deal. Notice the massive number of names turned over from the 2012-14 lists as Peter Chiarelli basically sent away everyone but Oscar and Leon. That's typical of a new manager. Seriously. I don't have Kailer Yamamoto included in my RE, but there's a good chance he plays some NHL games this fall.