Back when I spent too much time on baseball (this was before and after I spent too much time on hockey) there would be a mountain of time spend on 'splits' for each player. You know, a young position player can sometimes improve his strikeout/walk ratio and see a spike in power in the last 40 games of a season. Pitchers can settle in too, and if you're in a roto or fantasy league you can steal players. Watch for a pitcher who maybe got some spot starts and is 23 or 24. In the league of misfits I was in, finesse pitchers had low value, so maybe try to avoid the famous arms. If there is a pitcher no one notices getting 3/1 k/w ratio, grab that guy. There's a mlb pitcher named Asher Wojciechowski who is 28 and has a k/w of 51/9. His father may or may not have worked with Barney Miller, and he might be too old to have a career, but that's a strikeout to walk ratio worth paying attention to in the next year or two.
Splits in hockey don't give us the same kind of results, mostly (in my opinion) because of variations in usage. In baseball, you get your at-bats, but in hockey playing time can be used in very different and undemocratic ways. Here are some hockey splits, let's see what we can see.
OILERS, MARCH 1 TO END OF REGULAR SEASON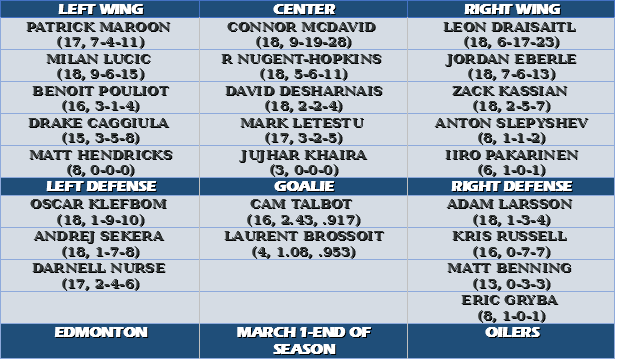 Connor McDavid and Leon Draisaitl closed extremely well, that run to the end of the season was a lot of fun. The Oilers finished with more points (103) than McDavid (100) but my money is on 97 this season.
Drake Caggiula scored well, he was healthy by then and getting some looks higher  up the depth chart.
The Nuge line found the range down the stretch, all three veterans needed to post some crooked numbers to finish off the boxcars. I wonder if the Oilers give RNH an early season push to get the ball rolling offensively. Maybe he's like that Volkswagen Type 2 in Little Miss Sunshine and needs a little push to get going.
Klefbom and Larsson played well, the goalies did too, and Nurse boosted his boxcars a little before running out of time.
Both Jason Gregor and Bob Stauffer have mentioned Caggiula as a possible surprise scorer among the young wingers on the team. My RE has both Jesse Puljujarvi and Anton Slepyshev playing and scoring more, but that's an interesting take.
BAKERSFIELD MARCH 1 THROUGH SEASON'S END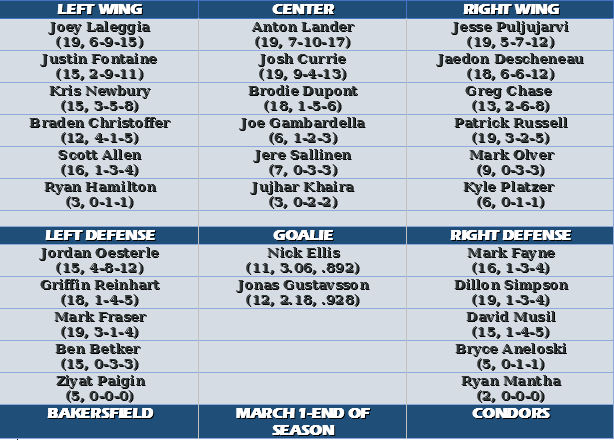 If you could choose only one player to recall based on numbers, who would it be?
Jesse Puljujarvi performed pretty well down the stretch, I think he gets a major push this fall. If he still struggles, what then? He has too much talent in my opinion, might be best on a soft parade line with Jussi Jokinen and Ryan Strome.
Joey Laleggia, Greg Chase and Joe Gambardella are interesting names on this list. It would be interesting to see what each can do with a pre-season push.
Massive turnover on LHD after the season, I will be watching Ben Betker and where he slots into the lineup. Big man has had a quiet entry-level deal, typical for defensive defensemen. Has he improved? His usage this winter will tell us a lot.
WILL BUTCHER
The deadline for college players to sign with their drafting teams has come and gone, meaning there are a stack of free agents on the loose for NHL teams. Edmonton's 50-man list is very tight, suggesting the odds of signing one of the available kids is not high. Butcher is in the hockey news currently, from a Mike Chambers article in The Denver Post to every blog going figuring out where Butcher is heading. I wrote about the free agents here for ON, and wanted to drill down a little more on Butcher.
His NHLE (82gp, 5-24-29) is pretty strong and he is a mobile defender known for passing ability. Ryan Lambert wrote about him here and if the Oilers signed him my guess would be Butcher would be a feature player in Bakersfield to begin his pro career.
CURRENT 50-MAN ROSTER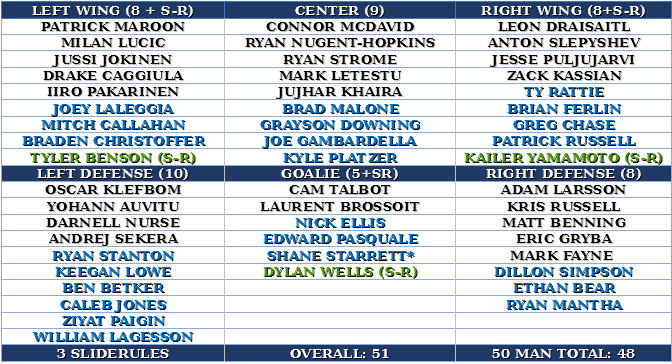 The Oilers do have room (two spots) and one imagines Peter Chiarelli will leave at least one spot open for Kailer Yamamoto (in case he doesn't slide) and or a training camp invite with a good chance to make the club.
I think they're done save for the Leon Draisaitl signing. If you bring in a Jagr or Iginla or a Doan, then you are pushing back Jesse Puljujarvi and Anton Slepyshev for another year.
That could happen anyway, because Yamamoto is going to impress and the Oilers are unlikely to send him down early. My most recent 'Riesen to Believe' has Yamamoto at 25 percent to make the club, Puljujarvi at 90 percent. Edmonton might be wise to send their first-round pick back to junior earlier than late, before a full on contest for a skill spot begins to rage.