And with that, the summer's business was complete, freeing us to argue over lines, pairings and where they're going to fly Nuge's horses. Being an Oilers fan means never having to watch anyone play for the home team for an entire career. Before we proceed, let's review the summer list and the solutions arrived. (Cover photo by Rob Ferguson).
PETER CHIARELLI'S SUMMER LIST
Finalize long term deal for Connor McDavid. This is JOB ONE. McDavid's $12.5 million times eight contract represents a massive victory for the organization and the general manager. There is a large group of Oilers fans who can't bring themselves to credit Peter Chiarelli, so allow me to go ahead and say this was a big damned deal. Music!

Finalize long term deal for Leon Draisaitl. This is JOB TWO

.  We discussed this deal all summer, starting at $6.something and then arriving at $7.5 million. In the end, as a group we were thinking eight and the $8.5 million times eight years wasn't much of a surprise. Reaction has been interesting, I sense everything from happiness to relief to disappointment. If you are inclined to believe a dynasty is slipping away, chances are the extra cash here is one more version of Taps. For the rest of the class, this deal represents a full payment and increases the pressure on the 'value deal' portions of the roster.
Negotiate the expansion draft rapids without giving up a valuable piece of the future. (Griffin Reinhart fits this description.). It was in fact Griffin Reinhart, who may have a more difficult time getting into an expansion lineup than an Oilers group that will miss Andrej Sekera.
Find a second pairing RHD with two-way acumen. This job remains open, with Matt Benning likely to get a full shot at the beginning of 2017-18. I still think we might see something happen in this area, possibly around Ryan Nugent-Hopkins.

Find a stopgap measure to replace Andrej Sekera's minutes.

Russell could be the LH portion of the second pairing, otherwise the job could fall to Darnell Nurse of Johann Auvitu.

Find a C-R who can help the offense and mirror Leon. Ideally a first-person shooter

. Ryan Strome is the answer, wonder how long he has been a target or a player of discussion.

Make enough cap room to get everyone in under the number with enough room to spare for the trade deadline. (Eberle for Strome cut $3.5 million, the Pouliot buyout added about $2.667 million to the cap room)

. It appears the Oilers have more than enough room, plus the Sekera LTIR option if it comes to that.
PROJECTED 2017-18 ROSTER (PLUS LINES AND PAIRINGS)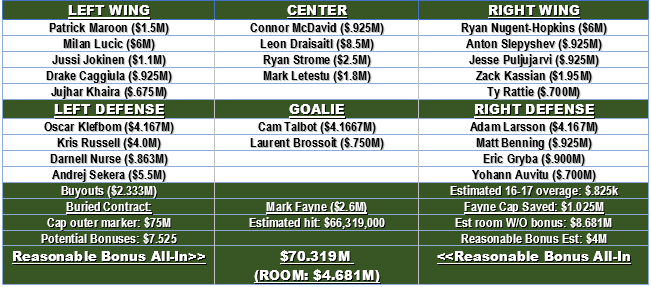 The forwards are aligned in a way that matches much of the discussion this summer. I would like to register my vote against Nuge on RW, but if we're going to showcase RNH then put him with McDavid. It has the added benefit of keeping all of the RFA's away from McDavid in their contract seasons.
Ryan Strome at center becomes important if the plan is to trade the Nuge. I expect he'll see about 75 percent of his time at center in an audition season. If he can manage to score 20 goals on a designated soft minutes line (with power-play time), Peter Chiarelli can safely deal RNH.
We're going to see the three young wingers (Jesse Puljujarvi, Anton Slepyshev and Drake Caggiula) get full lash at 550 at-bats. I'm always hammering away on this, I believe absolutely you need to give talented kids a full season when they're ready. Three at a time? That's a massive ask.
Andrej Sekera's absence means more prominent roles for Matt Benning, Darnell Nurse and possibly Yohann Auvitu. I am bullish about the youngsters, but hope Sekera returns early in case the gales of November come early.
PROJECTED 2018-19 ROSTER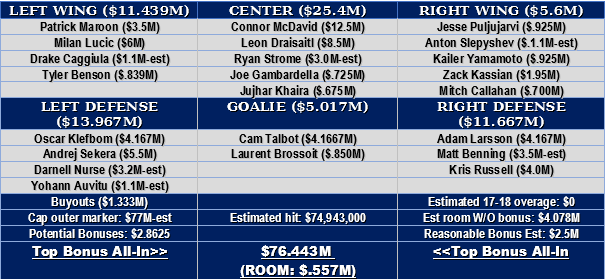 This is a first blush at the roster one year from now, assuming a $77 million cap. Nuge has sailed on down the line, allowing Peter Chiarelli to return Patrick Maroon, Drake Caggiula, Ryan Strome, Anton Slepyshev, Darnell Nurse, Matt Benning and Yohann Auvitu.
We also see the importance of the farm system, as names like Kailer Yamamoto, Tyler Benson and Joe Gambardella probably ascend as early as 2018.
THE DRAISAITL DEAL
I always thought the Tarasenko contract was a reasonable comparable, meaning 7.5 million times eight seasons would be the goal. Inflation (Tarasenko's deal was signed two years ago) is a factor and I do think the Draisaitl camp won the negotiations.
For me, there's an opportunity to compare the Draisaitl long-term deal with those of Hall, Nuge and Eberle but all I'm reading is folks once again viewing the deal through their established lens. Too bad. There's a conversation that can be had about risk/reward and where the Draisaitl deal falls compared to the Austins.
Taylor Hall's contract is a flat out bargain, massive home run by Steve Tambellini. The Nuge contract looked fine to me at the time and I would sign it again. The Eberle signing came after a 34-goal season and hasn't looked like a bargain for some time—although I would argue that Jordan Eberle has been a consistent and productive player. The overpay on the Eberle deal isn't close to being a crime, in my opinion.
Where does Leon's deal rank? The day after is a tough time to make the call, but my guess is that we look back on this signing as being a good decision. The one major advantage: Draisaitl has Connor McDavid to drive this era and that benefits Peter Chiarelli as well.
FREE MONEY!
Now that the Draisaitl contract is done, I'd estimate there is around $2.5-3 million in walking around money. That should be enough to sign one of Jaromir Jagr, Jarome Iginla or Shane Doan. I don't see it coming, even though man of the wingers who will play this season lack experience.
I think Jussi Jokinen was the veteran addition and fully endorse the choice of player. I think Peter Chiarelli has correctly identified that the team must find out about the offensive potential of Jesse Puljujarvi, Anton Slepyshev and Drake Caggiula. I do not believe all three men will emerge as viable NHL scoring options. That's why I keep bringing up Kailer Yamamoto, and why I think Ty Rattie's agent is a very smart man.
This team is still building. The most obvious example is the depth chart on each wing. We're going to know a lot more about these kids one year from now and Peter Chiarelli appears locked in on auditioning all three. I can't be critical, it's what I always hoped we would see from an Oilers management group. I just wish the candidates had stronger offensive resumes. Perhaps Jesse Puljujarvi is practicing his quick release and perhaps another year older will benefit him greatly.