If you and I are sitting in a coffee bar discussing the Oilers and trades come up, the first player mentioned will be Ryan Nugent-Hopkins. Sure as hell. RNH isn't going to be a trade deadline deal, unless Edmonton endures a tragic season. So, what will Peter Chiarelli have to trade at the deadline? Let's have a look.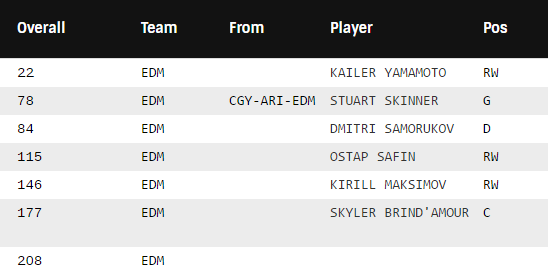 The 2018 draft picks

. NHL teams don't like trading picks for 11.5 months a year, and then spend them like drunken sailors at the deadline. Edmonton's 2018 draft picks are No. 22, No. 53, No. 84, No. 115, No. 146, No. 177, No. 208. The number will change, important to note Edmonton currently holds all seven of their own selections. I think each is in play.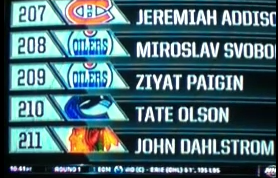 LHD prospects

. The Oilers are well covered at the NHL level at LHD, with Oscar Klefbom, Andrej Sekera and Darnell Nurse firmly entrenched at this time. I don't think we'll see any movement at this position until 2019 summer, when Sekera's NMC begins to give way. So, the Oilers may have enough depth to deal from strength to address weakness. I'll list Caleb Jones and Ziyat Paigin as possibles. I also wonder what happens re: Yohann Auvitu. If the man from France has a strong season, could you see the Oilers move Andrej Sekera next summer in an effort to keep Ryan Nugent-Hopkins? I believe it's worth keeping in mind.
Young wingers who don't succeed in a big way.

I'll tell you, these kids are going to separate quickly. That's how I see it, anyway. Jesse Puljujarvi stands at the top of prospect mountain at this time, but another season of struggle may change the organization's view about him. I'm serious. Kailer Yamamoto shouldn't be in the picture for NHL activity until fall 2018, but the slight teenager from Spokane might end up eating Puljujarvi's lunch. Skill, baby. Edmonton needs it on the wings. Anton Slepyshev is in a good spot but I'm not sure he's going to be first man to home plate to take his hacks. If he can find a spot on Leon Draisaitl's line (with Milan Lucic), we may see a 20-goal scorer. If the Oilers given Drake Caggiula a feature role, we may see Slepyshev dealt at the deadline (my guess is the Russian has more value than Caggiula among NHL teams who are interested in Edmonton's winger collection). Jujhar Khaira is also in this category, on a lower level.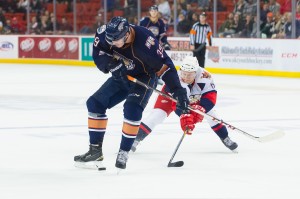 Photo by Rob Ferguson
Bogdan Yakimov

is whatever comes after a distant bell, but Peter Chiarelli retained his rights this summer. Was there a reason? My theories include pissing off the player and agent, along with playing a hunch on interest from another team. He could be a deadline piece ala Teemu Hartikainen in 2014. I would still like to see him return, guys who can play center and are 6.05, 232 always get a third chance.
Photo by Mark Williams
AHL Odds and Sods.

Deadlines are weird, players who don't necessarily have massive value can be used to close minor deals. Also, failed first-round picks (Jani Rita for Dick Tarnstrom) have extra value. Among Condors who might have some deadline use, Joey Laleggia (in photo) and Dillon Simpson as players who might fit the bill.
Laurent Brossoit.

We'll know more at the deadline and Brossoit may grab the backup job and run with it, but it's possible Peter Chiarelli upgrades the position at the deadline.
THE BALANCE PHOTO (IN PROGRESS)

This roster has far greater balance than it did on the day Peter Chiarelli got the keys to his rental car. It is not yet balanced, and the organization is planning on using the available at-bats (2R, 3R, 4L, extra forwards) on names like Jesse Puljujarvi, Anton Slepyshev, Drake Caggiula, Jujhar Khaira and Ty Rattie.
I'm hopeful that Jesse Puljujarvi and Anton Slepyshev can find their way as NHL regulars, less convinced both men will have enough offense to play feature roles. Drake Caggiula is in the same range and I think we can agree Jujhar Khaira is shy of the others offensively (but still has a role open to him).
I return again to Yamamoto. For me, there is clearer evidence of his offensive ability and there's a real chance the latest first-round selection makes this team. I am stone alone here, but the offense Peter Chiarelli badly needs on RW may not live in the bats of the men projected to make the team in feature roles. The trade deadline may be the most active we've seen since 2006.