The 1995-96 season had a major impact on the decade that would follow for the Oilers. Ron Low, Glen Sather, Bruce MacGregor, Barry Fraser and the others involved in procurement and evaluation had managed to gather a lot of young talent. The key of course is to keep the right people, send away players who are duplicates in exchange for useful parts, and push toward Stanley. How important is it to keep the right players?
OILERS 1995-96 FORWARDS 25 & UNDER
That's an amazing list. Truly. If the Oilers had been able to retain Doug Weight, Jason Arnott, Todd Marchant, Miro Satan and Ryan Smyth—just those five—the next decade could have been very different. Weight hung around through 2001 summer, we saw so many great moments. Arnott got traded in 1998 for Billy Guerin, and that was a very good trade. However, Guerin lasted only 211 games before being traded to Boston. Marchant & Smyth spent real time with Edmonton, Miroslav Satan did not and there was no return on investment. I've been thinking about that mid-90's team lately, about the promise of that team, and how costly it was to get poor return on Miro Satan and nothing from Jason Bonsignore.
Peter Chiarelli has been sending away assets every summer since 2015 and we now reach a point where some of the prospects are going to have to replace players like Taylor Hall and Jordan Eberle. The youngsters need to show themselves as NHL-ready right now.
OILERS 2016-17 FORWARDS 25 & UNDER

The top end is young, real and spectacular.
We can also (now) add Ryan Strome, who was 23 last season and went 69gp, 13-17-30.
Who are your best five from this list? My five: Connor McDavid, Leon Draisaitl, Ryan Nugent-Hopkins, Jesse Puljujarvi and Ryan Strome. Your list?
Zack Kassian is an interesting name here. We (I) think of him as an older player, but he could hang around awhile. Here's one: Who is Kassian's closest comparable from the 1995-96 team? Scott Thornton? I don't have an answer.
There are some players who are in similar spots on each of these teams, including Ryan Smyth and Jesse Puljujarvi.
McDavid/Draisiatl and Weight/Arnott are both fabulous foundation sets, but McDavid's age is such a crushing advantage. Holy lord.
If Leon Draisaitl has a Jason Arnott career, would you consider it music?
Marchant & Satan were dandy bookends, don't see the current group having those two. Maybe Kailer Yamamoto saves the day.
My wild card? Anton Slepyshev. I hope he gets a full shot with skill.
TRADING THE NUGE
We've been down this road before, looking for solutions by moving heaven and earth to keep him on the roster beyond 2017-18. Here's one way they could do it and it would require the cap to increase only a little: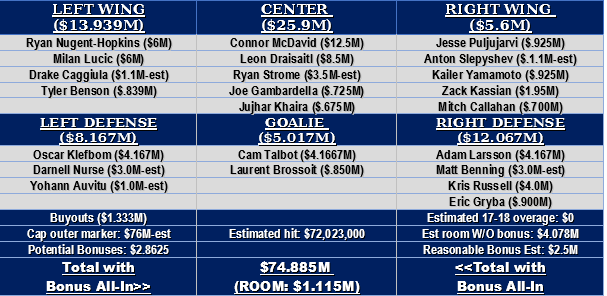 This model involves squeezing all of the RFA's and it probably isn't realistic.
Keeping Nuge probably means trading Andrej Sekera, which is not a fabulous result. I don't believe Milan Lucic or Kris Russell are as likely to be deal (Sekera will have played three seasons with Edmonton).
If Strome proves he can handle center and score, I expect the die is cast.
One other option? The cap goes up in a big way.
The final option? Jesse Puljujarvi, the last of the bonus babies, gets dealt. I consider this and the Sekera trade as being the least attractive options.
THE RETURN ON NUGE
I think it happens next spring or summer, and don't see a Justin Faulk return. If I had to take a guess, it would be someone like Joel Eriksson Ek, Sam Bennett, Christian Dvorak. Young and talented centers who might be available. If Nuge plays with McDavid for much of this season, and that could happen, perhaps he posts 60 points and becomes a very attractive trade item. Kills me to be saying this but that's probably a smart way to proceed. Keeping Nuge is the right way to go but I just can't see it from here. You?
COLLEGE FREE AGENCY
It's been a slow road so far in college free agency. Dominic Toninato was one of the players I mentioned as being an interesting option for the Oilers, he landed with the Colorado Avalanche and that's probably a good fit for the young man. Goalie Christian Frey and defender Ian Brady signed with Iowa (also AHL). Defender Connor Clifton is a talented player, he signed an AHL deal with the Providence Bruins. There are also several ECHL signings but the heart of the free-agent class is still out there.
BUILDING UP THE MIDDLE
Peter Chiarelli is building up the middle. I think  it's the right thing to do. I also believe Ryan Nugent-Hopkins is an important part of a possible future. I get several comments via dm and email saying "get rid of Lucic and Russell!" and maybe that's what next summer brings. I don't think it's going to happen that way. The one wrinkle the might work is the Andrej Sekera angle and it isn't a bargain either.
I've been worried about a Nuge trade since Peter Chiarelli arrived. I worried at first that he and Todd McLellan would trade RNH before they saw him good. I am fairly certain both men now see what he is and what he can be for this team they are building.
Peter Chiarelli and Todd McLellan are in a helluva spot. The barn is on fire and the guns and pitch forks are waiting outside. If you have a way out of this, for goodness sake speak up!