Matt Benning surprised everybody. Looking back, the verbal surrounding him seems to have offered few hints about what was to come.
Chiarelli: "There was maybe eight or nine other teams that were going after" Matt Benning. #Oilers (CHED)

— Chris Nichols (@NicholsOnHockey) September 1, 2016
That's interesting, but NHL teams say that kind of thing all the time. After Benning chose Edmonton, I wrote the following:
I have a feeling the Oilers believe Benning can be part of the plan as early as this season. A RH depth chart of Adam Larsson, Mark Fayne and Matt Benning is possible by season's end, but I wonder if the Oilers will try to offload the veteran (Fayne) and use a two-way option (Davidson) on the second pair. If Benning impresses in camp, he might be a consideration for opening night. Just a guess. Source
It still seemed like a long shot and in fact Benning did spend time in the pressbox and even played a couple of games in Bakersfield. It shows us that not all is decided before training camp and these men (listed below, way down below) can surprise.
1999 TRAINING CAMP NOTES AND ROSTER
Yesterday we looked at the 1996-97 Oilers young guns at forward, thought I would continue the retro with the complete training camp roster for 1999. This season turned out to be the last one with Glen Sather as general manager and also gave Edmonton a new head coach.
Players with NHL experience: 22
Quality minor league prospects: 16
NHLers trying to hang on: 2 (Tikkanen, Ranford)
Career minor leaguers: 10
College prospects: 5
Junior prospects: 5 (including Curtis Sanford, who slipped through)
Juniors getting a look: 8
Europeans: 6
ECHL level fillers: 6
Injured: 2
TRANSACTIONS
On June 7, Ron Low refused the Oilers offer for him to return as head coach. The Oilers would eventually settle on Kevin Lowe as his replacement.
On June 25, the Oilers lost Kelly Buchberger to Atlanta in the expansion draft.
On June 26, the Oilers traded minor league defenceman Craig Millar (he of the Satan deal) to the Nashville Predators a 3rd round draft pick in the 1999 NHL entry draft. The Oilers used the draft pick to select Mike Comrie.
June 26, the Oilers selected Jani Rita, Alexei Semenov, Mike Comrie and Tony Salmelainen in the 1999 Entry Draft.
July 15, the Oilers sign Craig MacTavish as assistant coach.
July 19, Joe Hulbig signs with Boston, marking another 1st rounder who didn't work out.
August 4, Oilers sign Bill Ranford as a free agent.
September 3, Oilers offer Esa Tikkanen a training camp tryout. They also offered a minor league tryout to Jeremy Roenick's brother Trevor.
September 4, Oilers offer a tryout to winger Jason Dawe who would almost make the team. He was one of the final three cuts.
THE ENTIRE ROSTER FROM 1999 TC
#1-Kristian Antila:

Finn didn't have much of a pro career in North America.

#5-Tom Poti

: He had marvelous skill but holes in his game. Poti had a tough time with fans, his brand of chaos and lack of physicality a tough match in Edmonton. Played 824 NHL games.

#7-Esa Tikkanen

: Finishing up his wonderful NHL career, the Oilers gave an invite to the legendary Finn. He'd be in Finland for 99-00 playing a final season for Jokerit in the SM-LIIGA, but did play in the World Championships.

#8-Frank Musil:

He missed entire 1999-2000 season recovering from spinal cord injury in training camp, October 2, 1999. That injury pretty much ended his career (it was a good one, he played 797 NHL games).

#9-Bill Guerin:

99-00 was his final full season with the Oilers. Guerin would be an ideal player for the current Oilers in terms of skill and style.

#10-Pat Falloon:

The Oilers signed him as a free agent the previous summer (1998) and he scored 17 goals. In 99-00, he played 33 regular season games before Pittsburgh claimed him on waivers. This was his final season in the NHL, a disappointing career for the 2nd overall pick in 1991 (575 career NHL games).

#12-Eric Houde:

He had a decent preseason in 99-00 (1-2-3), but was sent down to the AHL and never played in the NHL for the Oilers (or anyone else. He played 30 games for the Habs 96-99).

#14-Vladimir Vorobiev:

On March 23, 1999 the Oilers dealt RW Kevin Brown to NYR for Vorobiev who had a nice season for the Rangers AHL club. He scored two goals in two games for the Oilers after coming over. He was sent to the AHL in fall 1999 and was playing in the IHL by the end of the 99-00 season.

#15-Chad Kilger:

He was coming off a solid season in 98-99, but struggled badly and would end up being dealt in 2000. Played in 714 career NHL games.

#17-Rem Murray:

In August 1999 Rem avoided arbitration by signing a 1-year, $825,000 deal. It would be a tough year for him, as on November 4th the Oilers placed him on the injured reserve list with a torn medial collateral ligament in his right knee. Raymond Joseph would be good as new the following season, and had a nice NHL career. He played 560 NHL games.

#18-Ethan Moreau:

Ethan wore numbers 40 and 19 with the Hawks, but settled in with #18 as an Oiler. He played 928 NHL games during a career that began in 1995 and ended in 2012.

#19-Boyd Devereaux:

He scored 3 goals in pre-season and then went out and had his best season in terms of points (27), a personal high. He played 627 NHL games. Devereaux's career was affected by a Dallas Drake hit in 99-00. The Oilers set him free and he signed a big deal with Detroit, winning a Stanley with them in 2002.

#20-Josef Beranek:

The Oilers had high hopes for Beranek on his second tour of duty with them, but he had a poor season and was dealt at the deadline for German Titov. He finished his NHL career with 531 career games.
CERTAIN OILERS

#21-Jason Smith:

On March 23, 1999, the Oilers made a terrific hockey trade. Giving up only a 4th rder and a 2nd rder, they got a quality NHL defender spring 1999-spring 2007. Smith was a heart and soul Oiler in the tradition of Lee Fogolin and is remembered fondly these years later.

#22-Roman Hamrlik:

This would be the final season with EDM for Hamrlik, who paired with Poti in 99-00 to form a solid combination. He was quality, had a fine offensive career, scoring 155 goals in 1395 NHL games.

#23-Sean Brown:

Just 23 years old, Brown was still finding his way as an NHL player in 99-00. He never did get that top 4D role on the Oilers and was sent away at the deadline in 2002. Brown played in 436 NHL games.

#24-Christian Laflamme:

Best known as the man traded in the deal that fetched Igor Ulanov on March 9, 2000. He played 324 career NHL games.

#25-Mike Grier:

The big man spent much of his Oiler career following 20-goal seasons with 9-goal seasons, and in 99-00 it was time for 9 goals. One of the players I miss the most from that late 90s/early 00's teams, he played 1060 NHL games.

#26-Todd Marchant:

 Marchant was a speedster who could also play a strong two-way game. Ideally suited to a MacTavish team, he was always aware defensively but could help on offense when given the chance. Played in 1195 NHL games and was part of the 2007 Ducks Stanley Cup team.

#27-Georges Laraque:

This would be his first full NHL season, as BG had been on the EDM-HAM flight the two previous seasons. Had a nice NHL career as an enforcer, I loved watching him work the puck along the boards 200 feet from Tommy Salo.

#28-Alexei Selivanov:

He would score 27 goals for the Oilers in 99-00, but in June 2000 the Oilers would not qualify him because they didn't feel he was consistent enough to have earned a 10% pay increase from the 1.7M he earned in 99-00. He spent a season with Columbus and then passed out of the NHL with 459 career games (121 goals).

#29-Bert Robertsson:

I believe he was the last forward/defenseman the Oilers employed (I'm not counting Steve Staios) before the beloved Toby Petersen. He was a useful player and lost in the expansion draft, June 2000.

#30-Bill Ranford:

On August 4th, 1999, the Oilers signed Ranford as a free agent with the idea that he'd backup Tommy Salo. He played in 16 games, had a SP of .885 and went 4-6-3. He had a very long NHL career, 647 games and of course backstopped the Oilers to their 1990 Stanley. He officially retired April 24, 2000.

#31-Eric Heffler:

He had a nice season in the AHL in 99-00 as a first year pro, outplaying Mike Minard (Heffler played in 47 games and had a SP of .910). However, he didn't build on it and was coaching for Princeton(NCAA) by 2002-03.

#32-Mike Minard:

He was drafted by the Oilers in 1995 and made his NHL debut in 99-00, playing in his only game and winning it. From there he signed as a minor league free agent with the Leafs and had a couple of nice seasons in the minors and later played for the Belfast Giants.

#33-Dan Lacouture:

He scored a goal in pre-season 99-00 and scored 23 goals in the minors. He also got a 5 game cup of coffee with the Oilers near the end of the season because of injuries to Mike Grier (torn triceps muscle), German Titov (biceps), Todd Marchant (ankle), Bill Guerin (hip) and Georges Laraque (knee). Lacouture played 337 NHL games, once scoring a Frank Mahovlich goal (flew in over the line and sent a bullet shelf past the goalie) and like a fool I spent the rest of his career waiting to see him do it again.

#34-Jim Dowd:

I still miss Jim Dowd. Dowd was the center and a beauty, the Oilers lost him the same day they lost Robertsson in the expansion draft.

#35-Tommy Salo:

Tommy Gun played in 70 games, going 27-28-13 with the Oilers. He boasted a .914SP that season, the best of his career. He played 526 NHL games.

#36-Sean Selmser:

Right winger was a Red Deer Rebel in the early 90s, but came to the Oilers out of the IHL. He had over 200pims in a season 4 times in his minor league career, and played 1 NHL game for Columbus in 00-01.

#37-Brian Swanson:

On August 20, 1999, the Oilers would sign him to a pro contract. Swanson would go to Hamilton after training camp and have a terrific season centering the top scoring line with Daniel Cleary on RW and Michel Riesen on LW. Two rarities: Both wingers played the off-wing, and all three came to the NHL as a line in fall 2000. The line lasted one dozen games.

#38-Michael Henrich:

The Oilers would send him to junior after taking a fairly long look at him (he was sent out a few days after the first big round of cuts, after he was cut the roster stood at 36 and they would send out only 2 more RWs), but that probably represented the high water mark of his pro career.

#39-Doug Weight:

He was coming off an injury plagued season and was on his way to a 90-point season (second best of his career). Weight won a Stanley after leaving in summer 2001 played 1,238 NHL games. He'd be the strongest candidate for the best career among the 99-00 Oilers.

#40-Daniel Cleary:

Considering how often he was called up and sent down in 99-00, his AHL season (74 points in 58 games) is even more impressive. Cleary would still have some trials but snapped off a fine NHL career after a tough start.
UNCERTAIN OILERS

#41-Jason Chimera:

Chimera was sent out on September 15, 1999. He scored a goal in pre-season and then began his pro career in Hamilton, scoring 15 goals for the Bulldogs. It was his first of three full seasons in the AHL before grabbing a job at age 23. He is still playing. Men who skate this well can play forever.

#42-Peter Sarno:

He didn't get a long look, as he was among 33 players cut on September 12, 1999. Sarno would spend three seasons in the AHL before heading to Finland for a year. When he came back to North America, at age 24, he got a cup of coffee in the NHL and played 7 NHL games.

#44-Janne Niinimaa:

He was about to begin his second full season with the team. One of my favorite all-time Oilers, he was a master of the head man pass. He would have sent McDavid in alone 10 times a night.

#45-Chad Hinz:

Hinz was sent out the same day as Sarno, but didn't stick in the AHL. He was forced down the depth chart all the way to the ECHL in 99-00. He did play for 4 full seasons in the AHL and was called up due to injury but never played in the NHL.

#46-Alexei Semenov:

He was sent back to junior on September 12, 1999 and had a big year. When it was over, he made his pro debut in the playoffs for Hamilton. Semenov made the big club during 02-03 but never established himself as a physcial presence in the NHL. He was traded and then sent down to the AHL, eventually landing in the RSL.

#47-Mathieu Descoteaux:

One of the last defenders cut in fall 1999, he was sent to Montreal in the Ulanov deal. He played in 5 NHL games, all with Montreal.

#48-Mike Gaffney:

He was assigned to Hamilton on September 12, but the big defender ended up in Finland in 99-00 (Both Tikkanen and Antila met the same fate).

#49-Chris Hajt:

He had played one AHL season by the summer of 1999 and was pretty well thought of in the organization. Hajt was a later cut (September 20) and there were only two D cuts after him (Todd Reirden was claimed by St. Louis September 30 and they sent Brad Norton down early October) that fall and would end up playing 6 NHL games (1 with Edmonton).

#50-Brent Bilodeau:

Big defenseman was a 1st rder for Montreal in 1991 but never made the NHL. The Oilers actually released him on September 12, 1999 and he ended up playing in the ECHL that season.

#51-Ian Perkins:

Huge goalie from Wainwright was fresh out of college (U of Alaska-Fairbanks) in fall 1999 and was sent to Hamilton on September 12. He played in the AHL, ECHL and Central League that season.

#52-Curtis Sanford:

The Oilers sent him back to junior on September 12, 1999 and he signed as a free agent with St. Louis October 9, 2000. Sanford eventually found his way to the NHL.

#53-Brandon Lafrance:

Oilers 7th rd pick in 1996, he was assigned to Hamilton September 12th and really never played in pro hockey (52 ECHL games, 3 in the Central League, all in 99-00).

#54-Alexander Zhurik:

A 7th rd pick in 1993 for the Oilers, this defender was born in Minsk. He played three full AHL seasons in the mid-90s and then went back to Russia for a season before the 1999 camp. He was sent down on September 12 and returned to Russia. Zhurik played for Belarus in the 1998 and 2002 Olympics.

#55-Tomas Groschl:

Born in Budapest, he was taken June 26, 1999 and went to camp a few weeks later. Apparently. Because although he is listed on the training camp roster, I can't find what they did with him. Or to him.

#56-Brad Norton:

A 1993 draft, he was so close to making the Oilers two seasons in a row. He was sent to Hamilton on October 1, 1999 and then the following year he actually made the roster but didn't play because he was serving a suspension picked up in pre-season. Finally, he was signed as a free agent by Florida in the summer of 2001 and played 124 NHL games.

#57-Sergei Yerkovich:

Big defender was a pretty high pick (3rd rd, 1997) for the Oilers and actually was around until September 13, 1999. After they cut him the Oilers roster was down to 33. Yerkovich played the 99-00 season in the AHL and then returned to Russia.

#58-Jonathan Fauteux:

Drafted in the 5th rd in 1999, he was in camp a few weeks later. He was returned to junior September 12 and ended up having an extremely short pro career.

#59-Trevor Ettinger:

6th rd pick by the Oilers in 1998, he was sent back to junior September 12. Like Fauteux, he was out of hockey early.

#60-Christian Chartier:

A somewhat famous prospect because the Oilers couldn't get him signed and so ended up signing Marc Andre Bergeron instead. Chartier was a 1999 pick (7th rd) who was sent to junior September 12, 1999. On June 6, 2001 the Toronto Maple Leafs signed Chartier. A few days earlier, the Oilers had signed the undrafted Bergeron to an entry level deal.
DISTANT BELLS

#62-Paul Elliot:

Puck moving defender with size was sent back to junior September 12. He would play on the Regina Pats Memorial Cup team in 2001 and then turn pro. Three AHL seasons was as high as he'd go, but he did help Laredo win a Central League championship.

#63-Lee Svangstu:

Huge enforcer missed the 98-99 season and on September 4th he failed the medical (knee). He bounced around the lower minors for awhile but that was his career.

#64-Doug Teskey:

Goalie out of U of Alaska-Anchorage was sent out September 12th and had a decent career in the lower minors.

#65-Maxim Spirodinov:

9th round pick in 1998, the Russian LW peaked at the AHL level (95 games) but was back in Russia by fall 2001. Oilers cut him September 12.

#66-Dominec Forget:

Small center from the Q was sent out September 12th and had a massive offensive season in 99-00 (67gp, 38-78-116) but would go on to play only 3 AHL games.

#67-Lukas Zib:

Big Czech D was a pretty high pick (Oilers took him 57th overall in 1995) but he never played in North America. Oilers sent him down September 12.

#68-Kevin Haupt:

Offensive defender from the dub, he was released on September 12th and would play three seasons in the ECHL.

#70-Brett Hauer:

Big defender had a career in the high minors and in Europe, and in fact by the fall of 1999 had played in 29 NHL games. I can't find when they sent him down, but they recalled him on November 29th for 5 games. Hauer has played a total of 37 NHL games.

#71-Alexander Fomitchev:

9th round pick in 1997, the Oilers scouted him in St. Albert with the Saints after coming out to see Jamie Lundmark and Mike Comrie. He was outstanding in the AJHL and had some time in the AHL but eventually found his way to Russia where he has had some terrific seasons. Returned to junior September 12.

#72-Blair Manning:

Undersized center came out of the WHL and by fall 1999 had been kicking around the lower minors for three years. He was released September 12.

#73-Terry Marchant:

Todd's brother came out of Lake Superior State U and had one AHL season by fall 1999. Oilers released him September 12, he had a career in the low minors.

#74-Michel Riesen:

A fascinating player. Riesen was 19 years old when he played in the AHL (98-99) and was a later cut in fall 1999 by the Oilers (September 20, same day as Cleary). He had a good season at 20 in the AHL (73gp, 29-31-60) and the next fall would play so well he made the big club. That was it though, highlight of his career was a dozen games with the Oilers out of the gate 00-01.

#75-Alex Henry:

Massive defender took awhile to get there, but he has had an NHL career. Fall 1999 he had just graduated from junior hockey and was sent to Hamilton September 20 with a bunch of the Oilers better minor league prospects. Henry made the big club in fall 2002 but was claimed in early October by Washington. He played 177 NHL games, including two full seasons in the big leagues.

#76-Mike Thompson:

U of A grad from St. Albert who the Oilers assigned to Hamilton on September 12. He never made it as high as the AHL, spending time in the ECHL.

#77-Adam Copeland:

Big RW had split time between the AHL and ECHL in 98-99, the Oilers sent him down September 12 and he never got close to the show.

#78-Karol Bartanus:

Huge Slovakian RW had played in the ECHL in 98-99. He was released September 12 and went back to Europe.

#79-Brent Belecki:

Goalie played in the ECHL in 98-99 and technically was the first player released from training camp (September 10th).

#80-Jussi Tarvainen:

Finnish center was a 4th rd pick in 1995 and had a solid career in Europe (Finland and Sweden).

#81-Dana Mulvihill:

He played in the ECHL in 98-99 and went back to the same league after getting released on September 12.

#82-Travis Mailhot:

Goalie from the AJHL was released on September 10 and I can't find where he want after a brief run in the West Coast Hockey League 99-00.

#83-Jason Reid

: Big defender out of the University of Vermont was sent out (with the rest of the known world apparently) September 12 and played for a few years in the ECHL.

#84-Jason Simon:

Huge LW had already played 5 NHL games in the mid-90s and was looking to catch a minor league job with the Oilers. It didn't happen, although he did play 11 AHL games in 99-00. Assigned to Hamilton September 12.

#85-Mike Legg

: Best known for scoring a famous lacrosse goal in 1996, Legg's hockey career was interesting in that he left Michigan (NCAA) and played in Finland first year pro. 98-99 saw him in the ECHL and he was sent to AHL camp September 12.

#86-Brian Urick:

5th rd pick in 1996, he had finished up his NCAA career by fall 1999. He was sent down on September 12 and lasted a seasons and a half in the AHL.

#87-Paul Comrie:

He made the big club in 99-00, signing a contract (2 years) on October 1, 1999. The deal included a bonus ($200k) and would pay him $1M over the two years of the contract. He was sent down to the minors on December 1, and picking up the story from Steve's Oilers Site: on March 6th, 2000 Comrie informed the media a neurologist had advised him never to play hockey again. The 23-year-old center, who led the Oilers in scoring in the pre-season with 5-1-6, is suffering from post concussion syndrome after being elbowed during a game in Hamilton Jan. 7. Comrie will remain on the Bulldogs' injured list for the remainder of the season and has yet to decide whether he will be heed the physician's advice.

#88-Tim Rothering:

 Defenseman out of Wisconsin (NCAA) retired on September 9th, 1999.

#89-Brian Passmore:

Center was a junior invite and eventually drafted by the Minnesota Wild in 2000. Oilers sent him out September 12.

#90-Jared Smyth

: Ryan's brother was a big defender from the dub and he played just a couple of games in the AHL. Oilers released him September 12.

#94-Ryan Smyth:

Oilers signed Smyth to a 1-year deal on October 1, 1999. He was coming off his poorest NHL season (13-18-31) but would rebound nicely (28-26-54). At the end of the 99-00 season, Ryan Smyth had scored 102 NHL goals. He would finish with 386 goals over 1270 NHL games.
BENNING NEXT
If I were Peter Chiarelli, negotiations with Matt Benning would begin as soon as possible on an extension. It's fairly certain the young defender will get power-play time this coming season and that means a spike in boxcars. If the club can get Benning on a value contract, that's a solid first step in climbing a giant mountain that will be contract city in 2018 summer.
NEXT BENNING
I didn't do an RE on Matt Benning last summer, it wasn't reasonable to project him onto the team (despite the quote above). For me, the most likely candidate to repeat that scenario is Kailer Yamamoto. I do not have him on my RE, but if you look at the winger RE it seems obvious there is some uncertainty entering camp at these positions.
1R Leon Draisaitl 79, 26-58-84
2L Milan Lucic 82, 18-28-46
1L Patrick Maroon 72, 23-17-40
3L Jussi Jokinen 71, 15-19-34
2R Jesse Puljujarvi 65, 14-14-28
3R Anton Slepyshev 70, 12-13-25
4R Zack Kassian 74, 11-14-25
4L Drake Caggiula 70, 12-10-22
4L Jujhar Khaira 45, 3-2-5
Left wing looks easy, but we don't know for sure Jussi Jokinen will line up there. I have Jesse Puljujarvi as 2R, but Anton Slepyshev, Zack Kassian and Drake Caggiula are very close and this race has only just begun. Kailer Yamamoto didn't make my RE list, because it isn't reasonable to project him on to the opening night roster. I still believe the smart play is to send Yamamoto down early enough to avoid any kind of controversy. That said, there is an opening at Eberle winger and that's a skill position. Kailer Yamamoto has the ability to make this very interesting, with the added issue being he can hang around for nine NHL games with no harm, no foul.
TOO MUCH MONTH AT THE END OF THE MONEY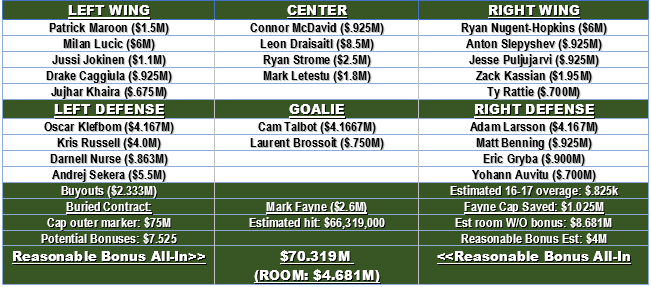 This could very well represent opening night 2017-18, with Edmonton having $4.681 million in cap room and Andrej Sekera many miles from LTIR. There's no way for the team to spend that kind of money.
What is Peter Chiarelli doing? I think he's looking at the Full Monty bonus number, that would put the actual cap hit for the season at $73.884 million and giving the general manager just over $1 million in wiggle room. That must be it.
Given my druthers, I would pursue Cody Franson. I see you rolling your eyes but I don't care. The Oilers enter training camp with an injured Andrej Sekera and that's a big damned deal. Franson will probably sign in a city that can give him a better chance to make the team, but the barriers (basically Eric Gryba) are not so great that Franson can't hurdle them. If I'm Cody Franson, seeing how things worked in Edmonton for Kris Russell may have appeal.
THE LEON CONTRACT
Leon Draisaitl is officially signed for the next eight seasons in Edmonton and for me that's the key number. The cap hit puts Peter Chiarelli under added pressure and it will be an extremely difficult bit of cap work to get everyone signed next summer. After looking at it from every angle, my guess is that the organization is going to have a long look this season at Ryan Strome up the middle. If the former Islanders forward can manage that job, then dealing the Nuge becomes less a problem. I'd still keep Nuge around (the Oilers are doing the same thing to Leon that the Oilers did to RNH when trading Shawn Horcoff) and cut elsewhere, but we'll see.
The most important item for PC is this: He can't lose the Nuge trade in value. By that I mean he must get a significant enough return to project said player into the 2018-19 lineup. I mentioned Joel Eriksson Ek yesterday, for me that's the line in the sand. Chiarelli has a more balanced, Bruinized roster now, at this point it must be a matter of getting good players and keeping good players. I'd move someone else and keep Nugent-Hopkins, and am reasonably sure management and coaches feel the same. Fascinating year ahead with this player.