As a general rule, prospects who improve markedly from draft day through the end of their entry-level deal are going to make the rest of their draft class look like a bunch of loafs. Depth picks (Dillon Simpson) end up outpacing second rounders (David Musil) and lottery picks (Leon Draisaitl) move past the few men chosen above them in online re-drafts. That's why it's always a good idea to go back and review draft day scouting reports and remind ourselves about the work to be done.
DRAISAITL DRAFT DAY SCOUTING REPORT
Cody Nickolet, WHL from Above: Draisaitl has arguably the most raw talent of any WHL prospect for the 2014 NHL Draft. From my viewings, his best asset is his vision. He has a great ability to slow the play down and set up linemates with super feeds on either the forehand or backhand, with his backhand sauce being something to sit back and marvel at. That ability to slow down the play has been seen as a knock by some, as he tends to attempt to slow the pace down constantly, instead of showing an ability to play in a faster environment. His skating is also another area of concern as he's got a choppy, ugly stride. I think that's definitely an area of concern, but has been an area that many players have improved upon in the past. Source
Leon Draisaitl improved his skating a great deal from the first training camp we saw him as an Oilers prospect. He's also improved his endurance (Leon's end of shifts were an adventure in year one) and in the faceoff circle. His passing ability and determination are fully on display and the big man is more aggressive these short years later. I think he's an inspiration for all prospects in the system, similar to Kyle Brodziak a decade ago.
KHAIRA CHANNELS BRODZIAK?
Lowetide, September 17, 2007:

Kyle Brodziak

: Selected 214th overall in 2003. 2 goals, 1 assist, +2. 18 shifts, 16:33 TOI, 1:59PP, 2:31PK. He was splendid based on the play-by-play and the results. Listening to Rod from the first shift of the night through the last it was clear that Brodziak was not only on a mission but had prepared for the opportunity. THIS is how players win NHL jobs. Source
Sometimes players emerge out of nowhere and Brodziak had a tremendous training camp in the fall of 2007. He had a strong season in the AHL in 2006-07, it was his third year and marked the end of his entry-level deal. He doubled his goal total (12 to 24) in 06-07 and then pushed all the way to an NHL job (over Marc Pouliot, the first rounder in his draft year). At 22, in 2005-06, he had scored 12 goals and 31 assists in 55 games for the Iowa Wild. This was the period when Edmonton didn't have an AHL team. It's the kind of progression you hope to see from Jujhar Khaira this season and there are some similarities in each man's AHL progression.

Khaira is not Brodziak's offensive equal, we can't project 14, 16 and 22 goal seasons for the big forward. That said, his final two AHL seasons did show progress and there is an opportunity for Jujhar Khaira. I hope he comes to training camp as Kyle Brodziak did a decade ago, playing so well he laid waste to the competition.
 NUGE IN THE NEWS
I'm a little surprised to see so many Nuge trade rumors out there, seems to be at least 10 months early. I've seen names like Brendan Gallagher and J.T. Miller mentioned, but to me that's merely taking on 75 percent of Nuge's contract and something resembling 75 percent of the player. No sir. If the Oilers are going to trade RNH, then the return should be a useful plug-and-play center who is miles from big money. Joel Eriksson Ek, Sam Bennett, Christian Dvorak, that kind of player. If the Oilers are trading Nuge, go young but NHL-ready, with enough potential to fill a substantial role.
OILERS PROJECTED OPENING NIGHT ROSTER 17-18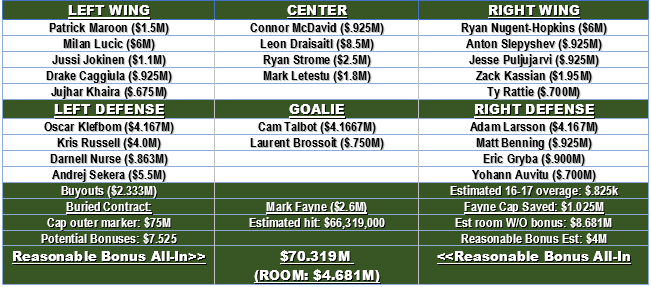 The Edmonton Oilers could sign Jaromir Jagr to a one-year, $5 million contract today. Seriously. It would require only sending Jesse Puljujarvi and his $2.5 million bonus potential to the AHL until it burns off during the NHL season. Jagr isn't coming, I expect. If the Oilers were leaning in that direction it would have already have happened and we'd be buying Jagr jerseys by the truckload. On right wing this winter, youth will be served.
KAILER YAMAMOTO

Strong odds we see Kailer Yamamoto back in the WHL for his final junior season, but the draft year numbers by the young man have him brushing the bottom end of the lottery picks in their final years at that level.
LOWDOWN WITH LOWETIDE
A busy show and plenty of Oilers content during the two hours. At 10 this morning, TSN1260, scheduled to appear:
Jonathan Willis, Oilers Nation.

Can the Oilers make the cap work with McDavid and Draisasitl taking up $21 million a year? Plus finding space for Nuge.

Jeff Hauser, Radio Hauser.

Denver Broncos have their starting quarterback.

Scott Cullen, TSN.

How many points for Connor McDavid in 2017-18? CFL power rankings.
10-1260 text, @Lowetide on twitter. Talk soon!