Connor McDavid spoke yesterday to Shawn McKenzie of Sportsnet about the Edmonton Oilers and the coming winter, giving fans a chance to hear from  the captain about the summer's proceedings. (Source)
McDavid talks Leon Draisaitl: "It's so exciting that he's back and there for eight years and I get to play with him for a long time and work together towards something great."
I estimated McDavid and Draisaitl would spend 70 percent of the season (5×5) together in 2017-18 and remain convinced the total number of minutes together will be substantial. There's a chemistry between the two, and despite facts (like Eberle's numbers basically being a match) it's clear both players believe in the magic and the coach showed he does, too. We'll see, and eventually Leon Draisaitl is likely to move to pivot but it is not certain to come this season.
McDavid talks management: "I think what you're seeing now is the product of some good decisions. We hired a great coaching staff, a great head coach, and a great GM. They've made some changes that have been ballsy changes but have definitely worked out. What you're seeing is a great collection of hockey minds that have put together a pretty good team, that are good people as well. I think that's an important thing."
I saw a lot of riffing last night from these quotes, seems people are either delighted by the quotes or dismissive. I thought it was impressive, young man clearly believes in the team, management and process. We can argue chapter and verse, for me this is a sign of a player who is absolutely committed to the program and I'll buy that all day. All day. The construction of a winner is a little more complicated, but having 97 bound and determined is a massive advantage.
ROOKIE CAMPS AND INVITES
Beginning in the next few days, we're going to start getting news trickle in about players who attend rookie camp, and possibly one or two PTO additions. I always like to list the youngsters who attended orientation camp because it's a good bet one or two of those names will also attend the rookie camp. Here are the players I think we might see.
L Evan Polei: Size and skill (6.02, 227 and 33 WHL goals) are intriguing. He is on an AHL deal, I think he may be an excellent pro if the wheels improve a little. He has good hands.
R Chad Butcher: Small winger (5.10, 172) was a Penticton invite one year ago. Speed main weapon, his scoring has improved over his WHL career.
RD Sahvan Khaira: Huge defender (and Jujhar's brother) went 70gp, 1-16-17 for the Swift Current Broncos. Reading about his progress last season, Khaira seems to have played with more of an edge and with that he impacted more plays. If he does get invited, I'll be watching for the physical aspect of his game.

C-W Davis Koch:

He's a thin forward who has emerged as a solid offensive player. A nice skater, good playmaker and I think  he has improved without the puck. I like this player type.
RC Steve Owre: WHL skill center is now finished in junior and at 21 this is a nice opportunity (especially if it turns into a rookie camp invite).  88 points in 71 games. Good skater.
C Kevin Klima: Small skill center is 20 years old and scored 36 points in two QMJHL stops this season. He has a good wrist shot and works hard away from the puck. Undersized.
R Kelly Klima: Small skill winger is 20 years old and scored 49 points while with two teams in the QMJHL this year. Good speed and hands.
LC Brandon Saigeon: Hamilton Bulldogs (OHL) forward is 19 and scored 49 points in 66 games this past season. He has good size, reasonable speed and finally posted some good offense this past season. One of the more promising prospects among this group based on the numbers.
RC Ethan Szypula: 11-36-47 in 64 games for Owen Sound (OHL). Has a good shot. Brock Otten: Szypula is not a big guy (5'11, 170ish), but he plays a big man's game.
OPENING NIGHT, 2015-16
L1: Benoit Pouliot—Ryan Nugent-Hopkins—Teddy Purcell
L2: Taylor Hall—Connor McDavid—Anton Slepyshev
L3: Lauri Korpikoski—Anton Lander —Nail Yakupov
L4: Rob Klinkhammer—Mark Letestu—Matt Hendricks
D1: Andrej Sekera—Mark Fayne
D2: Oscar Klefbom—Justin Schultz
D3: Griffin Reinhart—Eric Gryba
G1: Cam Talbot (Anders Nilsson)
Extras: Luke Gazdic, Andrew Ference, Brandon Davidson
Injured: Jordan Eberle, Dillon Simpson
The players whose names are crossed off were not on the roster by the following opening night. That's eight men who were offloaded from one to another (Nail Yakupov was just before opening night 2016). The turnover on each wing really stands out for me, Peter Chiarelli cleared the decks, six of the eight names gone were left or right wingers.
OPENING NIGHT, 2016-17
Milan Lucic—Connor McDavid—Jordan Eberle
Patrick Maroon—Leon Draisaitl—Jesse Puljujarvi
Benoit Pouliot—Ryan Nugent-Hopkins—Anton Slepyshev
Tyler Pitlick—Mark Letestu—Zack Kassian
Oscar Klefbom—Adam Larsson
Andrej Sekera—Kris Russell
Darnell Nurse—Brandon Davidson
Cam Talbot (Jonas Gustavsson)
Scratches: Mark Fayne, Anton Lander, Matt Benning
Injured: Matt Hendricks
With a few weeks left to go, seven men are out and once again wingers (four) are finding the exits. Chiarelli has done very little to change the defense this summer, and the centermen continue to pile up (Ryan Strome has been added to the names above). I wonder if we see a similar turnover in wingers this year.
THE 50-MAN LIST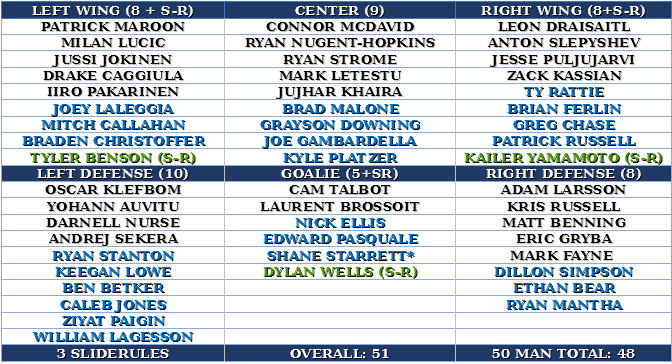 There was a little confusion in the comments section yesterday about the 50-man roster, a few posts suggesting Peter Chiarelli had boxed himself in. As a matter of fact, Edmonton currently has two spots still available, one left if Kailer Yamamoto gets nine games. There are at least two ways for Peter Chiarelli to make room on the 50-man.
Trade Jujhar Khaira

. He is waiver eligible and Khaira would be a player of interest for other NHL teams. If a Mitch Callahan or Joe Gambardella pushes him for one of the final forward spots, Chiarelli can add an asset and make more room for a camp invite (more in a moment).

Waive Eric Gryba.

Chiarelli signed him for two years, I think partly to sour the milk in case Gryba does get sent down. That said, there's a good chance at least one NHL team would be looking for a RHD who could step into the lineup.
Possible invites include Jared Cowen, Dennis Wideman, Cody Franson, Drew Stafford, Thomas Vanek, Alex Chiasson, Daniel Winnik, Jimmy Hayes, Vern Fiddler. I can't see the Oilers spending much time on a forward invite unless we're talking gritty power forward or quality penalty-killing option.
WAIVERS AND WAVERING
We'll talk about this in the coming days but the possibility of losing a player to waivers (for 50-man purposes) got me thinking about possible pickups. Josh Leivo is a personal favorite, the Maple Leafs holding on to him but not playing him will eventually get tiresome. He would be a fantastic fit, inexpensive and skilled. Magnus Paajarvi remains a fast train and a good two-way option, Peter Chiarelli will no doubt be looking for that kind of player if internal choices are found wanting. Hunter Shinkaruk doesn't get much mention but I think he's an interesting player, and I'm not at all certain Griffin Reinhart makes the Golden Knights. I'll bet money Peter Chiarelli is still interested. I'll have a longer look at the subject in the coming days.
WHAT DOES IT ALL MEAN?
Both Oilers fanbases reacted strongly to Connor McDavid's comments yesterday, one side thrilled with knowing the new King is as committed as they are to the Stanley Cup goal. The other fanbase balked at the 'ballsy' comments and pointed out myriad errors. Are both viewpoints true? I'm enjoying the views of both sides, for me this is a new experience. I've never observed such a large group of people so unimpressed with the team they cheer for, this franchise is carrying a Greek tragedy up Stanley Cup mountain. One side just wants to see the sunshine, the other side seems hellbound to block out that same light. Me? I haven't been this happy about the Edmonton Oilers since 2005 summer. I cannot wait for the next chapter, this story is absolutely the best one available.
LOWDOWN WITH LOWETIDE
At 10 this morning, we hit the air with a plethora of topics. TSN1260, scheduled to appear:
Darcy McLeod, Because Oilers. Can the Oilers find a way to keep Nuge, plus replacing Sekera's minutes.
Jeff Hauser, Radio Hauser. Denver names their quarterback.
Guy Flaming, The Pipeline Show. Junior hockey, Euro hockey and college hockey players head to the rink.
Eric Fawcett, Press Basketball. Cleveland and Boston make a deal.
10-1260 text, @Lowetide on twitter. See you on the radio!