Drew Stafford signed in New Jersey, training camp invites are trickling in and not much has changed for the Oilers since the last time we checked in on the projected camp depth chart. There are clues trickling in and I have included what has been gathered so far via the Al Gore and various contacts throughout the hockey world.
GOALIES (7)
Cam Talbot, 30. Talbot's importance to this team over the last 18 months cannot be overlooked. Part of the perceived calm some of us credit to the more veteran and responsible defense is more appropriately rewarded to Talbot's performance. If you look at the team without Talbot since early 2016, his role is real and spectacular.
Laurent Brossoit, 24. Not one shortcut to the NHL for Brossoit, whose long and winding road to the bigs finally comes to an end this fall. I think Todd McLellan will give him two or three starts a month as long as the team is in a good spot for the playoff run. The organization needs to know if they can count on Brossoit by the trade deadline.
Nick Ellis, 23. He enters camp as the AHL starter and first recall option. We don't know where Pasquale will play, so there could be some competition for the top role in Bakersfield, although Ellis played well enough to keep the net.
G Eddie Pasquale, 26. AHL backup or Co-No. 1 goalie is my guess, the Oilers signed him for one year at $700,000 with $200,000 guaranteed. He has yet to make his NHL debut.
G Shane Starrett, 23. Strong college resume. Starrett has been the de facto No. 1 goalie the last three seasons and the Oilers would be delighted to see a pro debut similar to that of Nick Ellis one year ago.
G Dylan Wells, 19. Slide rule, he'll spend one more year in junior. He has a good chance to make the WJ team and it's important for him to repeat last season's strong showing. Edmonton drafted him when his value was at a low ebb and have been rewarded for this risk since.
G Stuart Skinner, 18. He is somewhat similar to Wells in that he has been well known for awhile and had a bit of a down season during draft year. Corey Pronman: He's a big goalie with a developed frame who moves fine for a goalie his size. When he's playing aggressively, he can make the net disappear.
I don't think we're going to see any invites and doubt the organization makes any roster moves unless there's an injury. Peter Chiarelli has procured six of the seven goaltenders coming to camp.
LEFT DEFENSE (12)
L Oscar Klefbom, 24. I think he could score 15 goals and 45 points and it's not out of the question to suggest he might get some consideration for the mid-season All-Star game. Klefbom is emerging as a bona fide talent and increased power-play and even-strength time could mean he passes 24 minutes a night.
L Kris Russell, 30. Todd McLellan values him highly and he'll play a lot this season. Russell keeps the youngsters farther down the depth chart. Could play either side until partner Sekera gets back.
L Andrej Sekera, 31. He won't be back for at least 20 games, maybe as many as 40 games. Edmonton will miss him in every one, his absence creates a big hole. The other worry is how close to being 100 percent will he be upon return? That's a major issue. We might not see full Sekera until playoff time.
L Darnell Nurse, 22. Nurse is a ridiculous athlete and plays a punishing game. His size and foot speed make him unique and he showed us he could help on the third pairing. Does he have another gear? Can he play higher up the roster? Edmonton will no doubt give him some chances to show that ability with Sekera out in the early portion of the season.
L Yohann Auvitu, 27. A fun player who can help move the puck in a good direction. I'm not going to say it out loud, but a strong season from Auvitu would make next summer very interesting. What if he proves able to be an adequate third pairing LHD and useful on special teams?
L Ryan Stanton, 27. Stanton is around the NHL bubble, the Oilers could start the season with eight defensemen and he might be last man on the roster. Stanton has some NHL experience on the PK, an area that will probably receive a lot of attention in preseason.
LD Dillon Simpson. He's survived his draft class (sans Klefbom) and looks to be in a position to play some NHL games this season. I don't know if he's ahead or behind Lowe, and both men could pass Stanton at any time. Simpson improves a little every year, been doing it forever.
LD Keegan Lowe. He might rank ahead of both Stanton and Simpson but we won't know until the coming season. I think a lot of people are looking at the name and making an assumption. Lowe had some fans inside the Hurricanes organization, he might surprise and move up this draft chart over the season.
LD Ziyat Paigin. The most likely of the 2015 defensive draft picks to play in the NHL this coming season (he is older and played in the KHL (101 games including playoffs). ETA for Paigin is fall 2018 in my opinion, the organization loves him. You can tell based on verbal.
LD Ben Betker. Big man should get a full AHL season (he has played in both the ECHL and AHL in each of his first two pro seasons).
LD Caleb Jones. Fastest and most mobile of the new pro defensemen, I think the organization will plan to keep him in Bakersfield for much of the year. Plans change, and he can wheel, so don't be surprised if he gets some NHL time.
LD Dmitri Samorukov. Intriguing two-way defender, he'll be a player to watch closely in training camp before heading back to junior. Lots of smart people like this player.
RIGHT DEFENSE (6)
R Adam Larsson, 24. Paired with Klefbom, Edmonton has a fine young tandem at very reasonable cap. Talk of Nurse-Larsson as a pairing and we may see it early days. Larsson calmed the waters in year one, and posted 13, 2-4-6 in the playoffs while playing tough minutes. He should have an even greater impact now that he is more comfortable from first day of camp.
R Matt Benning, 23.  Benning transitioned smoothly from college hockey to the NHL, something we know is a very difficult thing to do. Looked good while playing up the depth chart and seemed unfazed by the pace and physicality of the NHL game. Important that Benning at least remain at this level, hopefully he can make a small step forward. I'd sign him long term. Today.
R Eric Gryba, 29. Played 40 games as 7D last season, saw action in three playoff games. I think he'll be in the mix for regular third-pairing activity but may not hold that job. As of now, he is a lock for the roster.
R Mark Fayne, 30. He can defend but his foot speed isn't great, he does not play a rugged game and the offense is minimal. I don't think he'll be on the team but he's been a good soldier and sometimes those things matter.
RD Ethan Bear. A player to watch in Bakersfield, his passing and his shot are going to get him noticed and we can project some good rookie boxcars in the AHL. Speed of the game and footwork are probably the things to work on (he is good in coverage in the WHL but it takes time to adjust).
RD Ryan Mantha. Big man, big shot, good speed. Duplicates Bear's skill set and he is a year older. I think he may see some ECHL time (crowded house on AHL blue) but that's a guess and maybe that extra year moves him ahead of Bear.
Sahvan Khaira is a lock to make the rookie camp roster based on Edmonton's established past. He was at the Orientation camp in the summer, can come in and play the Penticton tournament and then head back to his junior team in Swift Current. He turned up the physical play last season, bet the Oilers noticed. Dennis Wideman is still out there and the Oilers may have some interest (Cap Friendly blue here). Cody Franson has been my choice since he got hung out to dry in the free-agent carousel, I remain convinced he can help this team.
CENTER (9)
C Connor McDavid, 20. I've projected 110 points and that's reasonable in my opinion. Did you see the highlight goal at Biosteel? Crazy. I've projected the Oilers to score more and improve their goal differential in the coming season, almost the entire improvement due to 97. And it's reasonable.
C-R Leon Draisaitl, 21. The thing people often miss about Leon is that he used draft day as a starting point. In his draft season, I interviewed several scouts and draft insiders, with foot speed and flagging energy at the end of shifts being popular criticisms. Draisaitl has fantastic natural talent but he also worked on the things that held him back. That's the most impressive thing about him, I believe.
C Ryan Nugent-Hopkins, 24. A big season ahead for the Nuge, all manner of ideas about where he might play. I believe he helped last season and will again this one. As was the case when Norm Ullman arrived in Toronto to force Dave Keon into a more defensive role, Nuge's lack of offensive time and lesser wingers is going to impact his offensive numbers. I still think he should remain at center.
RC Mark Letestu, 32. Letestu may lose power-play time to Strome and others. He needs to have stronger linemates (Kassian was excellent but LW was a mess) and to improve possession numbers against soft parade. He may also play more on the PK, an area of concern this winter.
LC Brad Malone, 28. Malone can play center, wins faceoffs, penalty kills and it won't hurt him to sit in the pressbox for long stretches. He is in a good position to play in Edmonton for a portion of the season.
C Joe Gambardella, 23. He is not a high end prospect but could emerge as an NHL option (over time, likely a season or two). Slight chance he slides into a useful utility role at the back of the roster as early as this season. Can he PK at this level? Big advantage if he can.
C Grayson Downing. Skilled center coming off subpar second AHL season, there's an air of mystery about just what he brings but we'll find out in due time. Edmonton needs him to be "AHL Lander" and that's a giant chore.
RC Josh Currie. Back on an AHL deal, he has skill and two-way ability. Currie plays a lot on merit, look forward to the day a drafted Oiler can give him a run for his money.
RC Kyle Platzer. Platzer has a good opportunity here to push his way into a regular job with Bakersfield. Edmonton badly needs him to emerge as a bona fide NHL prospect again.
We should expect some invites at center, Brandon Saigeon, Ethan Szypula, Kevin Klima and Steve Owre were at Orientation Camp and may return. Saigeon is an interesting prospect. Ryan White is a player Edmonton probably has interest in, I sometimes wonder if Daniel Winnik is really 90 years old but he's been a solid player in the past. Oilers need a PK man, be on the lookout for that player type. CapFriendly FA C here.
LEFT WING (12)
L Patrick Maroon, 29. It's going to be a strange year, as every goal past 20 will add to his contract ask and increase the chances Maroon plays in another city. He isn't a lock to play with McDavid, but why mess with a good thing?
L Milan Lucic, 29. Big winger has scored 2.00+ 5×5/60 in the recent past and he'll be determined to get there again. If he can, added to his impressive 5×4 performance, Lucic might push 60 points (career high 62).
L Drake Caggiula, 23. Caggiula battled injury and playing out of position for much of the season, came on strong late and showed PK acumen. He may not emerge as a scorer, but there are other things he can bring. He's in the mix to play with 97, meaning he could be in for a massive raise if things break right.
L Jussi Jokinen, 34. Jokinen brings clarity to the roster. He will be valued for his penalty killing and for his ability to play up and down the lineup. A very strong addition, he could blow the LW depth chart out of the water if he's healthy and gets in a good spot.
L Jujhar Khaira, 23. The Oilers like his size, speed and grit, with scoring the one worry. I see him as Matt Hendricks eventual replacement, we'll see if he can find a way to get into the lineup every night.
L Joey Laleggia, 25. Scored a bunch in the AHL on a No. 1 line with Anton Lander and Jesse Puljujarvi. He's coming from Laredo with this position change but that run in Bakersfield was impressive.
L Ryan Hamilton. AHL only deal, he'll get some time with the big club in camp.
L Braden Christoffer. Final year of entry deal coming up, Christoffer hasn't shown enough offense through two seasons. His gritty, agitating style is a good match for the BrOILERS but he needs to cash more often.
L Evan Polei. Size and skill (6.02, 227 and 33 WHL goals) are intriguing. He's on an AHL deal and we've seen these develop into nothing before, but Polei has offensive skill and he can also play center.
L Tyler Benson. Slide rule, may get some pre-season games if healthy. The only thing to worry about with Benson is getting a complete WHL season under his belt, plus playoffs. He badly needs a healthy season and the Oilers badly need to see it from him.
L Ostap Safin. Size, speed and skill. First Oilers camp on the way and I can't wait to see what he brings. Listed as a RW, I wonder if he moves to portside (where the need is greater).

L Kirill Maksimov

. He has a very interesting resume and could be a draft steal. There's usually a reason for a pick to go where he does, but the resume is strong for Maksimov. Brock Otten wrote about him (and other Oilers OHL prospects) today.
Thomas Vanek would be an interesting add (CP LW UFA) but the Oilers have Maroon, Lucic and Jokinen already at this position. Scottie Upshall's name has been floating around this week, he might be an option because he can penalty kill.
RIGHT WING (14)
C-R Ryan Strome, 24. This is a grand opportunity for Strome, who will play mirror man to Leon Draisaitl all winter (if I have things pegged). I think 20 goals are possible, more if he gets a major push with Connor McDavid.
R Jesse Puljujarvi, 19. Puljujarvi is an impressive prospect with great skills, it's just a matter of waiting for him to show what he is as a mature player. Scorer? Playmaker? Brilliant two-way player? I think we'll see it play out at the NHL level this year. If he scores 20 goals in year two, the Leon-McDavid-Puljujarvi cluster will become legendary.
R Zack Kassian, 26. Rugged winger is young enough to hang around for several years, his foot speed is impressive. I feel a little as though we are looking at a brand new player who could surprise. I'll be interested to see who Todd McLellan plays with him at TC.
R Anton Slepyshev, 23. I see him as being a big part of this year's forward group, and would say there is a chance he emerges as a 15-20 goal man. If I'm his agent this is the summer to have him training hard and arriving as a doppelganger for Ivan Drago.
R Iiro Pakarinen, 25. The club has added several PK options who project to play ahead of him, so this could be a difficult camp. He plays with the abandon Todd McLellan values and that will help him in his effort to win a job. He's a bubble player entering camp.
R Ty Rattie, 24. This is an excellent spot for Rattie, whose actual scoring ability right now may not be far from men like Caggiula, Slepyshev and Puljujarvi. He's just one year older than Slepyshev and could push for a roster spot with a strong training camp.
R Mitch Callahan, 25. Consistent AHL performer, he brings skill with some physical play and that combination appeals to the Oilers. He may show very well in camp and has many of the elements Matt Hendricks brought to every game.
R Kailer Yamamoto, 18. Electric skills and he can score goals. I'm noticing more and more verbal that falls in line with what we've been discussing all summer (he might get nine games). Promising young lplayer.
R Patrick Russell. Scored only 8 times as rookie pro but shot the puck a lot and may have been experiencing a Bermuda triangle shooting percentage. Posted strong offense in the NCAA he may surprise this season.
R Greg Chase. Final year of entry-level deal ahead, he has small windows where everything seems to rhyme and then falls back again. Chase has scoring ability, needs to take advantage of opportunities and find consistency this year.
R Brian Ferlin. Effective when healthy. Has had substantial injury issues. A 2011 Bruins draft pick during the Chiarelli era, I think expectations should be low as this season may be about working his way back to healthy.
R Chad Butcher. AHL deal, skilled and small RW who scored over 100 points with Medicine Hat. He has high skill, could be the new Josh Winquist.
R Dave Gust. Small skill winger signed to an AHL deal. It feels like he's Joey Benik's replacement but we'll see.
R Zach O'Brien. Played mostly in the ECHL a year ago, can also play center. Had some titanic offensive seasons in the QMJHL years ago.
Kelly Klima is 20 and smaller, posted 49 points with two QMJHL teams this year. He is Kevin's twin brother and Dad is Petr. Davis Koch is an Edmonton Oil Kings winger, has improved each season (he is 19) and scored at almost a point-per-game this year. Should be one of the better skill forwards with the OK. There are a ton of UFA RW still available, Jaromir Jagr, Shane Doan, Jarome Iginla, Alex Chiasson, P.A. Parenteau. Oilers could invite one to camp and it would make sense. They may also run with what is on the roster currently. Source.
INVITES
From the NHL standpoint I think we could see Upshall or Wideman invited, suspect Franson will land in Chicago. For the junior invites, the most likely names are men like Khaira and Saigeon. I think we have the final roster surrounded unless Yamamoto rockets camp.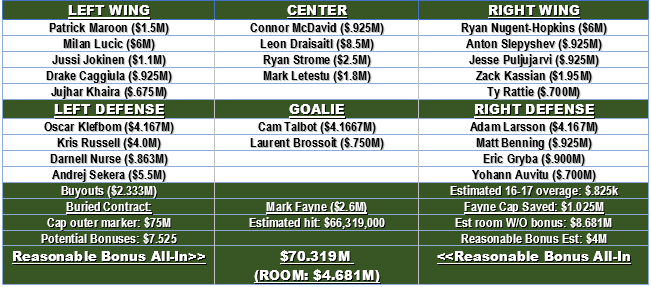 I have the 'reasonable bonus' listed here, but if you include ALL possible bonuses you get $73,844,000, leaving just over $1 million in cap room. That's terribly conservative, but Peter Chiarelli may be determined not to tempt an overage for next season. Although I'm surprised he wouldn't sign a veteran option on RW and RHD, his reason for being conservative can be justified with the McDavid deal coming on line next fall.