Two of my favorite hockey observers took a lash at prospect evaluation about a year ago. Steve 'Dangle' Glynn did a thing about the prospect pyramid and Jeff Veillette wrote some words. Both are here and worth a look. The idea being that a top 20 (or 25) forces the author(s) to make choices that take away from the overall discussion. Instead of talking about the player, we are talking about why he is ranked at a certain number. Great idea Steve, and great retort Jeff. Many moons ago (back in the HF era) I stole an idea from Bill James (his system was used to rank MVP-calibre seasons and to estimate trade value) for prospect evaluation. Here goes.
PROSPECT EVALUATION SYSTEM
Entry level junior/college player (Mark Pysyk) (Jayden Platz)
Fringe level junior/college/2nd div Euro player (William Quist) (Jordan Dawson)
Regular in junior/college/2nd div Euro player (Phillippe Cornett) (William Lagesson)
Quality junior/college/2nd div Euro player (Alex Plante) (Haydn Fleury)
Impact junior/college/2nd div Euro player (Jordan Eberle) (Christian Dvorak)
Depth Minor League/Elite Euro league Player (Johan Motin) (Ben Betker)
Regular Minor League/Elite Euro league Player (Rob Schremp) (Anton Slepyshev)
Quality Minor/Elite Euro league Player (Linus Omark) (Frank Vatrano)
NHL Fringe Player (Liam Reddox) (Anton Lander)
NHL Role Player (Marc Pouliot) (Mark Letestu)
NHL Regular (Ethan Moreau) (Teddy Purcell)
Above Average NHL Player (Ales Hemsky) (Connor McDavid)*
Impact NHL Player (Jarome Iginla) (Sidney Crosby)
My idea goes like this (using Connor McDavid). At age 17, in his draft season, 97 was a "5" (impact junior) and that's as high as he could go. The following season, I had McDavid as a "12" and this past season he is clearly a "13" on my list. That's super nova. What would it look like if I applied it to the entire Oilers prospect list?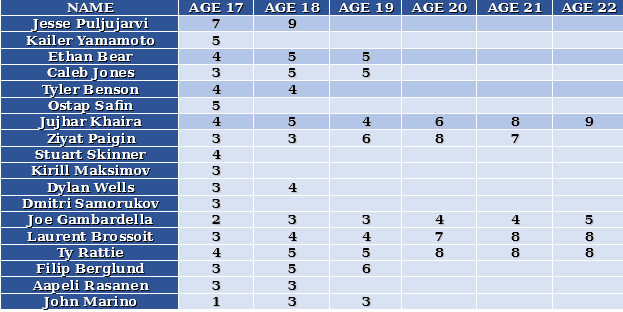 Age 17:

Jesse Puljujarvi is the best prospect age 17, Kailer Yamamoto right behind him and Ostap Safin is about the same level. A bunch of prospects (Bear, Benson, Khaira, Skinner, Rattie) after that, it's an interesting list that would be more interesting if we kept Connor McDavid and Leon Draisaitl in the group.

Age 18:

Jesse Puljujarvi is miles above the crowd again, suspect Yamamoto will post a 5 along with Bear, Jones and Khaira at the same age. That's where Ty Rattie was at 18 and Filip Berglund was a year ago.

Age 19:

Ziyat Paigin and Filip Berglund, along with Bear, Jones and Rattie are all in about the same spot at age 19. As a group, expectations were some time in the AHL and then (hopefully) an NHL career.

Age 20:

Paigin and Rattie performed at 20 in a manner that suggests a quick NHL look would have been appropriate. Brossoit and Khaira both a little shy, Gambardella in college.

Age 21:

Khaira, Rattie and Brossoit all "in the window" where NHL time would be expected, and hopefully enough traction to stay in the NHL and establish a career at that level.

Age 22:

Khaira, Rattie and Brossoit repeat the previous season, Khaira moving up a hair but none of the three able to establish themselves.
I've worked with this model for years, and despite some flaws (the European numbers seem a little high) it works for me as a quick evaluating tool. The best players (McDavid, Draisaitl) don't get to age 20 before vaulting to the top of the list and then graduating. Jesse Puljujarvi's career trajectory suggest the same kind of progression and we'll see about Yamamoto (he might have more of a Jordan Eberle rise—5, 5, 5, 11, 12, 11).
Among the players entering pro hockey this season, Caleb Jones and Ethan Bear ideally have a Ty Rattie at 20 kind of season and get a cup of coffee. Ziyat Paigin, to me, is possibly ready to ascend to the NHL at any time during the season. He appears close to NHL-ready.