There are signs everywhere. The leaves are starting to turn, I put the heat on in the car the other day, the cushions on the deck chairs sometimes don't make it outside for an entire day. We bought hot chocolate at the store the other day, and we'll hit the farmer's market soon to buy veggies for our Saturday minestrone evenings (basically an excuse to drink wine and get silly). Fall isn't here but you know it is on the way. This time, we can look forward to the hockey that fall and winter brings, and the promise of a brand new day.
PROJECTED ROOKIE CAMP ROSTER (AN ESTIMATE)
G Nick Ellis, 23. He enters camp as the AHL starter and first recall option. Ellis posted a strong year in Bakersfield and is easily the best goalie option available for this camp.
G Shane Starrett, 23. Strong college resume and this is his first year pro. With Eddie Pasquale as the second AHL option, Starrett may jump between Bakersfield and Wichita in 2017-18.
G Dylan Wells, 19. He has a good chance to make the WJ team and it's important for him to repeat last season's strong showing. The club drafted him on the downbeat, he's paid them back in a big way since.
G Stuart Skinner, 18. He is somewhat similar to Wells in that he has been well known for awhile and had a bit of a down season during draft year. Corey Pronman: He's a big goalie with a developed frame who moves fine for a goalie his size. When he's playing aggressively, he can make the net disappear.
LD Caleb Jones. Turns pro this fall, I can't wait to see him use that speed in Bakersfield. Coverage will be the big item, he enters rookie camp as one of the most promising players on the roster.
RD Ethan Bear. He should get plenty of playing time at rookie camp and in the McEwan-Nait game, Bear is one of the feature prospects for Edmonton this fall. He'll be ticketed for Bakersfield and should be one of the early pro exits from camp.
LD Ziyat Paigin. He played for Ak Bars Kazan (KHL) 17gp, 1-3-4 and Bakersfield (AHL) 5gp, 0-0-0 last season. He has 95 KHL and 5 AHL games, so is barely eligible (and it's not 100 percent he'll be in Penticton).
RD Ryan Mantha. Duplicates Bear's skill set and he is a year older. He should get feature minutes in rookie camp, likely sent down with the first group of Condors.
LD Dmitri Samorukov. His numbers with Guelph of the OHL (67gp, 4-16-20) suggest a defensive defender but the scouting reports are a little more glowing. Corey Pronman says he's mobile and smart, he improved as the season rolled along and flourished at the U18's.
RD Sahvan Kaira. Swift Current defender (70gp, 1-16-17) he hasn't been confirmed but Edmonton will need him to round out the defensive group with righties. He was very physical down the stretch last season, has a better chance of getting a pro contract than 12 months ago.

LD Liam Schioler.

He's a big defender, most of his value will come without the puck. He's a training camp invite and should see some time in Penticton. Jeffrey gave me the head's up, and I thank him. Sounds like the Pats feel this young man can take a step forward.
LC Joe Gambardella, 23. He will be a star in the coming tournament, more mature and aggressive, he'll deliver offense from turnovers and should play feature minutes. I think he could get some NHL time this year.
LC Brandon Saigeon. Hamilton (OHL) 66gp, 21-28-49. He is a 1998 born and I'd rate him as the most talented invite based on the boxcars and possible role.

LC Kevin Klima

. Chicoutimi (QMJHL) 32gp, 4-10-14; Moncton (QMJHL) 29gp, 4-18-22. Small skill center has some two-way ability according to reports.
RC Steve Owre. Medicine Hat (WHL) 71gp, 26-62-88. WHL skill center is now finished in junior and at 21 this is a nice opportunity (camp invite not yet confirmed for any of these young unaffiliated centers).
RC Ethan Szypula. Owen Sound (OHL) 64gp, 11-36-47. He plays a more rugged style than his size (5.11, 170) implies.

L Tyler Benson.

 Vancouver (WHL) 33gp, 11-31-42. It sounds uncertain he'll pay, which is both par for the course and very discouraging.
L Kirill Maksimov. Niagara (OHL) 66gp, 21-17-38. The way he ended last season may suggest Edmonton stole a player in the depths of the draft. He should be one of the most skilled forwards in Edmonton's camp.
L Evan Polei. Red Deer (WHL) 69gp, 33-29-62; Bakersfield (AHL) 1gp, 0-0-0. AHL contract, he has real skill and should be very useful at this camp.

R Kailer Yamamoto

. He'll be the star of the show and we'll see plenty of offense from him in Penticton. Yamamoto is high skill, amazing talent.
R Chad Butcher. Medicine Hat (WHL) 68gp, 27-76-103. AHL contract, he has enough skill and experience to be extremely useful during rookie camp.
R Dave Gust. Ohio State (NCAA). 39gp, 18-23-41. AHL contract, he has more experience than most of these kids and will likely play a prominent role.
R Kelly Klima. Chicoutimi (QMJHL) 35gp, 8-9-17; Moncton (QMJHL) 31gp, 14-18-32. He'll be in tough at RW but watching Petr's kids is going to be a fan attraction.

R Trey Fix Wolansky.

A recent confirmed invite (via DVD) and he is another small player with top skills.
Not everyone is confirmed (Schioler and Wolansky in the last 24 hours) but that's a reasonable guess. It's possible Jesse Puljujarvi, Drake Caggiula and Matt Benning appear but that might be overkill. The Finn would cut through Penticton like a giant, might be fun to watch.
PENTICTON TO THE NHL?
You may be wondering if players routinely make the NHL in the same season they appear in Penticton. Last year (here) all of Jesse Puljujarvi, Matt Benning and Drake Caggiula turned the trick. So, while we may be concentrating on high draft pick Kailer Yamamoto, perhaps college men like Joe Gambardella and Nick Ellis should be considered as possible successes.
PAT QUINN'S OPENING NIGHT LINEUP, 2009
L1: Jacques-Horcoff-Hemsky
L2: Penner-Cogliano-Brule
L3: O'Sullivan-Comrie-Stone
L4: Moreau-Gagner-Stortini
D1: Grebeshkov-Gilbert
D2: Souray-Staios
D3: Visnovsky-Smid
G1: Khabibulin, Deslauriers
Those lines! Pat Quinn had some great years in Philly, Vancouver and Toronto but he and the Oilers were not a good match. Rugged bugger on every line, though, something the current management would agree with in my opinion. Quinn didn't have the horses, that's a fact. I see Montreal trying Jonathan Drouin at center (or that's the plan) this training camp, those kinds of moves were routine during the dark days. Remember Taylor Hall at center? Yeah.
50-MAN LIST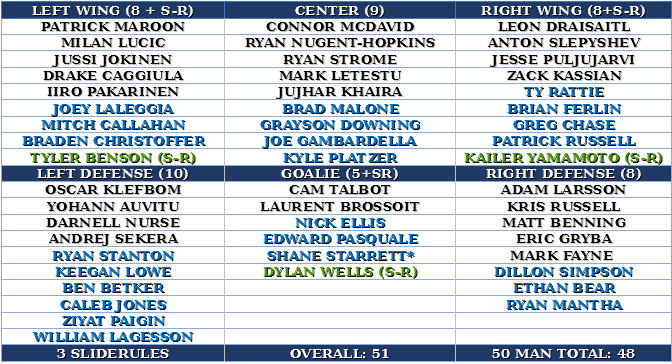 Nothing has changed in three weeks, so this is us. If you are a fan of prospects, Peter Chiarelli's activity this summer has to please you. There is much clean air for Jesse Puljujarvi, Anton Slepyshev and Drake Caggiula up front, and a player like Ty Rattie is in an excellent spot as well. On the defensive side, men like Yohann Auvitu, Keegan Lowe and Dillon Simpson appear to have an excellent shot at playing time. Maybe Mark Fayne rises like a Phoenix as well.
At the AHL level, I think there might be a need at center but Josh Currie signed an AHL deal with Bakersfield and that will impact the depth chart. I wrote about the 2017-18 Condors here, the team seems fairly set. Certainly more depth than a year ago, where the Bakersfield side must have felt robbed when Matt Benning and Drake Caggiula made the big club and stayed.
REC HOCKEY THIS WINTER!
If you're looking for a rec hockey experience with set times and a league that won't break the bank, check out this site. Just $250 plus tax and a set schedule. Tell them Lowetide sent you, that may or may not help. 🙂
LOWDOWN WITH LOWETIDE
Today on the show, we ratchet up the hockey talk. 10 this morning, TSN1260, scheduled to appear:
Jonathan Willis, Oilers Nation

. Nuge and Benning, where do they play?

Guy Flaming, Pipeline Show

. Everything you want to know about Trey Fix-Wolansky but were afraid to ask.

Scott Mitchell, TSN.

Blue Jays!

Brock Otten, OHL Prospects

. We'll check out some of these OHL names who may be in camp.
10-1260 text, @Lowetide on twitter.