So by 1975 I had walking around money that was my own. I could save like a demon (growing up in the middle of nowhere helped big time) and made four or five trips a year to Saskatoon to go album shopping. In about June of that year I bought Toys in the Attic by Aerosmith, a band from Boston. It was a good album, hard rock, melodic, lyrics were a little weird but that was fine. I subsequently bought their two previous albums (early albums are always the best, bands have better songs because they've been writing for a few years then use their best stuff right away) and those three LP's are basically the best of Aerosmith. Dream On came from the band's first album, as an example, it became a hit two years later. Happens all the time.
After Toys in the Attic, Aerosmith ran out of songs. Also happens all the time. The next album was not the equal of the previous three and soonafter the band joined up with Peter Frampton for Sgt Pepper the Movie and that's all she wrote. By the early 1980's they were singing pop songs written by others and I'm sure Joe Perry was bored senseless.  Anyway, you can't credibly argue for Aerosmith now but those first three albums were good rock and roll.
NUGE AND HORC
The night Shawn Horcoff entered the NHL for the first time, the center depth chart above him included Doug Weight, Todd Marchant, Rem Murray and Domenic Pittis. The Oilers also had Mike Comrie and would soon trade for Sergei Zholtok. That's a fine depth chart at pivot. By 2006 spring, Horcoff was running with Michael Peca, Jarrett Stoll and Marty Reasoner—another rock solid group.
Somewhere along the way, Edmonton stopped focusing on balance, depth and quality. By the time Ryan Nugent-Hopkins entered the NHL for the first time, the center depth chart included Shawn Horcoff, Sam Gagner and Eric Belanger. By his sophomore season Nuge was the top gun and Shawn Horcoff played 112 games as an Oiler while RNH was on the roster.
By this time next season, RNH will be gone. Connor McDavid and Leon Draisaitl will be the top two centermen and lordy that's a helluva depth chart. This season is going to be spent on getting Nuge's boxcars past 50, even though he has never been an impact 5×5 performer (1.95, 1.12, 1.50, 1.92, 1.36 and 1.45 last year). Now, on the power play, Nugent-Hopkins is a freak (or witch, as Tyler Dellow coined him) but I don't think anyone is crazy enough to replace 97 on the top 5×4 unit.
So, and I do think we're going to see it for a time, the Edmonton Oilers are about to talk themselves into moving RNH up to McDavid's line in an effort to force feed the offense, while asking Leon Draisaitl to take on Everest in his third NHL season. It could work, we are talking about fantastic talents, but why would you do it after everyone has signed their big money contracts. Seems to be some confusion here, Orly. Why not run Nuge against the toughs, have Leon play mirror man with Ryan Strome, and try to win hockey games?
HORC 09-10 AND NUGE 16-17

I chose 09-10 for Horcoff because I had the numbers for this specific year. Horcoff was 30 and I know for a fact he was playing tough minutes (as Nuge did this past season).
The 5×5 offense is about even, and I think it fair to suggest RNH is not Leon Draisaitl's equal offensively. On the other hand I don't think Leon, at his age and experience, is Nuge's equal as a complete center.
Nuge on the 5×4 is just really good, brilliant really. He could help a lot of teams in this area, but as luck would have it RNH plays on the same team as Zeus.
Horcoff was much better in the dot than his number from 2009-10 shows, Nuge has an issue in this area. I don't believe it's fatal.
Nuge playing with McDavid makes sense in that RNH is a more responsible player than Leon Draisaitl, and if 93 can spend all year with 97 my guess is Peter Chiarelli will fetch a crazy diamond in trade. It isn't the way I would go, as keeping Nugent-Hopkins just makes all kinds of sense. I'm going to miss him when he's gone.
POSSIBLE ROOKIE CAMP INVITES, VOL. 1
LC Grayson Pawlenchuk, Red Deer Rebels. Pawlenchuk is a good skater and plays a fairly complete game. I have spoken to scouts about him and he looks like a player (kind of like Tyler Pitlick) but the numbers have been lagging. Went 19, 4-5-9 last season in an injury-plagued campaign. I marked him for the 2016 draft but didn't rank Pawlenchuk on my year-end WHL list. He wrote a blog for Guy Flaming's Coming Down the Pipe and one edition is here.

RD Austin Strand, Seattle Thunderbirds

. An interesting young player who has reasonable size (6.03, 190) and plays an aggressive and rugged style. Scored 74, 9-23-32 with Red Deer and Seattle a year ago, his handedness makes him an interesting prospect.
Lists from other NHL teams are dropping six at a time, suspect the Oilers will pass along the rookie list here in the next day or two. I think we will see players like these men in addition to Kailer Yamamoto and Ostap Safin.
SHANE DOAN RETIRED
Shane Doan could have been an Edmonton Oiler if not for Steve Kelly, and you know it's true. Had the Oilers drafted Doan that fateful day 20+ years ago, perhaps the years after would have been written differently. Alas, it was not to be and Doan's path took a different route. Sail on, Shane Doan, your rugged play and work on the edge of legal would have been adored in this town and is treasured by the desert people. Ain't it funny how time slips away.
PROJECTED OPENING NIGHT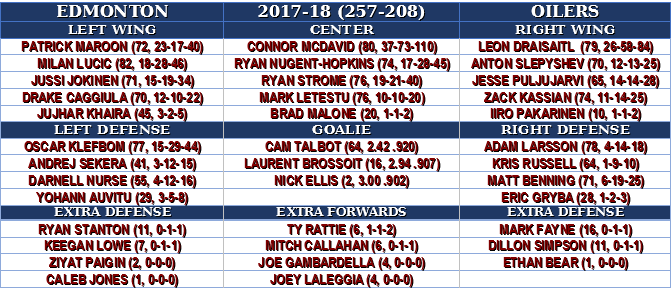 This is my RE in a box, had a couple of emails asking me where I thought Leon Draisaitl would play and wanted to go back and re-state it. I think LD plays 70 percent of his time with Connor McDavid, which flies in the face of new information (I believe, based on the sheer volume of rumors stating the identical verbal, that the organization will try RNH with 97). That said, Todd McLellan knows McDavid-to-Draisaitl works, expect 93 can play at a similar level with 97. There's a difference.
I have Benning jumping up with Russell and Nurse playing with Gryba early, but also getting time with Mark Fayne and Dillon Simpson. I also have Laurent Brossoit playing 2-3 games a month, that may seem a little high. Edmonton should have enough wiggle room in the standings to give LB a full try this winter. Those are my opinions.
LOWDOWN WITH LOWETIDE
I'm on at 9 this morning, will talk to Sarah McLellan from the Arizona Republic about Shane Doan and his retirement.  I'll also chat with John Horn of TSN about the exciting start to the U.S. Open.
At 10 this morning, I'll spend an hour with three very smart gentlemen: Tyler Hupka, Darcy McLeod and Bruce McCurdy. We'll chat about expectations of the Oilers season, possible elevator shafts and I'll ask each man to predict Edmonton's finish and a few other projections. I love these round table discussions and am very pleased with this trio.
At 11:05 today the first appearance of Simon Boisvert, our prospect insider. Simon had Kailer Yamamoto ranked No. 24 and Ostap Safin No. 25 this year, we'll chat about those players and what we might expect from them.
At 11:25 Guy Flaming will pop in and talk about some of the possible invites to Oilers camp, including the two men I've guessed about above. Dave Jamieson will pop by around 11:45 to chat and that's the show! 10-1260 text, @Lowetide on twitter. My producer today is Tyler Yaremchuk, who will one day own the company. See you on the radio!