During our round table conversation yesterday on the Lowdown, I asked the group about the most pleasant surprise in 2017-18. Tyler Hupka chose Anton Slepyshev and stated the Russian winger could score 20 goals in the coming year. That's a helluva statement, what does the evidence from last year tell us?
ANTON SLEPYSHEV 2016-17
5×5 points per 60: 1.34 (7th among regular forwards)
5×4 points per 60: 0.00
Corsi for 5×5 %: 46.0
Corsi Rel 5×5 %: -4.1
DFF Elite 5×5 %: 44.4
DFF Elite Rel 5×5 %: -10.3 (24 percent of TOI v. elites)
Shots on goal/percentage: 55 shots/7.3%
Boxcars: 41gp, 4-6-10 (445 minutes 5×5)
(All numbers via Puck IQ, Natural Stat Trick and hockey-reference)
If we're projecting Slepyshev based on last season, it's important we break down the at-bats.
Slepyshev played half a season, averaged 10:41 a night, 7.41 shots per 60 at 5×5.
Slepyshev's shooting percentage was 7.27. He went 4-6-10 and had 55 shots. (445 minutes 5×5)
Slepyshev went 3-2-5 in 110 minutes with Leon Draisaitl during the regular season. 11 shots.
So, if we increase Slepsyhev's 5×5 minutes to 13:45 a night, we basically give him Jordan Eberle's time a year ago. If we increase the shooting percentage to 9.1 (from 7.3), and his shots per 60 minutes to 9.1 (from 7.41), we get 171 shots on goal and 15.5 goals. If he plays more with Leon, maybe he hits 20. Plus maybe he gets some power-play time. Conclusion: It's not crazy. His career regular season shooting percentage in the KHL is 10.4. Slepyshev was golden in the playoffs for the Oilers, three goals in 16 shots. That memory could get him time with Leon Draisaitl and Milan Lucic. Interesting.
PENZA
Slepyshev is from Penza, a city on the Sura River about six hours southeast of Moscow. Since the experience of Nail Yakupov, I have a running theory that adjustment to North America is easier for Russians who grew up closer to Moscow and in modern communities. Six hours south for Slepyshev, nine hours into the past for Yakupov and Yakimov? I don't think Nail's part of Russia is similar to Slepyshev's and the culture shock for some of these kids must be severe. Why did Yakimov bolt? Bakersfield doesn't have a large Russian population (unlike Los Angeles). I suggested an assistant coach for the Condors yesterday, today I'm thinking a good bakery and a few restaurants. Maybe an apartment with a Russian couple who can cook for these kids and give them something of their own culture while helping to adjust. How much would that cost? Gotta be worth it. Oh, Ziyat Paigin? Penza.
JAROME IGINLA
Rumors abound that Jarome Iginla is coming in, either on a PTO or contact. We do not have a bona fide source, so we are speculating. Peter Chiarelli once traded for a 40-year old winger as a key add for a Stanley Cup drive (in 2009) and kept Mark Recchi around long enough for the 2011 championship. Jarome Iginla, at age 40, might be able to help on the power play and offer cover against the youngsters struggling. I don't know that it happens but the idea of a 40-year old winger would not discourage Peter Chiarelli. Iginla scored 1.14/60 5×5 with John Mitchell in Colorado (314 minutes) but received a giant step up in Los Angeles. Iginal went 1.66/60 in 180 minutes with Anze Kopitar and 2.33/60 in 51 minutes with Jeff Carter. Iginla's shots per 60 at 5×5 increased from Colorado (5.36) to Los Angeles (6.48). I think Puljujarvi and Slepyshev probably win the day but it's an interesting idea.
DREW REMENDA
Oilers broadcast crews have been announced, everyone going crazy and I think that's good for broadcasting in general. I will tell you that Louie DeBrusk is my personal favorite among recent local color men, and that I always liked Ken Brown's insight alongside Rod Phillips back in the day.
Drew Remenda has a tough gig in that we know him from his San Jose days and it's inevitable he would compare that team to the one in front of him. I can tell you as someone who has been in the industry since 1980 (radio, not television) old habits die hard and it takes time to iron things out in what is an unusual relationship between the brain and the voice.
Remenda does give us access to the coach and what he is thinking. In my opinion. The next time you hear a broadcast and Mr. Remenda is discussing roster deficiencies or what specific players should be doing, I recommend you take into account who he might be talking to on a regular basis. Human nature. Pretty sure. In that way, you should be delighted by Drew Remenda's return.
As for me, I'm fine with his broadcasts. I like the current Oilers crew and suspect the things that irritate you about him (the comparisons to the Sharks teams) will slowly melt away. If you worked at a job for 15 years and then moved to another where the coffee machine worked a different way, HR was email instead of a walk down the hall, and your parking spot was on Guam, maybe you too would irritate those around you. Mr. Remenda is still growing into this job and I think he does give us a unique perspective.
OILERS 17-18 WITH IGINLA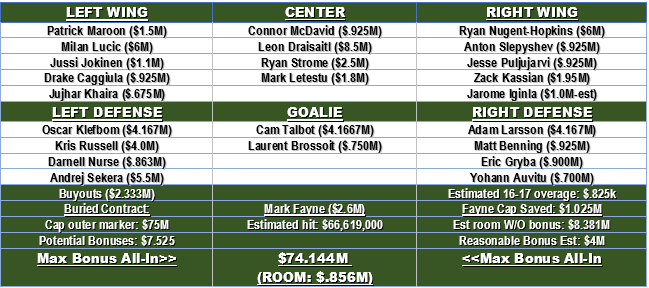 I think it would impact Iiro Pakarinen or Ty Rattie in terms of roster spot, and all of the youngsters (Jesse Puljujarvi, Anton Slepyshev and Drake Caggiula) in terms of playing time. As I mentioned, no certainty it happens, but it's an interesting idea.
ROOKIE CAMP ROSTER
It should be here soon. While we wait, here are the estimated 5×5/60 scoring numbers for some of  the rumored and actual invites via Prospect-Stats:
Kailer Yamamoto 3.06
Tyler Benson 2.71
Brandon Saigeon 2.47
Davis Koch 2.22
Kirill Maksimov 1.86
Austin Glover 1.86
Luke Coleman 1.75
Trey Fix-Wolansky 1.69
Not all of these names have been confirmed so we'll hold back the water on a complete list. It does give us an idea about the skill we'll see at camp. Expect Yamamoto, Masimov and Ostap Safin (when he arrives) to get a push in Penticton.
LOWDOWN WITH LOWETIDE
A full boat of guests this morning, beginning at 10 on TSN1260. Scheduled to appear:
Bruce McCurdy, Cult of Hockey

. As we gear up for training camp and the season to come, we'll discuss invites like Jarome Iginla and roster needs.

Dave Dawson, Onside CFL Fantasy

. QB power and how to  choose the right receiver on deep CFL teams.

Derek Taylor, TSN.

Mike Reilly is super nova when trailing in the game.

Rob Vollman, ESPN and NHL.com.

Doan retirement, Iginla in Edmonton.

Ilya Ostrovsky, EMHL.

What is the difference between Moscow, Penza and Neftekhimik. Is there a cultural gap we should know about?
10-1260 text, @Lowetide on twitter. See you on the radio!