We'll be dancing in September this year, looking forward to another winning season in the hinterlands. Winters don't seem so severe when the city of Edmonton is driving to the rink anticipating a win. Last season did more for the general mood of this northern outpost than can be measured. Bless you boys, now do it again.
I believe a team with balance has two impressive lines, a quality 3C, a strong top 4D and an outstanding goalie. You can fill in with an average fourth line, third pairing and some wobble among the wingers on the third line. How far are the Oilers from the balance photo?
OILERS 50-MAN LIST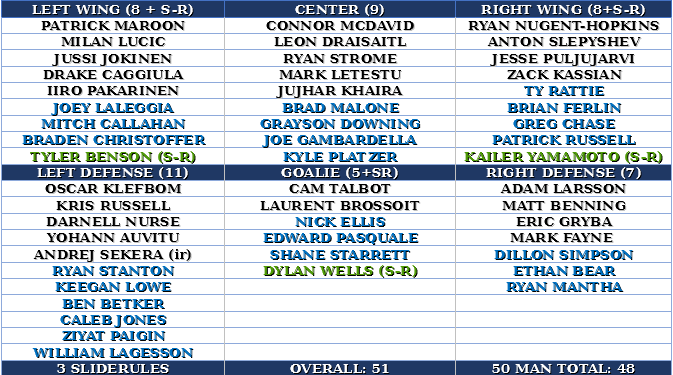 Five of the top 6F are obvious, important to have those top two lines humming. I have Anton Slepyshev listed here as the sixth man, but it could be Jussi Jokinen, Ryan Strome, Jesse Puljujarvi or Drake Caggiula.
If the three kids (JP, Caggiula, Slepyshev) all step forward, especially offensively, this forward group is going to shine like a diamond.
Connor McDavid.
I'm more positive about the blue line than most, I wonder if the organization agrees with Andrej Sekera about his timeline  for return.
I am still convinced the RHD could use one more addition and Cody Franson is still available. I've received lots of correspondence about my recent article at ON (including some that were beyond the pale) but for me if there's a viable option out there, I'm going to mention it.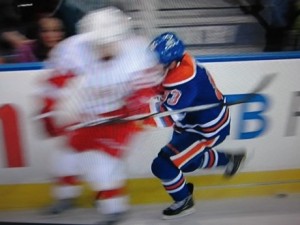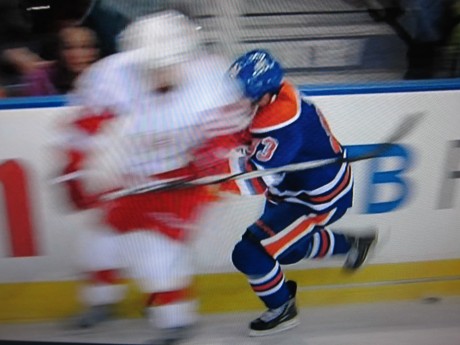 2005-06 OPENING NIGHT NHL PLAYOFFS
Ryan Smyth—Shawn Horcoff—Ales Hemsky

Sergei Samsonov—Jarrett Stoll—Radek Dvorak

Raffi Torres—Michael Peca—Fernando Pisani
Todd Harvey—Rem Murray—Georges Laraque
Chris Pronger—Jason Smith 
Jaroslav Spacek—Steve Staios
Marc-Andre Bergeron—Dick Tarnstrom
Dwayne Roloson (Jussi Markanen)
Injured: Ethan Moreau
Scratched: Ty Conklin, Igor Ulanov, Marc Pouliot, J.F. Jacques, Matt Greene, Brad Winchester, Danny Syvret.
This is the last truly balanced Oilers roster, Game One in Detroit. Kevin Lowe built a wonderful team, he really did. Craig MacTavish made two changes after that first game, bringing in Brad Winchester on the 4line (sitting BG) and rotating Conklin with Markkanen—the coach feeling there was little difference between the two. He would come to regret that decision, the hockey Gods were most unkind that spring.
2016-17 OPENING NIGHT
Milan Lucic—Connor McDavid—Jordan Eberle
Patrick Maroon—Leon Draisaitl—Jesse Puljujarvi
Benoit Pouliot—Ryan Nugent-Hopkins—Anton Slepyshev
Tyler Pitlick—Mark Letestu—Zack Kassian
Oscar Klefbom—Adam Larsson
Andrej Sekera—Kris Russell
Darnell Nurse—Brandon Davidson
Cam Talbot (Jonas Gustavsson)
Scratches: Mark Fayne, Anton Lander, Matt Benning
Injured: Matt Hendricks
Opening night last season (for me) was a solid group and maybe only a player or two from real balance. Jesse Puljujarvi and Anton Slepyshev were unproven, which is not the same thing as saying unqualified. I had some questions (fewer now) about the quality of the defense, so that's three items from balance.
PROJECTED 2017-18 OPENING NIGHT
Patrick Maroon—Connor McDavid—Ryan Nugent-Hopkins
Milan Lucic—Leon Draisaitl—Anton Slepyshev
Jussi Jokinen—Ryan Strome—Jesse Puljujarvi
Drake Caggiula—Mark Letestu—Zack Kassian
Oscar Klefbom—Adam Larsson
Kris Russell—Matt Benning
Darnell Nurse—Eric Gryba
Cam Talbot (Laurent Brossoit)
Scratches: Iiro Pakarinen, Jujhar Khaira, Yohann Auvitu
Injured: Andrej Sekera
How far from balance? I think that third line could hum but we have to see it. I'll give Peter Chiarelli a lot of credit for grabbing Jussi Jokinen, that's a fantastic addition to the roster. I also like the fourth line a bunch. On defense, if Andrej Sekera was healthy I'd consider it close to balance, then again I'm very bullish on Benning and stronger on Nurse than most. Goaltending? It's there.
So, that's what, two players (Strome, Slepyshev) unproven and Sekera hurt? This team is close to balance. I will tell you that we could see balance at the trade deadline. If Peter Chiarelli gets it done, I will publish the balance photo at that time.
LEAKS
I have observed this Oilers organization since the beginning and count myself as something of an expert. Here, let me give you a thumbnail sketch of each era and how news got out around town:
Bill Hunter

would call a news conference and bellow out headlines, saving media the trouble. He might fire a coach at the same time just because it was there.

Glen Sather

would call in one or two newspapermen (he got mad at a bunch of them so the list varied) and frame an issue. If you read something negative about Paul Coffey and contract in the early to mid 1980's, chances are Slats had a meeting.

Kevin Lowe

held avails, met with media and had leaks, not sure if the leaks were planned. Lowe was an open book, he is an emotional person and that works for and against him. We knew pretty much every move in advance during his admin.

Steve Tambellini

leaked nothing. As much heat as Tambellini took, he clearly trusted no one and I do think that included people on staff. Steve Tambellini is the one general manager on this list who gave bloggers very little advance warning of transactions. Of course, he didn't make very many, either.

Craig MacTavish

was similar to Kevin Lowe in that all means of communication were wide open. MacT is probably the most comfortable in front of a microphone of any on this list and it surely allowed him to say too much. The Dubnyk comment, the challenge of Jeff Petry, it's an easy era to parse because the leaks came right from the very top—during media avails!

Peter Chiarelli

spent 2015-17 spring allowing nothing out. I'll tell you it was very rare to hear about things in advance. Remember when you heard about the Reinhart deal? The Sekera signing? Even the Lucic signing was botched because Jason Demers was also going to be a part of it. For the first two two years here, PC kept his cards close to the vest.
It's changed now, and I can tell you the event that caused me to change my mind. Moving Nuge to RW began (for me) as an idea on Bob's show, and one that I looked at as an interesting twist on the roster and a potentially productive move. As the summer wore along, I kept getting credible information about Nuge and it came from a rather large variety of people who are connected one way or another in this city (and I don't have any contacts in the organization, none of this is first hand account).
Look, we're a gigantic small town and people talk. The only way to keep this stuff from the public is to shut the hell up! I think Peter Chiarelli is either growing more comfortable or telling more people about his ideas. We're seeing a change in the weather. The 45 years I've been watching this organization tells me it's true.
LOWDOWN WITH LOWETIDE
A busy morning, TSN1260, beginning at 10. Scheduled to appear:
Steve Lansky, BigMouthSports

. We'll talk about the broadcast teams for the Oilers this year and about the Labor Day classic.

Matt Iwanyk, TSN1260.

Preview of the Labor Day Classic!

Jeff Krushell, Krush Performance.

MLB has a second trade deadline!
10-1260 text, @Lowetide on twitter. Talk soon!