We're right on the edge of seeing the rookie camp rosters and possibly a straggler PTO or two. Since we last chatted 19 days ago there have been subtle changes in the weather and I suspect we have things surrounded based on what we know. What don't we know? Oh my, what a list! Injuries are one thing, but someone on this list trained like a demon and someone else trained a little less than one year ago. We'll know soon, but as of now here's how I see things. Several forwards have increased their chances of making the team, mostly because Edmonton hasn't brought in options for the 12-14F jobs. Note: At this point one year ago, we didn't know about Kris Russell and Matt Benning had a 15 percent chance of making the team. Lesson: Things change.
THE FORWARDS
C Connor McDavid, 20. We should have lost the awe by now, we've been watching him long enough to adjust to scale. And yet, he still amazes. His speed is witchcraft.  100%.
C-R Leon Draisaitl, 21. Leon's contract is done and now comes the pressure. I think that could be a factor, but for me the big issue is where he plays. If the Oilers are going to move Nuge to McDavid's RW and Leon to replace 93 on a tough minutes line? Well, we'll have to wait and see but I'm not enthused. My bet is he remains 70 percent with The One, 30 percent with regular humans. 100%. 
L Patrick Maroon, 29. I keep thinking Peter Chiarelli might try signing some of these players who need contracts next summer. Maroon is going to be a tough one, would seem to be a lock for 97's line and that might mean 25 goals in his walk year. 100%. 
L Milan Lucic, 29. The power-play numbers were not expected based on his own past, so if Lucic can recover 5×5 scoring back to his own established average things should be grand for the big man. 100%.
C Ryan Nugent-Hopkins, 24. Nuge is a solid two-way center who plays gigantic competition, but there seems to be a train of thought in the organization that his offense needs to be saved. Hopefully we see him back at center on a tough minutes line by end October. 100%.
C-R Ryan Strome, 24. My RE prediction (40 points) is lower than most but I'm comfortable with it. There are also observers who don't think he'll surpass his 30 points from a year ago. I think he'll find a good spot in the batting order and take advantage. 100%.
L Drake Caggiula, 23. He has chem with McDavid and could see some 5×5 time with him. Caggiula will be in a fight for playing time all year but if he can establish himself as a top 9F he could be an Oiler for a long time. 100%.
R Zack Kassian, 26. His foot speed is the best of his career and with opportunities on RW we may see him playing a feature role at times this year. 100%.
L Jussi Jokinen, 34. Jokinen can play any position and in all three disciplines. I'd prefer he play on a line with Jesse Puljujarvi, the mentor role might be his most important to the team. 100%.
RC Mark Letestu, 32. He is so useful on the power play and penalty kill, kind of squeezes his 5×5 appearances. I'll be interested to see if Todd McLellan cuts down TOI in one of these areas. 100%.
R Anton Slepyshev, 23. He scored well in the KHL before coming over and stepped forward this past season at the NHL level. Can he score 15 goals in a top 9F role? If he can, Oilers will have found a rare third-round gem. 100%.
R Jesse Puljujarvi, 19. The one thing we should hope for this season, among the young forwards, is a big step forward for JP. He's big, strong, talented. Can he score goals? Can he get that shot off quickly? Another chapter on the way. 100%.
L Jujhar Khaira, 23. The Oilers like his size, speed and grit. As is the case with the young forwards trying to establish themselves, it'll come down to offense for Khaira. 70%.
R Iiro Pakarinen, 25. He is the bubble player entering camp. He can penalty kill, which gives him an advantage over all others below him (1:09 a game in 2015-16). 50%.
R Ty Rattie, 24. Rattie is a goal-scoring option. He probably doesn't make the big team but might be an early callup for a skill line. He can score goals. 20%.
R Kailer Yamamoto, 18. Electric skills and another goal scorer. A small winger, he will impress if given chances. If he is here late in camp, the club may give him nine games. 20%.
LC Brad Malone, 28. Malone can play center, wins faceoffs, penalty kills and it won't hurt him to sit in the pressbox for long stretches. 10%.
R Mitch Callahan, 25. Consistent AHL performer, he brings skill with some physical play and that combination appeals to the Oilers. He may show very well in camp. 10%.
L Joey Laleggia, 25. He is a long shot but what he brings is very valuable. If we see him getting some time with the NHLers and extra games in pre-season, we'll have a story. 10%.
C Joe Gambardella, 23. He is not a high end prospect but could emerge as an NHL option (over time, likely a season or two). I'll give him a slight chance to slide into a useful utility role at the back of the roster. 10%.
THE DEFENSE
L Oscar Klefbom, 24. Oscar will be asked to play more and deliver the quality play we saw a year ago. He emerged as a confident puck mover a year ago, and could grab more time on the power play. 100%.
R Adam Larsson, 24. Larsson rocks steady and contributed to improved balance and depth inside Edmonton's top 4D. He'll be asked to play more this season and will need to be part of what we hope is a substantial answer to last year's PK. 100%.
L Andrej Sekera, 31. How long is he gone, and what level can he play upon return? 0.
L Kris Russell, 30. My guess is LH side with Matt Benning. One of the big items from a year ago was his 'running luck' and he did regress later in the year. The dice have no memory, so which version of Russell do the Oilers get this coming season? 100%.
R Matt Benning, 23. He is my choice for elevation to the second pairing, that jives with Todd McLellan's usage one year ago. Defenders rarely develop in a straight line but he looked so good adjusting to this level it's difficult to remain neutral on him. 100%.
L Darnell Nurse, 22. The indicators on Nurse have him as part of the McDavid cluster, and that means he's going to be here a long time and in a prominent role. Can he handle the big minutes? We should see him in that role for at least a portion of the year. 100%.
R Eric Gryba, 29. Played 40 games as 7D last season, saw action in three playoff games. I think he'll be in the mix for regular third-pairing activity but may not hold that job. As of now, he is a lock for the roster. 100%.
L Yohann Auvitu, 27. New signing gives the team a much needed addition to the mobile passers on the team. I don't think he's a lock for the roster but he has a good chance. 55%.
R Mark Fayne, 30. He can defend but his foot speed is an issue, he does not play a rugged game and the offense is minimal. I don't think he'll be on the team other than recall. 15%.
L Ryan Stanton, 27. He appears poised to battle Auvitu for the 7D spot this fall, he has done some penalty killing in the past and that may become a big deal. 14%.
LD Keegan Lowe. Top 4D role in Bakersfield, where does he sit on callup list? I'll be very interested to see where he ranks on the Oilers depth chart this season. He could be an early recall, Lowe is a good fit for Chiarelli/McLellan teams. 7%
LD Dillon Simpson. Excellent chance he plays some NHL games this year and we'll see if he ends the season No. 11 on the depth chart. History tells us he'll pass someone. 5%
LD Ziyat Paigin. The verbal coming out on him is very strong but he's probably a year away from pushing for a roster spot. Expect a lot of early talk from Bakersfield to surround mobility, we should get a clear picture on him by March. 2%
RD Ethan Bear. Bear finished off a fabulous junior career in fine style but the workload increases in a big way this fall. I expect a full season in Bakersfield, with a cup of coffee in the NHL possible. We should be looking for effective 5×5 play, and I'm sure they'll want to see him on the power play. 1%
LD Caleb Jones. Fastest and most mobile of the new pro defensemen, that sometimes means a fast track. We've been advancing Jones alongside Bear since they were drafted seven picks apart, looking forward to seeing how each advances at pro level. 1%
THE GOALIES
Cam Talbot, 30. Posted a fantastic season and there's no reason (injury aside) to doubt his ability to repeat it. I think they will try to reduce his number of starts, but bet he gets at least 65 anyway. 100%.
Laurent Brossoit, 24. You would like to see him get 25 starts but that's probably a year away. If he can hold on to the backup job, perhaps there is more. One step at a time. 90%.
Nick Ellis, 23. I include him because there's always a chance someone gets hurt and the Ellis resume is very good. 10%.
THE OUTSIDERS
G Eddie Pasquale. AHL veteran could get some NHL time.
G Shane Starrett. Another college goalie turning pro. Strong resume.
G Dylan Wells. Slide rule, he'll spend one more year in junior.
G Stuart Skinner. He has a solid resume and the Oilers love him.
LD Ben Betker. Big man should get a full AHL season.
RD Ryan Mantha. Big man, big shot, good speed. Duplicates Bear's skill set.
LD Dmitri Samorukov. Intriguing two-way defender.

LD Liam Schioler.

TC invite, big defender will play in Penticton.
C Grayson Downing. Skilled center coming off subpar second AHL season.
RC Josh Currie. Back on an AHL deal, he has skill and two-way ability.
RC Kyle Platzer. We'll know by Christmas if the Oilers have any plan for him.
L Ryan Hamilton. AHL only deal, he'll get some time with the big club in camp.
L Braden Christoffer. Final year of entry deal coming up.

L Evan Polei

. Size and skill (6.02, 227 and 33 WHL goals) are intriguing.
L Tyler Benson. Slide rule, may get some pre-season games if healthy.
L Ostap Safin. Size, speed and skill. First Oilers camp on the way.
R Zach O'Brien. May end up being an important player for the Condors.
R Patrick Russell. Scored only 8 times as rookie pro. Needs to fill the net this year.
R Greg Chase. Final year of entry-level deal ahead, has shown only flashes.
R Brian Ferlin. Effective when healthy. Has had substantial injury issues.
R Dave Gust. Small skill winger. AHL deal.
R Chad Butcher. AHL deal, skilled RW played in Medicine Hat 2011-17.
R Kirill Maksimov. High risk skill winger might be a draft steal.

R Trey Fix-Wolansky.

TC invite highly skilled and could make noise in Penticton.
50-MAN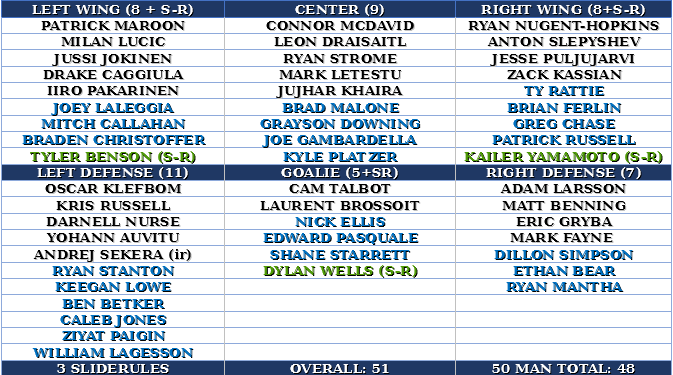 There is room, but not a lot. It's also possible we see the team make a trade in order to make room should the need arise. Peter Chiarelli suggested it would be quiet and that has been the case.