In 2016-17, six forwards spent time in both Edmonton and Bakersfield. Two could be considered organizational depth players deployed in case of emergency (Anton Lander, Iiro Pakarinen), one could be considered as an end of the roll free agent hire for depth (Taylor Beck) and three were legit prospects (Jesse Puljujarvi, Anton Slepyshev and Jujhar Khaira). This season, I see a lot more Taylor Becks and fewer legit prospects due mostly to Edmonton's need for Puljujarvi, Slepyshev and Khaira.
POSSIBLE CONDORS WITH 16-17 5X5 NUMBERS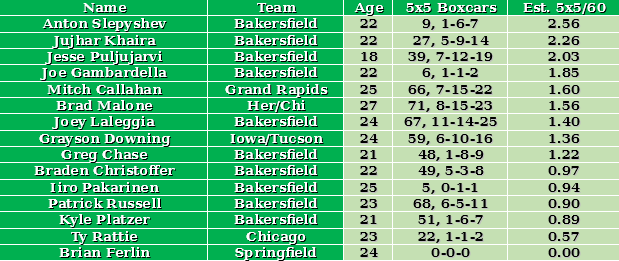 All numbers via Prospect-Stats.com.
Slepyshev, Khaira and Puljujarvi are the top  three performers from a year ago and all are likely to spend much or all of the year in Edmonton.
Two players (Joey Laleggia, Ty Rattie) aren't  well served by these numbers but this is a reflection of their AHL seasons. Laleggia smoked the second half as a LW and Rattie has been an effective AHL scorer for several seasons. Both should be big contributors to the 2017-18 Condors.
Greg Chase and Kyle Platzer enter the final seasons of their entry-level deals. Each would need to improve a great deal in order to earn a second contract. Braden Christoffer is in the same category, although not a draft pick by Edmonton.
There are 15 names listed here. Five played in the AHL with another team last season. Peter Chiarelli is grabbing talent to fill in until Tyler Benson, Graham McPhee, Aapeli Rasanen and others are ready to turn pro.
What about Bogdan?
CONDORS FORWARDS 2015-16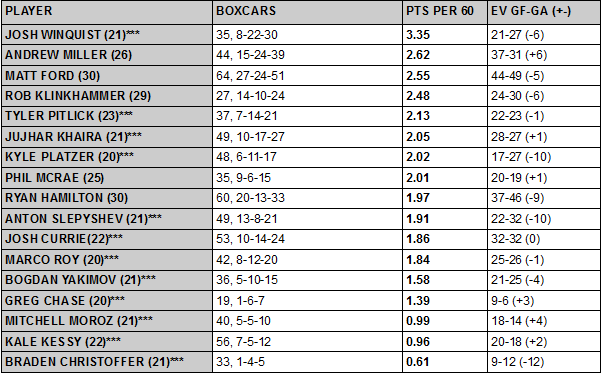 Bakersfield had several AHL veterans and prospects on AHL-only deals, from Andrew Miller, Matt Ford and Phil McRae (veterans) to Josh Winquist, Josh Currie and Marco Roy (AHL-only deals).
The prospects, the signed guys, are mostly at the bottom. Jujhar Khaira and Kyle Platzer are above 2.00/60, this is in all disciplines and estimates courtesy Eric Rodgers.
Bogdan Yakimov left mid-season. Why did he leave mid-season?
BARONS FORWARDS 2014-15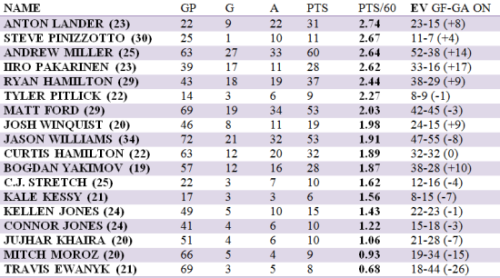 Numbers again Eric Rodgers.
Bogdan Yakimov had a pretty good season all things considered, I wonder if he was more comfortable in Oklahoma City than Bakersfield.
He very well might — still a young player, and lots of time in front of him. Hope he can keep his good start going!

— Patrick C (@ChunkletsHockey) September 4, 2017
BOGDAN YAKIMOV
Bogdan Yakimov is off to a fine start early in the KHL season, and with so very many AHL veterans being brought in it would seem the Oilers should (and possibly are) interested in bringing him back for the 2018-19 season. It would be on an NHL deal (I believe) but Edmonton is going to need value contracts and perhaps Bodgan will be one.
KHL 2013-14 (age 19):

33gp, 7-5-12 (9:55 TOI/game) (58.3 faceoff percentage)

KHL 2015-16 (age 21):

11gp, 3-1-4 (11:57 TOI/game) (59.0 faceoff percentage)

KHL 2016-17 (age 22):

50gp, 3-8-11 (10:10 TOI/game) (51.9 faceoff percentage)

KHL 2017-18 (age 23):

5gp, 0-2-2 (15:00 TOI/game) (62.9 faceoff percentage)
In terms of discussion points, this is a long ranger. That said, Edmonton needs to procure useful players and Yakimov is a giant (6.05, 232) who can win faceoffs and is taking on more of a load in the KHL (a very good league). Will we see him again? We wait.