One year, this was the 1960's, Mom and Dad packed us up and we moved lock, stock and barrel into the interior. We spent time in Penticton and then headed north to Lac la Hache for another couple of weeks. Basically, we camped from mid-June to mid-August. I loved it. At the end of summer, when it came time to head back to the lower mainland (Haney), instead we drove north and west to Burns Lake. It didn't occur to me what was happening, thought it was the third (and less fun) leg of our summer tour. One day in late August, Mom told me Dad found work at the Burns Lake sawmill, I'd be going to school there and we would be staying for the winter. It made no sense to me, home was Whonnock and our place on Thornhill. Thornhill School, Mrs. Norman, all of my friends, gone.
It was my toughest school year, made more difficult because I became a Viscount (Burns Lake school was divided into four groups for sports, including the Viscounts, Dukes, and two similar names so bad I've forgotten them). Burns Lake was fine, but a different place and a difficult time. I missed home so much that winter, it was the first time I'd been away for longer than a few weeks. I thought we'd be back by spring, but we never did go back, never lived in Whonnock again.
That winter, 1968, I began to realize we weren't the jet set. It didn't matter, I loved my Mom and Dad, my brother and I always made our own entertainment anyway. I sincerely believe my imagination and story telling ability came from growing up modest—along with those damnable marathon Jehovah's Witness conventions that cost me every hour of so many summer weekends and inspired a life long affair with daydreaming. Up north that winter, I missed the coast and going to Crystal Pool and the Haney Dairy Queen and Big Ollie's on Dewdney Trunk Road. Part of me is still back there, just up the road from Thornhill School. I think about Burns Lake every fall.
ROOKIE CAMP NOTES FROM THE PAST
September 12, 2014: We love you Oilers. For Christ sakes make this season more fun, would you? Jesus Murphy if a fanbase has earned it, it's us. Be the second squirrel tonight. Be Stan Weir. Godspeed, men. Tonight. Source
Bob do you think Cody Franson signs with the Oilers?

— Karman Gill (@Kgill39) September 6, 2017
Because of Sekera injury/uncertainty, I do believe EDM will add an experienced defenceman: https://t.co/hwiaCuMPBd

— Bob McKenzie (@TSNBobMcKenzie) September 6, 2017
That's an interesting question and response. McKenzie remains the gold standard for insiders and his response to Karman Gill is quite specific. Cody Franson is out there, and we've heard Edmonton is under consideration. We could be talking about Dennis Wideman of course, but this is an interesting turn of events.
PENTICTON ROSTER

I spoke to Guy Flaming about this roster yesterday, when talking about the invites he mentioned 'skill' and 'character'. Guy also said he wouldn't be surprised if Lane Bauer ended up with a contract (AHL?) and once again expressed surprise Sahvan Khaira wasn't drafted this summer. It's an interesting group, my focus during these games will be on Kailer Yamamoto, Joe Gambardella, Ostap Safin and basically all of the defensemen. How many of these kids play an NHL game this winter? I'll guess more than one.
CULLEN'S NUMBERS
If you play fantasy hockey and are looking for excellent projections, Scott Cullen's numbers are here. I think his are the best because they aren't prone to wild spikes in performance but do account for usage. Here are Scott's Oilers alongside my reasonable expectations:

It aligns perfectly, save for usage (I have Leon on McDavid's RW for 70 percent of the season, and have Oscar Klefbom emerging as a big power-play option). Scott's take on the sixth offensive forward is fascinating (a battle between Strome and Jokinen) and as always Cullen's GP totals tell us he is very thorough with his projections.
SLEPYSHEV INJURY
During Bob McKenzie's twitter Q and A he mentioned he had heard Anton Slepyshev was "banged up" and that set off Oilers fans for the afternoon. The big Russian winger is part of an open audition for the two remaining RW spots (Mirror Man gets one, Zack Kassian the second) on this year's team. If you are projecting a fantasy roster, upticks for both Jesse Puljujarvi and Drake Caggiula, plus Kailer Yamamoto's chances of making the team increase. That's how I see it.
PROJECTED ROSTER WITH FRANSON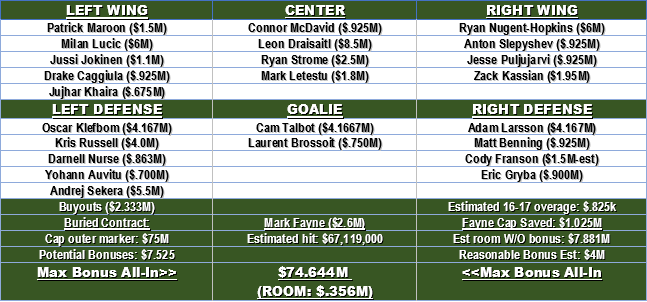 There's room for Franson. I'm projected all bonuses here (that won't happen, Puljujarvi is extremely unlikely to max his totals) and there's still some wiggle room for Peter Chiarelli. One item we need to be talking about once the Slepyshev news becomes clearer? Do we project Ty Rattie or Kailer Yamamoto as next man up?
LOWDOWN WITH LOWETIDE
At 10 this morning, we rock and roll with all the sports on TSN1260. Scheduled to appear:
Bruce McCurdy, Cult of Hockey

. The rookie roster, Cody Franson, Slepyshev's maladies.

Andy McNamara, TSN4Downs.

NFL season gets underway tonight!

Rob Vollman, ESPN & NHL.com

. Franson's value, Jagr to nowhere, the Dallas Stars.

Frank Seravalli, TSN.

Matt Duchene's immediate future, expectations for the Oilers.
10-1260 text, @Lowetide on twitter. Talk to you in 90 minutes!