Based on some of the comments on the blog over the last 24 hours, there's an assumption no one from the Young Stars tournament and rookie camp should be expected to make the NHL team this season. That is well short of accurate. Here are the men who made the Young Stars roster over the last several years and then played in the NHL same season:
2016

: Jesse Puljujarvi, Matt Benning, Drake Caggiula

2015:

Connor McDavid, Leon Draisaitl, Darnell Nurse, Anton Slepyshev

2014:

 Leon Draisaitl, Darnell Nurse, Laurent Brossoit, Bogdan Yakimov, Jordan Oesterle, David Musil

2013:

Oscar Klefbom, Martin Marincin

2011:

Ryan Nugent-Hopkins
Even with the allowance for lottery picks and their likelihood of making the parent team in the fall, these kids can play in the NHL in the season following their appearance at the Young Stars tournament. It is extremely likely to happen this season, despite the absence of a top 10 overall selection on the roster. Look for ridiculous talent, college men and Europeans.
UPDATED 50-MAN ROSTER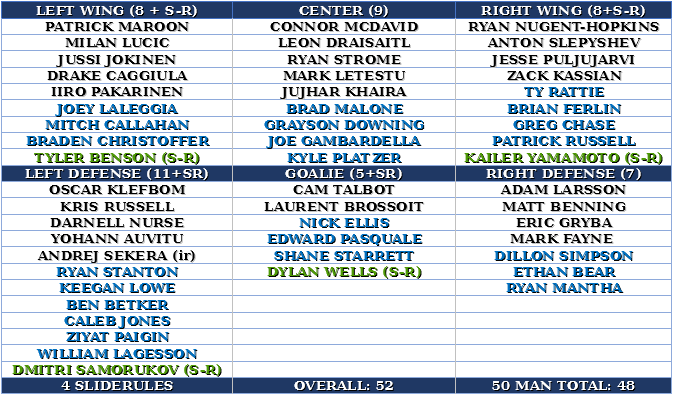 There were two significant developments in the ongoing Oilers roster story yesterday. First, as noted, the signing of Dmitri Samorukov to an entry-level deal. That makes four sliders, which is approaching a meal. The other item was news that Anton Slepyshev is injured and won't be available until the season is underway. That's a big one, and does increase the odds of men like Jesse Puljujarvi and Drake Caggiula playing on feature lines. It may also mean Ty Rattie or Kailer Yamamoto have increased their opportunities to make the big club.
PENTICTON ROSTER

Kailer Yamamoto should be the offensive leader in the tournament, it'll help if the club spends time on the power play.
Shots from the point should remind of the song "(I Love the Sound of) Breaking Glass" with big shots like Ethan Bear, Ziyat Paigin and Ryan Mantha available. I'm hoping for a bunch of 5×4's.
Drake Caggiula's NHLE was 44 points a year ago, Spencer Foo comes in at 31 as he tries to make the Flames roster. Joe Gambardella? 39.5. I don't think Gambardella will get the same kind of push Foo will this year, but this weekend series should be an interesting matchup between the two.
Fans enter the weekend with a plethora of worthwhile prospects to observe but none who will have the main spotlight on them. That's progress.
LE CRAP!
The injury to Anton Slepyshev changes the equation again as we enter training camp. My plan was to run a 'training camp roster handbook' after the invites were announced, but today I'll move up the "RW" portion of the post so we can have it as a starter for discussion. My rankings reflect chances of making opening night lineup.
RIGHT WINGERS ENTERING TRAINING CAMP
C-R Leon Draisaitl, 21. Draisaitl has fantastic natural talent but he also worked on the things that held him back. He was part of a trio that scored 86 goals last season and I think Todd McLellan is extremely likely to return to it. Ryan Strome is also an option here.
R Jesse Puljujarvi, 19. Puljujarvi is an impressive prospect with great skills, it's just a matter of waiting for him to show what he is as a mature player. I bet he gets a major push in training camp.
R Zack Kassian, 26. His foot speed is improved, better than we've seen at any previous point in his career. I feel a little as though we are looking at a brand new player who could surprise.
L Drake Caggiula, 23. He's in the mix to play with 97, meaning he could be in for a massive raise if things break right. Part of "breaking right" are things that occur to help him rise up the depth chart. Slepyshev's issues are such a break, sounds cruel but is fact.
R Kailer Yamamoto, 18. Electric skills and he can score goals. His strength (offense) contrasts with the other hopefuls ahead of him and that's a massive advantage. He has a shot to make the team.
R Iiro Pakarinen, 25. The injury to Slepyshev may also benefit Pakarinen, who projects to be 13-14F based on my estimates. I don't think it will help him move up the depth chart, but McLellan likes him.
R Ty Rattie, 24. He's in an even better spot now, I think his scoring ability is close to the men above him (Puljujarvi, Caggiula, Slepyshev) at this time. Rattie could emerge during training camp.
R Mitch Callahan, 25. Unlikely to break camp with the Oilers, he is a recall option.
R Anton Slepyshev, 23. I still see him as being a big part of this year's forward group, but the injury will impact him and allow others to push for jobs. Damnable luck. Ranked here due to injury.
R Patrick Russell. Scored only 8 times as rookie pro but shot the puck a lot and may have been experiencing a Bermuda triangle shooting percentage. Should play prominent role in Bakersfield.
R Greg Chase. Chase has scoring ability, needs to take advantage of opportunities and find consistency this year. I do think the organization has squeezed him, but have no evidence.
R Brian Ferlin. Effective when healthy. Has had substantial injury issues. A 2011 Bruins draft pick under Chiarelli, expectations should be low as this season may be about working his way back to healthy.
R Chad Butcher. AHL deal, skilled and small RW who scored over 100 points with Medicine Hat. He has high skill, could be the new Josh Winquist.
R Dave Gust. Small skill winger signed to an AHL deal. It feels like he's Joey Benik's replacement but we'll see. All of these new hires are easy to confuse, we'll know more by Christmas.
R Zach O'Brien. Played mostly in the ECHL a year ago, can also play center. Had some titanic offensive seasons in the QMJHL years ago.
LOWDOWN WITH LOWETIDE
A short week means extra fun on Friday, we kick start the weekend at 10 this morning, TSN1260. Scheduled to appear:
Steve Lansky, BigMouthSports. NFL season underway, hockey gearing up, music!
Jonathan Willis. What's going on in Jon's world? Anything new?
Matt Iwanyk, TSN1260. Eskimos v. Stampeders. Is there a chance?
Dan Ukrainetz, CFL Fantasy. Best value this weekend for your fantasy roster.
10-1260 text, @Lowetide on twitter. Friday!