Bob McKenzie sat down with Peter Chiarelli in Penticton earlier this week, and the ensuing 47-minute (!!) interview qualifies as a 'state of the union' address on the good ship Oiler. It's impossible to tackle all of the subject matter in one lash, so let's begin the process today and continue over the coming days. Interview is here.
Peter Chiarelli on the Nuge: "Nuge, we had him on the World Cup team, he is a big part of our team and I'm going to do everything I can to keep him."
Music! It's a tough row to hoe, though. I looked at this awhile back and keeping RNH would require casting Patrick Maroon aside, trading Andrej Sekera (which involves the player agreeing to waive his NMC) and a pile of inexpensive options turning out well. You're welcome to try, this isn't easy. I'm a big fan of the Nuge, hope he stays. The process involved in making it happen is close to impossible with a modest cap increase.
PROJECTED 2018-19 OILERS ROSTER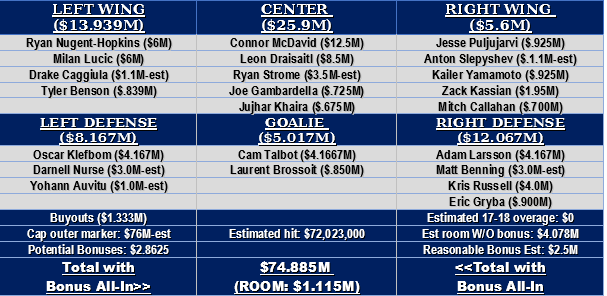 The Canadian dollar is on the rise, there is a new team adding to overall revenue. Outside factors would have to walk in rhythm in order for this to happen, in my opinion.
THE MCDAVID LINE
Peter Chiarelli on McDavid with Patrick Maroon and Ryan Strome (brought up by McKenzie) as a line

: "You've got some good stick skill there, Pat's got some good stick skill, I've looked at a number of lineups, my guess is we'll probably come in, as you say, with that lineup in exhibition. You've got Pat who can grind and can trade pucks, you've got Ryan who can shoot and you've got Connor who can do what he does. They all think the game very well."
This is the "Mirror Man" configuration and a predictable preseason option. The question surrounding this line has to do with chemistry and we can't answer it until they play together. There are multiple reasons why it makes sense, including a lefty-righty center set, meaning each man can handle his strong side faceoffs. Strome's shooting totals have been going the wrong way, but playing alongside 97 may mean a spike.
STROME 5X5 SHOTS PER 60 (CAREER)
2013-14: 9.62
2014-15: 8.63
2015-16: 6.99
2016-17: 6.09
That 9.62 number from 2013-14 is in the range of David Pastrnak and Nathan MacKinnon from this past season. Can he get back there? If you watch the interview, Chiarelli's answer to the question isn't a final final, and of course we realize this thing could go any number of ways. I'll tell you this: Strome in this spot makes a lot more sense to me than the Nuge.
THE ATHLETIC
I've known James Mirtle (online knowing) for a decade, so was interested in the progress of The Athletic from the beginning. I did not anticipate being part of the Edmonton roster of writers, as the template is exclusivity behind a paywall. James reached out to me and we had a discussion about the plan (I am not at liberty to tell you everything but The Athletic is a monster) but will tell you this massive Edmonton introduction is just the beginning. Think big, and then bigger again.
For me, this blog and my presence at Oilers Nation are central to the radio show and they march in lock step. An exclusive paywall presence doesn't work for me at this time. I'm thrilled for the opportunity to write for The Athletic and will be posting my first article there tomorrow (I have a regular Sunday column). I don't tell people how to spend their money but the sheer volume and quality of the writers already announced makes this an attractive site. I will be writing about the Oilers, prospects, draft, same things as we discuss here. The articles will be a little longer, but won't carry exhaustive analytics or get bogged down with verbal diatribes.
For readers and posters at Lowetide and Oilers Nation, nothing changes. I want you to know this community is important to me and hope you continue to drop by and express yourself. It is past one decade now, this little corner of the Al Gore, I've made great friends, learned about the game and enjoyed great opportunities because of it. Pull up a chair, we're just getting started.
GAME ONE, PENTICTON
Very important we don't draw too much from one game, but I thought the best Oilers were Dylan Wells, Kailer Yamamoto, Chad Butcher and all six defenders. That Calgary group was an impressive bunch, pre-game predictions surely would have favored Calgary based on experience (the Stockton Heat have some dandy kids, they're all here). There is another game tonight, I'll post the GDT tonight at 5pm Edmonton time.