We are just getting started down the long road of the 2017-18 NHL season, with all manner of stories cropping up daily. Slashing, the faceoff circle, penalties galore, but the real business to be done at this time is roster population and makeup. Todd McLellan's words about the new rules ring true, but his actions pertaining to the roster are the real heart of the matter this September.
THE 'A' LIST

Anton Slepyshev will be on this list and many others (Ryan Stanton, Ty Rattie, Joe Gambardella) may move up as soon as tonight's game.
Todd McLellan said we shouldn't take the difference between "A" and "B" too seriously at this early point and that makes sense. Still, if you and I were to make a list of what the opening night roster might look like, this would be pretty damned close.
I think the forwards are mostly decided, with Slepyshev's absence allowing some interesting things. Khaira's strong early showing and a nice night for Yamamoto would count in this area.
I hope we get to see Nuge with the Finnish wingers tonight, would also like to see Russell-Benning.
There are likely to be cuts in the next 24 hours, so a game tonight for some of these men may signal a ticket to ride tomorrow morning.
The Jets lineup for tonight looks NHL-ready.
JESSE PULJUJARVI
The coach had generally positive things to say about JP, and I once again liked his game without possession. He can track down opponents who have the puck and gain possession very well. After a decade or more of watching youngsters who have neither the desire, the speed nor the ability to do same, it's a wonderful wrinkle in his game. He needs to get that shot off quicker on the power play.
A year ago, Puljujarvi scored .29 points-per-game, that's a little less than Tyler Seguin (.30) and Ryan Johansen (.31). Mike Fisher is in there too, entire list is here. I don't know how much he's going to score this year, but players in his age range can blossom overnight. Now, that .29 was garnered alongside (mostly) Connor McDavid but the young man likely gets RNH this winter and that's a helluva center. Jussi Jokinen can also guide him.
DRAKE CAGGIULA
Two goals in game one of the exhibition season is a terrific start and Caggiula has some good arrows already. Anton Slepyshev has a malady, Caggiula has Leon as a center and the young man's speed was on display in Calgary. At this point it would be silly to suggest he has locked down a top 6F role but he is first man up and the early results look good. Slepyshev's issue is ankle and that could mean awhile, although Peter Chiarelli suggested it wouldn't keep him out of camp. The hurrier you go, the behinder you get, hope Slepy waits to heal as opposed to coming back to early.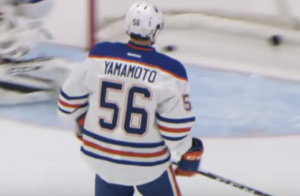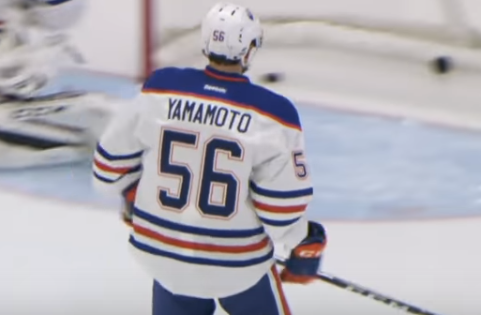 THIS IS THE TIME
If Kailer Yamamoto is going to make a move and secure nine NHL games, a gigantic plot twist probably arrives tonight or on the weekend. What would it look like? Yamamoto is on the plane to Winnipeg with an NHL center on his line, or he slides onto a line with one mid-game. He goes electric and scores a big goal or two and then there's a media live wire for the rest of September. It's a story that can still be crushed, by performance or by management, but it's there, smoldering beneath the moss and thistles.
YOHANN AUVITU
He has the early lead on 7D, and if the officials are going to call things this closely, Auvitu might see action on the third pairing (maybe with Darnell Nurse or Kris Russell). I  watched him some in New Jersey last season while checking in on Taylor Hall, and Auvitu is a creative player who makes strong decisions with the puck. I didn't really see enough of him defensively to make much of a call on him, beyond he seems to bring some chaos.
5×5 points per 60: 0.54 (5th among regular defensemen)
5×4 points per 60: 1.19 (one point in 50 minutes)
Corsi for 5×5 %: 49.8
Corsi Rel 5×5 %: 3.1
DFF Elite 5×5 %: 49.5
DFF Elite Rel 5×5 %:  1.1 (20 percent of TOI v. elites)
Shots on goal/percentage: 54 shots/3.7%
Boxcars: 25gp, 2-2-4
(All numbers via Puck IQ, Stats.HockeyAnalysis.com and hockey-reference)
Small sample size, but enough for us to have a keen interest in him and I do think Peter Chiarelli made an astute signing. A skilled defender, good skater, excellent passer, gets pucks through the forechecker and to the net. He has some chaos in his game, but can scramble back very well. Intelligent player, makes good decisions. I like him. A lot of verbal surrounds wobble in the AHL, but we've heard about players having issues with the lack of structure in the minors, so I'm not completely sold on the idea that minor league struggles exposes him at the NHL level. His track record in the world's best league screams "sign him" and the Devils went another direction. Is that a damnation of player or organization? We wait.
JUJHAR
I wrote a piece on Jujhar Khaira the other day at ON, drawing a parallel between Kyle Brodziak's 2007 fall eruption and the early days of Khaira this fall. I've always felt there's a truly thin line between AHL regulars and NHL fourth liners, and sometimes there's no line at all beyond luck and timing. Brodziak came to camp in 2007 and looked leaner, faster and produced better results from Day One. He had a lot of competition (Sam Gagner, Andrew Cogliano, Marc Pouliot) but pushed and pushed, getting a job as an NHL regular for his hard work.
A job is there for Khaira, and he's producing so far. Jay Woodcroft mentioned yesterday Mr. Khaira is leaner, faster and getting results. If you hang around these things long enough, you see patterns. Perhaps this is one.
LOWDOWN WITH LOWETIDE
At 10 this morning, TSN1260. We're seeing all the sports collide, this is truly a golden time on the calendar. Scheduled to appear:
Darcy McLeod, Because Oilers.

Jesse Puljujarvi's role on the 17-18 Oilers, plus Auvitu's range.

Kent Wilson, Flames Nation.

Calgary's first steps in the exhibition season and how they're fixing the holes.

Keegan Matheson, MLB.com

. It's Baseball America time in Jays Nation.

Jeff Krushell, Krush Performance.

Handicapping the playoffs, and how do Brodziak 2007's and Khaira 2017's find that edge?
10-1260 text, @Lowetide on twitter. 90 minutes till show time! How's my makeup?