And then there were 42. The Oilers roster is pretty much set (I'd guess 20 of 23 names are 100 percent roster locks) but there are going to be some interesting developments over the next two weeks. Nice to see names like Jujhar Khaira, Caleb Jones and Kailer Yamamoto still here, shocking that Patrick Russell remains. These final cuts can be important, as recalls often go in reverse order.
CURRENT TC ROSTER (42)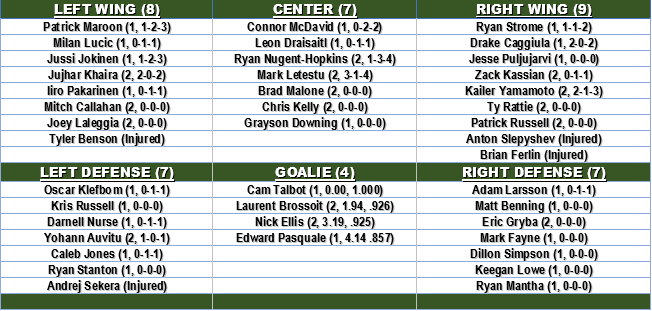 The 12 starters appear set among forwards (first four names on each line) with Anton Slepyshev probably there depending on injury.
Who is the 14th forward? Iiro Pakarinen is always a good guess.
Kailer Yamamoto's presence on this roster tells me he is going to get a full shot at making it. I'm not going to bet against him. Seriously. More in a minute.
You can make a case for the 7D being set, three on each line and Yohann Auvitu. I'll also mention the possibility of keeping 8D to start the season, something the organization does sometimes in October.
The goalie numbers are insane this fall.
YAMAMOTO
All summer long, I've been mentioning the possibility of Kailer Yamamoto making the Edmonton Oilers this fall. Many have called me on it, saying it makes no sense to have such a small forward on the club. Here's what I wrote August 11:
Lowetide blog:

The signing of Kailer Yamamoto last night puts an interesting spin on the RW depth chart this fall. I've mentioned more than a few times the young man has the kind of elite skill set these gifted centers need alongside them. Chemistry is a funny thing, and Kailer Yamamoto strikes me as the kind of guy who is going to push for every inch of daylight made available.

More Lowetide blog:

This is going to be fascinating. Many (most) think keeping Yamamoto for nine games (or more) is full crazy, while others are curious and want to see if he can make an impact. For me, there's zero doubt in my mind Yamamoto can think, skate and create, he has more offensive potential than any other RW coming to camp. The only question is readiness. We wait.
Nothing has been decided, but we're now in the territory where each man is judged by performance. This is a cerebral player who is a demon on the forecheck, can stickhandle in a phone booth and think the game at a very high level. Fascinating story.
There have been preliminary discussions between the Oilers and Maroons agent Allain Roy about an extension. still early but sounds like….

— Ryan Rishaug (@TSNRyanRishaug) September 22, 2017
There is interest on both sides in getting deal done. Maroon coming off career year and on 97's wing again, so term and $ may be tricky

— Ryan Rishaug (@TSNRyanRishaug) September 22, 2017
Peter Chiarelli's aggressiveness is as consistent as sunrise. I can't see the club keeping Nuge as it is, signing Patrick Maroon would make it fait accompli. Here's a recent look at the possible 2018-19 roster: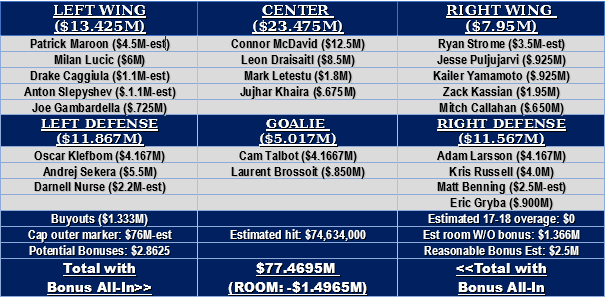 This model has Nuge being dealt (I didn't replace him on this roster, assuming he was dealt for picks or a fantabulous prospect, like a Strome).
It still doesn't work, but is within $1.5M of working and I have six money estimates so maybe PC can squeeze some dollars out.
Maroon's ask will be central to any signing success, his agent won't let him sign a low deal (nor should he) and with another 25+ goal season Maroon should be able to get quite the deal on the open market.
The desire to make a deal mentioned by Ryan Rishaug (on both sides) bodes well, suspect there is a meeting place somewhere.
I like Maroon, he has chem with McDavid and there is some anecdotal evidence he helps 97's performance. That said, pay up the middle, find your bargains on the wings. Will Maroon sign for bargain dollars? Why would Maroon sign for bargain dollars?
The cap has to go up. Light a candle.
TONIGHT
It's a good bet we'll see Jesse Puljujarvi tonight, perhaps Kailer Yamamoto too. One or both of Connor McDavid and Leon Draisaitl, the Swedish pairing, Cam Talbot, perhaps names like Edward Pasquale, Grayson Downing, Mark Fayne, Caleb Jones. I'll have a GDT up at 5pm local unless something breaks before.
LOWDOWN WITH LOWETIDE
Friday! Lots of brilliant sports ahead over the next 60 hours, we'll preview this morning on TSN1260 beginning at 10. Scheduled to appear:
Dave Dawson, Onside CFL Fantasy.

CFL weekend and who you should target.

Steve Lansky, BigMouthSports.

McDavid versus Crosby, Maroon 5?

Matt Iwanyk, TSN1260.

Will Kailer Yamamoto make this team?

Paul Almeida, SSE

. Signing Maroon means spending money on wingers. Wise?
10-1260 text, @Lowetide on twitter. Talk soon!