Every training camp offers its own surprises and this one has been especially entertaining. I'm not certain Peter Chiarelli and Todd McLellan would use the same word but as fans and observers it has been anything but boring this September. It's interesting to look back on past training camps to see what we were talking about at this exact point in time.
September 2013:

Oilers claim Luke Gazdic. Source

September 2011:

Joey Moss introduces the legend of Kirill Tulupov. Source

September 2010:

Entering Hope. Source
Those were fun days, these are better. The Edmonton Oilers are going to be a good hockey club this season, maybe a great one with some luck, good health and a few giant leaps forward from some kids.
THE CURRENT ROSTER
There are 31 names here, four of them injured. If all of these men start the season on IR, it makes getting down to 23 names a lot easier.
The top four lines above (12 forwards) plus three pairings (six blue) and two goalies (two goalies) gets us to 20 names. We need three more.
BATTLE OF THE BLUE
Yohann Auvitu versus Mark Fayne versus Ryan Stanton

. I think Auvitu's speed beats out Fayne's defensive acumen, plus Ryan Stanton's injury robbed him of an opportunity to showcase what he can bring. Seems reasonable to suggest Fayne gets waived, Stanton hits injured reserve and Auvitu wins 7D.
EXTRA CENTER
I'm not sure Brad Malone or Chris Kelly make the roster, but would give Malone the edge. Edmonton is close to 50-contracts and Kelly's addition would give the team another slow forward. I'll guess the club doesn't sign Kelly and also guess Malone is sent to the minors.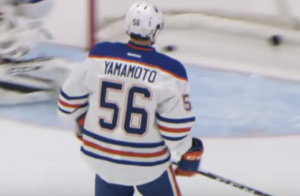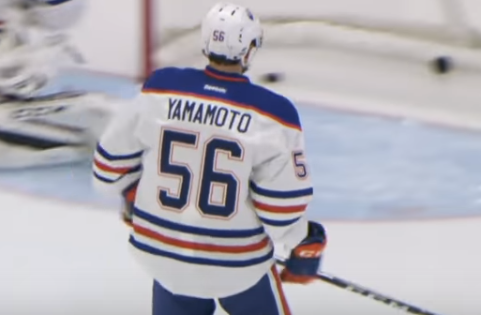 PHENOM CENTRAL
Based on performance, Kailer Yamamoto has beaten Jesse Puljujarvi for an NHL job. This is my opinion. It could be a big deal because Anton Slepyshev is close to returning and that might mean a decision between JP and KY becomes necessary. In a case of this kind, Yamamoto's roster finality (if he is sent to junior, only an extreme injury  run could get him back to the NHL roster) works to the young man's advantage. This is happening, people.
POSSIBLE OPENING NIGHT ROSTER
Patrick Maroon—Connor McDavid—Drake Caggiula
Milan Lucic—Leon Draisaitl—Kailer Yamamoto
Jussi Jokinen—Ryan Nugent-Hopkins—Ryan Strome
Jujhar Khaira—Mark Letestu—Zack Kassian
Iiro Pakarinen, Anton Slepyshev

IR

—Andrej Sekera, Ryan Stanton, Brian Ferlin, Tyler Benson

Bakersfield

—Jesse Puljujarvi, Brad Malone, Mark Fayne

Released

—Chris Kelly
If Jesse Puljujarvi doesn't  win a job inside the top 9F—and he hasn't—then Bakersfield is his destination. Even if Slepyshev isn't ready and has to go on the injured list, seems little point in keeping JP here just to sit in the pressbox. It could happen just this way.
My guess for Flames opening night roster:

Gaudreau-Monahan-Ferland
Tkachuk-Backs-Frolik
Versteeg-Bennett-Lazar
Stajan-Janko-Brouwer /1

— Kent Wilson (@Kent_Wilson) September 27, 2017
The Calgary Flames defense is sublime, goaltending uncertain and the forward group ranges from electric to curious. I'll admit to not understanding the team's final roster decisions (Luke Gazdic is on the team at this point, Andrew Mangiapane is not) and there are some questions about the third and fourth lines. I like Sam Bennett a lot, we'll see how the bottom 6F turn out. I think there are better options in Stockton. By the way, Spencer Foo didn't make the final cut.
LINEUPS
Tonight is a big night for the bubble players. Any player inserted into the lineup this evening is either under strong consideration or has made the roster. Mark Fayne, Yohann Auvitu, Ryan Stanton (if healthy enough) would all love a chance to play tonight. Kailer Yamamoto playing in Saskatoon would also be a tell and if he plays with a top end center then that's an even bigger tell. The player I'm most interested in now is Jesse Puljujarvi. Will he get tonight? If he doesn't, surely Saturday. Right? This would be a fantastic time for the young Finn to get with Jussi Jokinen and Ryan Nugent-Hopkins and post a strong 200-foot game. Problem: Trains run on time, prospects do not. That's a fact.
LOWDOWN WITH LOWETIDE
At 10 this morning, TSN 1260. We're going to have fun and learn things! Scheduled to appear:
Darcy McLeod, Because Oilers

. Yamamoto, Puljujarvi, Carolina.

Jeff Krushell, Krush Performance

. The are monster teams headed for mlb playoffs. How on earth do we handicap this group?

Derek Taylor, TSN

. The CFL playoffs start coming into view, the games are more important than ever and can anyone catch Calgary?
10-1260 text, @Lowetide on twitter. 90 minutes!