"When I think something nice is going to happen I seem to fly right up on the wings of anticipation; and then the first thing I realize I drop down to earth with a thud. But really, Marilla, the flying part is glorious as long as it lasts, it's like soaring through a sunset. I think it almost pays for the thud." 
-Lucy Maud Montgomery
My Mom used to start getting cross around 4pm or so, my anticipation of the (single) Hockey Night in Canada game rising with each passing minute. When the Bugs Bunny show came on at 5pm, my brother would join me and we'd settle in to watch. I never did settle though, because the game was only a few minutes away. All these years later I can still remember the butterflies. Mom would be in the kitchen, Dad would be in the shop straightening nails and throwing them in Rogers Syrup cans (children of the depression wasted nothing, it was a sad and sobering hobby, but I thought he was nuts) and my brother and me would be laughing at the Acme Company. I could never describe my childhood without an elaborate chapter on the Saturday HNIC game and its central role in my week. I watched it all: the game, the intermission, the standings and leading scorers (updated with afternoon results!) and the closing credits. The saddest day of my year came with the final SCF game. The CBC would run the full version of the theme song (da da da DA-UH!) while running a year's worth of credits, and then finally fade and the network would be off to the Whiteoaks of Jalna or some blasted thing.
I loved summer as a kid, and baseball was my passion during those months. By September, I was ready for the increased frequency of The Hockey News at the Rexall Drugs and the scores on the radio. Nothing, not anything, was better than the start of hockey season and another lash at the damnable Habs. In my mind's eye, Bobby Orr remains frozen in time, dashing the hopes of Glenn Hall, Noel Picard and all of the other men not named Bruins.
Hockey is back on Saturday nights. Welcome, friend.
OILERS CURRENT ROSTER
It sounds like we're going to see something close to an opening night lineup, so the top four lines (possibly JP replacing Jokinen), the top three pairings (with Oscar Klefbom's presence a question mark) and Cam Talbot getting the net.
Kailer Yamamoto should have gotten one of the last two preseason games. He is getting both. That's a tell.
Ryan Strome has had the quietest training camp for a new hire since Ben Eager.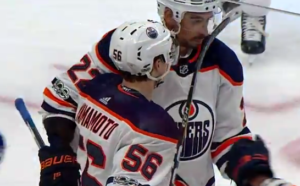 KAILER, JESSE AND THE DUKE
Peter Chiarelli on KY's strong camp:

"I'm mildly surprised but based on what we have seen of him last year in junior, I told Todd he might be challenging at development camp. And he has. He's such a smart player and a sturdy player for his size, great edges and great speed. He doesn't hold on to the puck too long because he's smart. He's done everything to make the team right now." Source

Peter Chiaraelli on JP:

"He's more confident, he's done training in the summer, he's done more explosive training you can see that in his training. He's in a competition now, our team is getting better. Jesse's status, in that he can go to the AHL gives us more options. He can go there, you can pull him back, versus Kailer when you send him down you can't pull him back until his season's done." Source
Same interview has PC saying they've elevated Matt Benning to second pair and he's curious to see how things turn out. Curious is an interesting word.

Peter Chiarelli on Chris Kelly:

"He's performed well. We have to see how these things turn out with Yamamoto and Jesse, and there's a number of other variables. Chris has done well, he's skating better than he did last year. He's a great character, I've seen what he can do in and out of the room."
I think the Chiarelli quote about Yamamoto has iron in it. PC made took special care to mention it wasn't breaking news before stating it, but the possibility of sending JP down and keeping KY in Edmonton is clearly being explored and discussed. Yamamoto is the better offensive player today and that's the need, this much is true.
ROSTER PRESSURE POINTS
Fussy Britches has the Oilers trying to trade Mark Fayne (with salary retained) followed by a Chris Kelly signing. I'll confess to hoping for a Colin Miller trade but suspect the club likes their investment in Yohann Auvitu enough to Let it Ride. So, the roster decisions may go like this:
Injured reserve Andrej Sekera, Anton Slepyshev, Ryan Stanton, Tyler Benson, Brian Ferlin.
Waive Mark Fayne to Bakersfield.
Send Jesse Puljujarvi to Bakersfield.
Sign Chris Kelly.
PROJECTED ROSTER
Patrick Maroon (72, 23-17-40)—Connor McDavid (80, 37-73-110)—Leon Draisaitl (79, 26-58-84)

Milan Lucic (82, 18-28-46)—Ryan Nugent-Hopkins (74, 17-28-45)—Kailer Yamamoto (NR)

Jussi Jokinen (71, 15-19-34)—Ryan Strome (76, 19-21-40)—Drake Caggiula (70, 12-10-22)

Jujhar Khaira (45, 3-2-5)—Mark Letestu (76, 10-10-20)—Zack Kassian (74, 11-14-25)

Chris Kelly (NR), Iiro Pakarinen (10, 1-1-2)

Oscar Klefbom (77, 15-29-44)—Adam Larsson (78, 4-14-18)

Kris Russell (64, 1-9-10)—Matt Benning (71, 6-19-25)

Darnell Nurse (55, 4-12-16)—Eric Gryba (28, 1-2-3)

Yohann Auvitu (29, 3-5-8)

Cam Talbot (64, 2.42 .920),  Laurent Brossoit (16, 2.94 .907)
Complete RE's are here. If the names above hold true, Kailer Yamamoto and Chris Kelly will be the only two men I missed during the reasonable expectations series.
Biggest concern:

The defensive quality and depth. I wouldn't be surprised to see an early season trade.

Second biggest concern:

Penalty kill.

Biggest surprise:

Kailer Yamamoto. I thought he could do it, but this was a massive accomplishment.

Biggest disappointment:

Ryan Strome has been quiet.
This will be the only post today as we return to normal game day format. Would you prefer a morning post and then the GDT later? I think we'll go with tradition but am open to new ideas.