The Edmonton Oilers are still a young team at their heart and we received a timely reminder of same last night in Vancouver. An early goal by Kris Russell perhaps allowed the team to relax and the game that followed was several miles from ideal. A late power-play marker by Ryan Nugent-Hopkins wasn't enough to make up for the mistakes and the club finds itself at 1-1-0 in the wink of an eye.
OILERS IN OCTOBER
Oilers in October 2015: 4-8-0, goal differential -7
Oilers in October 2016: 7-2-0, goal differential +10
Oilers in October 2017: 1-1-0, goal differential +2
WHAT TO EXPECT FROM OCTOBER
At home to: Calgary (Expected: 1-0-0) (Actual 1-0-0)
On the road to: Vancouver  (Expected: 1-0-0)

 (Actual: 0-1-0)

At home to: Winnipeg, Ottawa, Carolina (Expected 1-1-1) (Actual: 0-0-0)
On the road to: Chicago, Philadelphia, Pittsburgh (Expected 1-1-1) (Actual 0-0-0)
At home to: Dallas, Washington (Expected 1-1-0) (Actual 0-0-0)
Overall expected result: 5-3-2, 12 points in  10 games 
Current results: 1-1-0, 2 points after two games
The Oilers come back home to three games that should deliver (by my estimate) three points. Still basically on track for the month, the difference between the team's home and road performance appears to be monumental. Usage by Todd McLellan on the road in Game One was also interesting. The Oilers easily won the possession battle (Natrual Stat Trick has it 47-24, 66.2 percent Corsi for 5×5) but the high danger battle (9-8 Vanccouver) told a different story.
For me, last night's game came down to Connor McDavid's shadow doing a fine job and mistakes ending up in the back of the net. It was extremely similar to the final preseason game against Vancouver, where the Canucks capitalized on mistakes by a better team. One of the things Corsi often gets blamed for is not delivering the whole story, but we know that no single statistic can possibly paint the entire canvass. Edmonton won the possession battle while losing fairly easy exchanges and that's all she wrote.
Lowetide blog, October 17, 2016:

It's possible to have good numbers and get noticed for negative things—single moments and events can have super importance while being exactly single moments and events. Such was the case last night. Source
I wrote that after the club lost an early season game to the Buffalo Sabres, writing "the Edmonton Oilers were going to lose sooner or later, but the Buffalo Sabres were not the team most of us thought would represent the stumble." The Oilers dressed 22 men and one giant can of vapor lock last night in Vancouver. It isn't a tragedy, it's an opportunity missed.
 DEFENSE LAST NIGHT
Kris Russell

scored a goal and picked up an assist, that's the total offense so far by the Oilers' blue. We're early days, but the club will need some production from the likes of Klebfom and Benning before we're through.

Klefbom-Larsson

went 12-8 Corsi events together 5×5, including (this is Larsson) 8-5 with McDavid and 7-5 with Nuge. Duo went 8-5 against Granlund-Sutter-Dorsett. Klefbom hurried a pass to Kris Russell on the second goal against, I'm inclined to give Russell the blame on that, your mileage may vary.

Nurse-Gryba

went 13-3 together including 7-1 with McDavid and 6-5 with Nuge. Pairing went 9-1 against the Sutter line, also 7-3 against Burmistrov-Gagner-Virtanen. Nurse can wheel and get the puck out of the zone and is cutting back on his wayward passing (one last night by my count). Gryba got exposed by some of the Canucks speedier forwards but on the night (he played five fewer even minutes than Nurse) the results were quiet with him out there. Nurse also played 3:43 at 5×5 with Larsson, something to observe.

Russell-Benning

were the highest event pairing of the McLellan era last night and Russell had a moment with Klefbom out there as well. Young Benning lost his man on the first goal, that can't happen because it's basically the only job in that moment. Force the forward wide, he checks up, and we all get in formation. That's not a play that can happen. Russell scored a goal and made a really nice play on the second goal as well, picking up an assist. His dart pass in front of the net for the second goal-against was either extremely unfortunate or careless, doesn't much matter now. The numbers were far better than game one (9-4 Corsi) but the results were not good. Benning getting 10:38 at evens is a tell. Russell also played 1:37 with Adam Larsson.

Cam Talbot

handled the third goal poorly, and I don't think he ever saw the second puck. The first goal I'm inclined to give full blame to Benning on, you don't see that kind of lapse often. Either way, Talbot is a major factor on this team and if he had some wobble last night let's remember what he's done for this team since Christmas 2015.

Laurent Brossoit

looked very good, made some fantastic saves to keep the team in the game. I'm not sure when he gets his next start but that was an excellent game for the youngster.
FORWARDS LAST NIGHT
The biggest mystery for me this morning surrounds usage of Leon Draisaitl. It was fairly obvious that Derek Dorsett was having an impact on McDavid's air, and the screen shots from last night are similar to the Anaheim Ducks series with 97 in the frame. During that series, McLellan checked down Leon to 2C and that line became the feature unit. We didn't see it last night, and I wonder why. The answer could be the new second line.

Maroon-McDavid-Draisaitl

went 20-6 last night (97-29) including 12-3 against Granlund-Sutter-Dorsett. Lines matched for eight minutes, 6-1 edge in shots and 2-1 edge in HD scoring chances (this is all from Natural Stat Trick). I don't think there was a reason for McLellan to get away from this matchup (based on numbers) but the penalty against 97 and early struggles allow us to wonder why Leon wasn't checked down to the second unit.

Lucic-Nuge-Kassian

looked great from here, going 15-9 in about 10 minutes at 5×5 and 9-4 against the Horvat (No. 1 line) in five minutes of work. All three men scored a point, there seemed to be some chemistry. No one likes to lose, but finding a second line that can push a little is a nice result in and of itself.

Caggiula-Strome-Jokinen

are a vanilla group so far, but there's responsibility on the unit and that's not the worst thing in the world. Went 6-3 together, Strome was 5-0 against Sam Gagner's trio.

Khaira-Letestu-Pakarinen

barely skated, going 2-1 together in just over two minutes.
Numbers via NaturalStatTrick and NHL.com.
RAGE IN THE CAGE
I think we're probably past the rage that used to permeate Saturday night losses, and I do think Todd McLellan is finding out about this team. Peter Chiarelli may also be assessing and that could mean something breaks. There's good news (Nuge line) and some disappointment (second pair, single moments still an issue) but it was a 3-2 road loss where most numbers favored the road team. This is not the end of the world. I promise.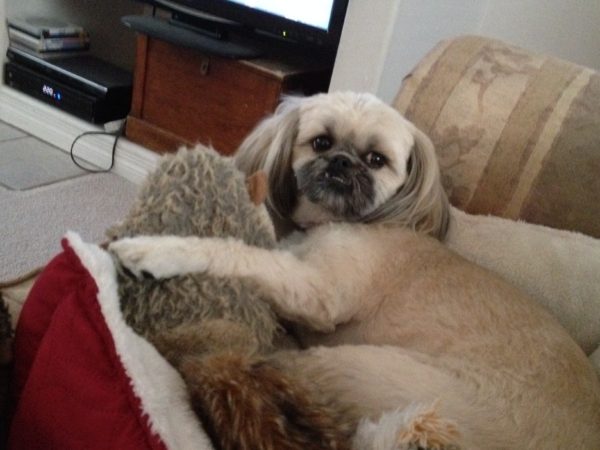 HAPPY THANKSGIVING!
Ziggy woke me up this morning, had to go out and say hello to the snow. She's six now, just turned on October 2. Our girl runs a tight castle, so today will be spent making pies, driving kids to work and picking them up, making turkey, eating turkey dinner, followed by the Lowetide family tradition of staring at a wall after Thanksgiving dinner until sleep carries me away.
Ziggy got attacked by another dog about a month ago, Mrs. Lowetide was on a walk and another dog was playing off leash in a park here in the city. She's okay, but she had some tough times for a couple of weeks. I wanted to go to the park and sit in quiet rage waiting for the dog's appearance, but Mrs. Lowetide refused to come with me, and would not identify the criminal element after being presented with local dog mugshots. Please leave your dog on a leash. I know your dog is special but so is mine and she's 15 pounds.
The kids are fine, they are good people. If you encountered them, I think you'd like them fine. My son is continuing his education while applying for part-time work and my daughter has a job somewhere on planet earth (she may read this and I am under strict orders not to reveal anything pertinent. Things like we listen to a lot of Sufjan Stevens in the car and that she's not sure if she should get a new haircut that includes bangs. I can't tell you that stuff). Mrs. Lowetide remains the best thing that ever happened to me, the Pips nailed it 45 years ago.
I hope you have everything you want right by your side this Thanksgiving. I'm thankful for this family of mine, for the community I live in, for the policeman and the fireman and the teacher and the plumber in my town. I'm also thankful for 97, the Oilers turning the corner and that you find your way to this little corner of the world, either often or time to time. I don't know much about the internet, but I do know that friendships can form across thousands of miles because of it. Thanks, Al Gore, you really are a peach.