What you don't know (unless you were there) is that much of 1960's HNIC viewing involved "getting a good picture" for the game. In places where there was no cable, which meant every place I lived, you had "rabbit ears" on the t.v. and or an odd looking antennae on the roof. This would lead to some hilarious moments. I well remember walking into my Grandma's living room and hearing "STOP! STAND RIGHT THERE!" because the fuzz on the television gave a slightly better outline of Davey Keon as he moved up ice.
If the Leafs were on and Grandma had time for the game, things could get dicey. In winter, the antennae on the roof was a tad moody, meaning Grandpa would have to climb on the roof (in winter!) and adjust. This would lead to dangerous conversations with tempers, spills from the roof (into snow) and one million "I KNOW MARY!" rage screams. The things about the past that stay with you, all because my Aunt wanted to see Jim McKenny.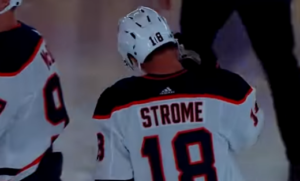 It seems like years since we've been here. The NHL helps women and men who live in the ice and snow keep time with the long march to spring. If I suggest G72 in any given season, and ask for a forecast, chances are anyone reading this would describe March in Alberta—anything from blizzard conditions to a false spring. Long pauses, like the one we just had, are irritating, like the times when we were kids and the bike chain would catch, almost correct, and then fall off the sprocket—thus requiring dismount and tedious (and filthy) minutes of repair. This week in Edmonton, we all got our sprockets in a knot because the town team wasn't playing, and then we found out Leon's got some ills. It's a hard way when you find out the trouble is real.
PIKE'S PEAK, YEAR OVER YEAR OVER YEAR
Oilers in October 2015: 0-3-0, goal differential -6

Oilers in October 2016:

 2-1-0, goal differential +1
Oilers in October 2017: 1-2-0, goal differential -1
There's nothing here that should send you to the rooftops, but after ten years of 'money ran out and the engine blew' I guess we can make allowances for feverish behavior. I was surprised by some reaction to Leon's injury, not sure we should ever take eye injuries lightly at any time. Turns out there was even concussion talk and now we wait and worry.
WHAT TO EXPECT IN OCTOBER
At home to: Calgary (Expected: 1-0-0) (Actual 1-0-0)
On the road to: Vancouver  (Expected: 1-0-0)

 (Actual: 0-1-0)

At home to: Winnipeg, Ottawa, Carolina (Expected 1-1-1) (Actual: 0-1-0)
On the road to: Chicago, Philadelphia, Pittsburgh (Expected 1-1-1) (Actual 0-0-0)
At home to: Dallas, Washington (Expected 1-1-0) (Actual 0-0-0)
Overall expected result: 5-3-2, 12 points in  10 games 
Current results: 1-2-0, 2 points after three games
The Oilers are on pace for 10 points in 10 October games, I projected 12 so the early record can easily be righted with a win tonight and then another four points (three games) in the coming week. The injury to Leon, added to Andrej Sekera's being out, has the Oilers' roster thin in some very important places just as the schedule begins to get busy. I think Todd McLellan will look to his veterans.
PROJECTED LINEUP
The LW-C lineup for the top three lines is falling into place nicely, but RW is building a mystery.

Kailer Yamamoto

is the most talented offensive R,

Zack Kassian

has the most experience and

Anton Slepyshev

is the most intriguing. Everyone has a strong opinion on one or the other, but I never have in terms of this year. If we're talking long term, I have an answer for you. This season? I just don't have a favorite.

Anton Slepyshev

has a howitzer, it makes a funny sound. In that way he is similar to Mark Stone, who also has a heavy shot. You always want a shooter who is prolific, but Stone's rookie year (6.85 shots-per-60 at 5×5) and Slepyshev's (7.41 shots-per-60 at 5×5) are reasonable comparables. I'm not comparing them as players overall, one thing Slepy could learn from the Senators' winger is getting to the net dozens of times a game.

Zack Kassian

has better speed and hands than people think he does, wouldn't count him out as a possibility. I wrote about just that thing at The Athletic last week.
I mentioned Todd McLellan will probably go to the whip with his veterans tonight,

Jussi Jokinen

and

Ryan Strome

are two guys who could really help out with strong performances.

Darnell Nurse

will apparently move up to play with 

Kris Russell

on the second pair, sending at least one Lowetide poster to the ledge with candles! Edmonton decided this summer to run with this group until Andrej Sekera returns, and there are going to be some chaotic nights. Perhaps this is one. The pair had reasonable numbers a year ago but in just 32 minutes (via Puck IQ).

Klefbom-Larsson

may have to play the whole game.

Yohann Auvitu

is slated to make his Oilers' debut, my guess is he will have the most positive impact on the 5×4.

Cam Talbot

has not yet stolen a game for the Oilers this season. Perhaps this evening.
SEAN TIERNEY'S WORK
Sean Tierney does fantastic work (lots of it here) and he often tweets the best stuff you'll read in a specific day about the NHL as a whole and (sometimes)the Oilers specifically. The McDavid line is going to miss Leon until he returns, important not to lose too much of the edge 97 should naturally bring. Tierney is an example of the great works you can find on twitter.
BAKERSFIELD CONDORS GAME THREE
The Condors are running four AHL-only contracts (

Ryan Hamilton, Josh Currie, Chad Butcher, Dave Gust

) and those forwards have been playing a lot.
Meanwhile, NHL-contracts

Braden Christoffer

(one game), Greg Chase (no games) and

Kyle Platze

r (Wichita) are not getting a push.
Defense is a little different, all eight men are somewhat attached to the organization.
I think

Christoffer, Chase, Platzer and Betker

are in tough right now. I've always felt

Greg Chase

had the best chance of that group to make it, this is a big season for all four men.

Platzer

may have an advantage in that he is actually playing in Wichita (train don't run out of Wichita, unlessin' you're a hog or a cattle. People train runs out of Stubbville). He scored 1-1-2 last night for the Thunder (great follow here).
OILERS TEAM STATS
Corsi for 5×5:

56.82 (No. 5 overall)

Fenwick for 5×5:

57.94 (No. 3)

Shots for percentage 5×5:

56.80 (No. 5)

Scoring chances for 5×5:

58.39 (No. 5)

Goals for percentage 5×5:

45.45 (No. 19)

High Danger scoring chances 5×5:

56.67 (No. 9)
MCDAVID WOWY
Oilers overall Corsi for 5×5:

175-133 (56.82)

Connor McDavid on ice Corsi for 5×5:

78-45 (63.41)

Oilers without McDavid on ice Corsi for 5×5

: 97-88 (52.43)
I view those numbers as being a positive. One year ago, McDavid's number was 53.07 (1332-1178) and he closed like a demon on his chances. Without McDavid? Edmonton was 48.38 (2,331-2,487). Early days, but encouraging at sunrise.