In Canadian musical history, there are dozen of songs—Canadian Railroad Trilogy, Snowbird, Helpless, Circle Game, New Mother Nature—that perfectly describe who and what we are. The magic of the Hip comes in the sheer number of songs that speak to us, about us, in our own language. No artist in our lifetime focused so much on the people of this country and the things that bring us together to make us unique. Whoever comes after, has gigantic shoes to fill. RIP Gord Downie. Wheat kings and pretty things, let's just see what the morning brings.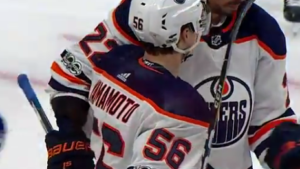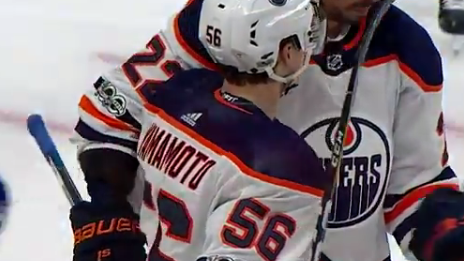 It's possible to have good numbers and get noticed for negative things—single moments and events can have super importance while being exactly single moments and events. The Edmonton Oilers have this habit of getting behind early and not being able to catch up, the club seems to be putting bad single events in an early first period cluster. They'll figure it out, the numbers suggest this team is far better than 1-4-0 and should be a contender this year. I remain convinced the club is auditioning in too many places and it's going to cost them. Will it mean finishing outside the playoffs? That's the calculation being done by Peter Chiarelli this morning.
START! YEAR OVER YEAR
Oilers in October 2015: 1-4-0

, goal differential -5

Oilers in October 2016: 4-1-0

, goal differential +4

Oilers in October 2017: 1-4-0

, goal differential -8
You can't contend with a -8 goal differential in five games, but there's some evidence this Oilers team has been playing in some bad luck. Would you rather have a strong possession team looking for better goaltending and better decisions from veterans, or a team with a better record getting caved in all areas but goaltending?
Can this team hang around long enough to finish strong? By the time Andrej Sekera gets back into the lineup this club might be at 20 losses or more. I'm not suggesting panic in the streets but this team may need a helping hand from the general manager.
WHAT TO EXPECT IN OCTOBER
At home to: Calgary (Expected: 1-0-0) (Actual 1-0-0)
On the road to: Vancouver  (Expected: 1-0-0) 

(Actual: 0-1-0)

At home to: Winnipeg, Ottawa, Carolina (Expected 1-1-1) (Actual: 0-3-0)
On the road to: Chicago, Philadelphia, Pittsburgh (Expected 1-1-1) (Actual 0-0-0)
At home to: Dallas, Washington (Expected 1-1-0) (Actual 0-0-0)
Overall expected result: 5-3-2, 12 points in 10 games 
Current results: 1-4-0, 2 points after five games
We're halfway through the month and at this point the club would have to run the table to meet my stated expectations. The line in the sand (12 points in 10 games) isn't a terribly high bar but the formula of one year ago isn't working. Connor McDavid is on a pace to score 98 points (100 a year ago) so he's living up to his end of the bargain. The goaltending? The group allowed 207 goals in 2016-17, they will allow 312 if they continue along this road all year. Andrej Sekera may be returning to sad state of affairs.
DEFENSE, LAST NIGHT
Nurse-Larsson

went 9-10 together after Klefbom was moved down the depth chart. Nurse went 6-7 against Teravainen-Staal-Williams, Larsson 4-7. Nurse looked like he was hurt at the end of the second period but returned for the third. Something to keep in mind for Thursday, sometimes those leg issues become a factor.

Klefbom-Russell

went 6-5 together in around six minutes together. Klefbom was 2-4 with Larsson. Russell picked up another assist on a really nice play (pass to Jokinen) and is now 1-2-3 on the season. Looks like he's going to get power-play time (4:31 last night) when Matt Benning isn't in the lineup. I thought Auvitu would be a better option but Russell got the nod. Oscar is having a tough run here, might need to back him off a little until he finds his game.

Auvitu-Gryba

were 19-5 together, complete rage in the cage in possession. Gryba went 9-4 against the Skinner line. Auvitu's Corsi is ridiculous, he was better last night but there's a lot of chaos.

Laurent Brossoit

stopped 16 of 21, I don't think he was especially sharp. I can agree they were 10-bell chances but you need the goaler to save you sometimes and it didn't happen.
Numbers via NaturalStatTrick and NHL.com.
FORWARDS
Connor McDavid

seemed to kick out the jams in the second period and get himself into the game. I suspect he'll be giving defensemen fits on the road trip. I'm reading things like 'he's not right' but six points in five games has him on track with last year's total and his line is the one kicking out the jams every night.

Patrick Maroon

took a dumb penalty and got benched, think he was more involved afterward and had a couple of nice chances. He needs to find the range.

Kailer Yamamoto

earned another game and really unleashed some shots last night. I don't know if he hangs around all year but my goodness he's a talented young player. Slepyshev is coming on now, we'll see if Leon makes the road trip.

Zack Kassian

barely played. Flu?

Ryan Strome

had easily his best game. Not even close. Fabulous goal and an even better assist.

Jussi Jokinen

has joined the battle. Flat out lovely pass for the Strome goal.

Anton Slepyshev

is finding the range now, suspect we'll see him move up the depth chart soon.

Milan Lucic

made a poor decision on the power play that was the back breaker in the game, scored a nice goal later in the third period.

Brad Malone

played well enough to get another game, bad news for Jujhar Khaira.

Iiro Pakarinen

also played pretty well, suspect we'll see him in the lineup on the road trip depending on the health of Leon Draisaitl and Drake Caggiula.

Mark Letestu

scored on the power play. He's going to get a good contract next summer  if he can pop 16 goals again this season.
HAMMER TIME
I'm not going to hammer on this team today. For me, much of the story has to do with single events becoming major stories in-game. The bigger picture, the part that has come to be known as process, looks strong for this team warts and all. You can't pull Leon Draisaitl and Andrej Sekera out of a lineup and remain complete, and you can't win when the opponent's goalie is better than your man. I don't know that the Oilers are going to win the division or even make the playoffs, but do know they are better than their record as we stand here today.
If we're looking for a fix, that's where Peter Chiarelli comes in. As stated many times on this blog, I don't agree with the massive number of auditions for what should be a contending team. Darnell Nurse/Matt Benning in a top 4D role, Yohann Auvitu as a regular, Kailer Yamamoto in a feature role, full auditions for Anton Slepyshev and Drake Caggiula.
This team is 1-4-0. All of the clubs Edmonton is chasing will have similar two week runs during the season. The key for the Oilers is to arrive at Game 20 with 10 wins. I don't know if they can get there without some help from the general manager. 2RHD, 2R. The song remains the same. Oscar Klefbom, Patrick Maroon, Milan Lucic, all of these men did things that cost the team last night, but they also need to be part of the solution. I don't think these men are lazy and don't believe they forgot how to play the game. Sometimes nothing rhymes for a reason, but the only one I buy this morning is this team has too many auditions happening at the same time. I don't think challenging the heart of this team makes sense in any way. It's not about the heart, it's about what's knocking around in heads.
LOWDOWN WITH LOWETIDE
At 10 this morning, a melancholy day for all Canadians. Dammit Gord Downie. Scheduled to appear, TSN1260:
Darcy McLeod, Because Oilers

. Last night's game and what should Peter Chiarelli do?

Yukon Jack, 100.3 The Bear.

RIP Gord Downie.

Derek Taylor, TSN.

The CFL playoff picture is coming into view. Is this the year crossing over works?

Minnia Feng, The Athletic

. Minnia wrote an article about Kailer Yamamoto and his love of the game. We'll chat about it.

Jeff Krushell, Krush Performance

. Damn Yankees!
10-1260 text, @Lowetide on twitter. 90 minutes!