The Oilers play their final game of the month this evening, the high-flying Washington Capitals in for the annual visit. For Edmonton, a win tonight would represent a terrific recovery after a slow start to the year. In the last four games against Chicago, Philadelphia, Pittsburgh and Dallas, the team went 2-1-1. A win tonight? That would be a substantial close.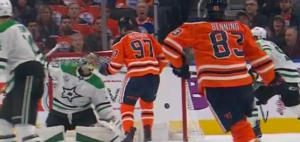 PIKE'S PEAK, YEAR OVER YEAR
Oilers in October 2015: 3-6-0, goal differential -6
Oilers in October 2016: 7-2-0, goal differential +10
Oilers in October 2017: 3-5-1, goal differential -8
Todd McLellan spoke with a worried mind in preseason, fretting over a team that had perhaps forgotten how difficult it was to win just one year ago. One suspects the roster has been suitably scared straight and some things have been going the Oilers way (a loss by Calgary last night helps) for the last few days.
WHAT TO EXPECT FROM OCTOBER
At home to: Calgary (Expected: 1-0-0) (Actual 1-0-0)
On the road to: Vancouver  (Expected: 1-0-0) 

(Actual: 0-1-0)

At home to: Winnipeg, Ottawa, Carolina (Expected 1-1-1) 

(Actual: 0-3-0)

On the road to: Chicago, Philadelphia, Pittsburgh (Expected 1-1-1)

 (Actual 1-1-1)

At home to: Dallas, Washington (Expected 1-1-0) (Actual 1-0-0)
Overall expected result: 5-3-2, 12 points in 10 games 
Current results: 3-5-1, 7 points after nine games
I go back to that Vancouver game as a turning point, and then (possibly) the Chicago game swinging things the other way. You never know how many twists and turns you'll see in a long season, but this year feels like a love (and hate) rollercoaster already.
DEFENSE, 2017-18
The Oilers have played nine games this season, the defensemen have posted three goals and eight assists, with  combined 113 shots. Source
A year ago, after nine games? One goal, 13 assists and 63 shots on goal. Source
What does it mean? Hell if I know, Oilers are shooting a lot from the point but the results (including all disciplines) don't seem to be worth all those extra point shots. We'll check the forwards in a minute.
The possession numbers (Corsi and Fenwick) all look good from here, the

Klefbom-Larsson

pairing is getting a lot of workand doing well (Larsson's SA/60 at 5×5 is a little higher than Oscar's).

Darnell Nurse

is getting a lot of love, if he can post 1.31/60 scoring at 5×5 and post good possession and SA/60 numbers throughout the season we're going to have a helluva story.

Cam Talbot

is No. 16 among NHL starters with a .922 even-strength save percentage. He ranks No. 26 among the same group of goalies against the opposition's power play.
FORWARDS, 2017-18
The Oilers have played nine games this season, the forwards have posted 17 goals and 26 assists, with  combined 224 shots. Source
A year ago, after nine games? 28 goals, 29 assists and 203 shots on goal. Source
What does it all mean? I bet it has to do with shooting percentage.

Leon Draisaitl

is killing it at 5×5 and not pissing a drop 5×4, suspect those two things level out in the coming days.

Patrick Maroon

is on a hot streak right now, the Oilers were rumored to be interested in signing him (and Maroon wanting to stay). Jason Strudwick mentioned contract on the Jason Gregor Show yesterday, it's something to keep in mind.

Connor McDavid

ranks No. 20 in even-strength points among NHL forwards this season, expect he'll climb that list as he catches up in GP. He was 2.88/60 5×5 scoring last season, he's 2.59 now. With Leon Draisaitl back, that number should climb.

Milan Lucic & Ryan Nugent-Hopkins

are over 2.00/60 5×5 scoring, that's a very good sign. If Ryan Strome can join them, the Oilers will have two productive offensive units.
There are two goals total from  the men we associate with bottom 6F, both from Mark Letestu. That's going to have to change.
TYLER BENSON
Six shots and a goal in his return. That's good but the key is staying in the lineup. Good to see him back playing. Nice shot. If you aren't following Edmonton Prospect Watch on twitter, you should be. Top drawer.
Tyler Benson | 1 Goal -vs- Prince George | Oct. 27th, 2017 https://t.co/fRxsW8JJeN via @YouTube

— Matt Mosewich (@EDMFutureWatch) October 28, 2017
OILERS FORWARDS 5X5, YEAR OVER YEAR
Every once in awhile I'll read in the comments section "Connor McDavid isn't at the same level as last year" and I thought it might be an idea to have a look. There's no doubt 97 is getting more attention and taking more of a beating, that fact partly due to his opponents (the Ducks) getting away with murder in the playoffs.
For our purposes, visuals have great value but we should be able to see it in the math. If McDavid is struggling, or playing a less effective game, then we should be able to see it in the boxcars. I discounted the power play, we know that's in the ditch and may or may not have something to do with shots from the point.
The 5×5 is my main point of interest. If McDavid had one more 5×5 point this season, in the same TOI, his 5×5/60 scoring number would be 3.02/60. He's fine, I'd suggest to you his linemates inability to cash goals has been doing far more harm than anything Mr. McDavid has been doing.
One final thing: Just because you don't see him flying up the ice in patented McDavid fashion every shift doesn't mean he isn't playing well. Clean air can only be used when it's available and teams are forcing 97 to adjust. The fact he's scoring at close to last season's rates at 5×5 tells me his workaround is working. It may not be as exciting to you, and it may lead you to believe Connor McDavid is less effective this season because the breathtaking moments don't occur against as many teams as one year ago. I'd submit the issue is you. McDavid is finding a way to be ridiculously effective, even as opponents adjust to his brilliance. Pretty sure.
PETER CHIARELLI
On the day Peter Chiarelli took over the Edmonton Oilers, the team was very poor in some vital areas. Goaltending and defense were areas that needed to be addressed and the prospect pool was below average. Ben Scrivens was the starting goalie, the NHL defense boasted Nikita Nikitin, Justin Schultz, Mark Fayne and Andrew Ference.
50-MAN AT TIME OF ARRIVAL
50-MAN TODAY
I'm not going to go over Peter Chiarelli's moves chapter and verse, but there's zero doubt some of his trades have been poor. Taylor Hall for Adam Larsson gets mentioned less often now, with the two draft picks for Griffin Reinhart rising like a Phoenix. In both cases, I posted at this blog at the time about the deals, mentioning the impact of the Reinhart deal several times.
Lowetide blog: In terms of value, Peter Chiarelli gave up too much. Reinhart—if everything works out—projects as a second-pairing guy and the price paid was dear, too dear. Oilers fans will grind themselves into a fine white powder on this issue, I choose not to do it. Source
It was known at the time that the price was too dear, and those who are pointing it out today are absolutely correct in their assessment. Here's the thing: If you are arguing the Hall and Reinhart trades within the context of the overall work by PC, then it's fair game. A "good" and "bad" ledger should produce an interesting discussion, with names like Cam Talbot and Patrick Maroon offering balance and depth to the conversation.
I would encourage you to insist on discussing the entire record. If you are engaging someone who refuses to look at the complete record, the best idea is to drop them. I believe most fair minded people, be they fans or bloggers or just interested observers, will have no issue with looking at the track record. If they don't, then refuse to engage. You are speaking to someone who has lost the ability to see the complete picture, you are pissing in the wind. Don't waste your time, life is too short. Enjoy Tabernac Saturday!