The mood for tonight's game and the rest of this week may depend on how you feel about the Edmonton Oilers. This blog has many readers who are all-in on this club, others who are still on the bandwagon but have scouted an escape route, those who have a laminated 'the sins of Peter Chiarelli' single sheet of foolscap (both sides), and those who believe Todd McLellan is running Leon Draisaitl with Connor McDavid out of spite. Red means run, son, and numbers add up to nothing.
PIKES PEAK, YEAR OVER YEAR
Oilers in November 2015: 1-0-0, goal differential +2

Oilers in November 2016:

 0-0-1, goal differential -1

Oilers in November 2017:

0-0-0, goal differential nil
Edmonton is far enough behind the pack for us to talk about missing the playoffs at this time. Another month like October, and we'll be talking 2018 draft, offloading Patrick Maroon and who would be willing to waive their NMC clause at the deadline. This is a make or break month, something we didn't see at all during the regular season one year ago.
WHAT TO EXPECT FROM NOVEMBER
At home to: Pittsburgh, New Jersey, Detroit

 

(Expected: 2-1-0)

 (Actual 0-0-0)

On the road to: NYI, New Jersey, NYR, Washington

 

(Expected: 1-2-1)

 (Actual: 0-0-0)
At home to: Vegas, St. Louis 

(Expected 1-1-0)

 (Actual: 0-0-0)

On the road to: Dallas, St. Louis, Detroit, Buffalo, Boston

 

(Expected 2-2-1)

 (Actual 0-0-0)
At home to: Arizona, Toronto 

(Expected 1-1-0)

 (Actual 0-0-0)
Overall expected result: 7-7-2, 16 points in 16 games 
Current results: 0-0-0
I have tonight as a loss, meaning the Oilers would go into the game against New Jersey at 3-7-1 for the season. If the club then loses to Taylor Hall and the New Jersey Devils, suspect I'll be banning the whole damn bunch of you by noon Saturday. This week could melt the blog.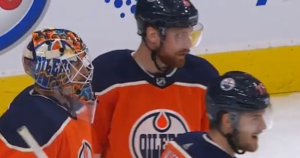 D-FENSE
Todd McLellan looked at a lot of defensemen during training camp, auditioning several players late into the preseason.
CUTDOWN DAYS, OILERS CAMP (BLUE)
September 21: Ethan Bear, Ben Betker
September 23: Caleb Jones, Keegan Lowe, Ryan Mantha
September 26: Dillon Simpson
October 1: Mark Fayne
Edmonton placed Andrej Sekera and Ryan Stanton on injured reserve and the final seven were set. Most of us felt Todd McLellan would deploy the defense in a specific order at even strength: Big minutes for the top pairing of Oscar Klefbom and Adam Larsson; prominent minutes for second pairing Kris Russell and Matt Benning; a third pairing of Darnell Nurse and Eric Gryba; seventh man Yohann Auvitu. Is that how it's rolling out? Let's have a look.
TIME ON ICE, 5X5, DEFENSE
Oscar Klefbom—Adam Larsson

have been playing big minutes again, about 18 per night at 5×5. There have been struggles for both men and it looks like we'll see them line up with different partners this evening. Still, as expected, the Swedes are playing a lot.

Darnell Nurse—Eric Gryba

appear to be going in opposite directions early in the year. Nurse has seen his time on ice increase on merit, in fact he's been moving up the depth chart. Gryba has been playing a lot, but more than one minutes less per game than one year ago. The big question: Can Nurse handle this prominent role for the entire year?

Kris Russell—Matt Benning

are both off quite a bit, Benning 49 seconds a game and Russell over three minutes. When you see that kind of dive (Russell), it's reasonable to wonder about injury. In the Washington game, Russell played No. 5D minutes at evens, and only 27 seconds beyond his 5×5 time. Nurse is emerging, but Todd McLellan can also move Russell over to RH side and that's the play here based on his previous usage. Either way, if Russell plays No. 5D minutes at evens tonight, we have a story: The big free-agent signing of summer is heading to the fringes of the roster.
THE TRUTH IS OUT THERE
Elliotte Friedman: "I do think that Peter Chiarelli has a lot of balls in the air." Source
If Edmonton can catch Matt Duchene, Chris Kreider or 1984 Mark Messier by trade route, then I'm absolutely interested. However, at this time of year trades are usually about moving a player who has cratered so badly (Devan Dubnyk for Matt Hendricks) the general manager is willing to make a 10-cents on the dollar deal. The numbers (we'll look in a minute) suggest regression will be a friend, we do not know the hour or the day.
LINES AND PAIRS SHUFFLING
Patrick Maroon—Connor McDavid—Leon Draisaitl
Milan Lucic—Ryan Nugent-Hopkins—Kailer Yamamoto
Drake Caggiula—Ryan Strome—Anton Slepyshev
Iiro Pakarinen—Mark Letestu—Zack Kassian
Darnell Nurse—Adam Larsson
Oscar Klefbom—Matt Benning
Yohann Auvitu—Kris Russell
Cam Talbot (Laurent Brossoit)
LINEUP NOTES
Line shuffles can work well and I do like a few things from this group (via practice on Monday).

The No. 1 line

is power v. power. In the away game versus Pittsburgh,  McDavid was 10-2 against Rust-Malkin-Kessel, 9-11 against Guentzel-Crosby-Sheary.

The No. 2 line

was also active in Pittsburgh, trio (which included Ryan Strome) went 6-7 against the Malkin line and 5-3 against the Crosby trio. This was the night Nuge was sending gorgeous come hither passes to the wrong uniforms and Lucic firing one mile wide in overtime (which led to a jailbreak and gobble gobble death).

The new No. 3 line

has some promise, with Ryan Strome returning to his best position. He has two wingers who badly need to score (haven't scored in a game that counts since the playoffs) and at some point  one or both (it's Slepyshev) will be entering the last chance Texaco.

The No. 4 line

confirms Jussi Jokinen is deep undercover or in the doghouse. It's the need for speed.

Adam Larsson

wasn't at practice yesterday, something to monitor.

Yohann Auvitu's

possession numbers have been good, not certain about the projected third pairing.

Cam Talbot

can't let in any soft goals. Edmonton's playoff berth was gained partly due to his exceptional consistency one year ago.
THE NUMBERS
Goals-for per game

: 2.20 (No. 31)

Goals-against per game

: 3.30 (No. 23)

Power-play percentage:

12.1 (No. 29)

Penalty-killing percentage:

70.3 (No. 30)

Shots per game:

37.7 (No. 2)

Shots against per game:

31.0 (No. 9)

Shooting percentage:

5.8 (No. 31)

5×5 Corsi for percentage:

57.04 (No. 1)

5×5 Fenwick for percentage:

57.24 (No. 1)

5×5 Shots-for percentage:

56.41 (No. 1)

5×5 Goals-for percentage:

47.06 (No. 21)
If these numbers were posted by an analytics darling, say the Carolina Hurricanes, I expect the verbal would be a lot about "can you believe the luck?" or "when this turns around all those good decisions are going to shine" on this blog and on other social media. However, due to the fact we are talking Edmonton Oilers, the headlines are running in a different direction. Why is this the case?
LOWDOWN WITH LOWETIDE
At 10 this morning, TSN1260. There's too much to talk about! Fabulous lineup, scheduled to appear:
Darcy McLeod, Because Oilers

. Why is Todd McLellan stubbornly clinging to Leon on RW? Also, five of Edmonton's forwards have a 5×5/60 scoring number over 2.00. What kind of player should be the sixth?

Jeff Krushell, Krush Performance

. What a World Series! It had to go seven!

Matt Cauz, CFL.ca

. Team nominees for awards today and who is the favorite to win the Grey Cup?

Steve Kournianos, The Draft Analyst.

A quick check on the 2018 NHL entry draft.
10-1260 text, @Lowetide on twitter.