The Edmonton Oilers are a team in the National Hockey League. That effort yesterday at Rogers Place has to be a concern to the organization. Have they tuned out the coach? Is the team sagging because the home cooking goaltending is subpar? Watching the Oilers body language after the second GA was like watching the Philadelphia Phillies after Mitch Williams walked the based loaded: Shoulders sagging, impending doom. This isn't even mostly on the goalie, but the Edmonton Oilers simply aren't right and that's one area (home G) of concern.
If we continue with the early malaise, perhaps we see something rash, but this is the absolute worst time to make a move. While we're on the subject, I do not believe the coach (or general manager) are in danger. The 103-point season buys Peter Chiarelli and Todd McLellan the rest of this season and into next, in my opinion, and the general manager gets at least one more coach before he's through. The next big name out of town is a lefty blue, pretty sure.
Todd McLellan: "We worked hard for two years to get (the belief system) up. It's being tested and we have to put some performances together."
PIKES PEAK, YEAR OVER YEAR
Oilers in November 2015: 1-2-0, goal differential -1

Oilers in November 2016: 1-1-1, goal differential -3

Oilers in November 2017: 1-2-0, goal differential -2
As we've discussed a few times, 2017-18 is beginning to resemble McLellan's first season in Edmonton. During the post game he discussed it (quote above) and it appears we are repeating Groundhog Day.
AFTER 13, YEAR OVER YEAR
Oilers 15-16: 5-8-0, goal differential -5
Oilers 16-17: 9-3-1, goal differential +8
Oilers 17-18: 4-8-1, goal differential -13
Edmonton's start in 2017-18 is now officially the worst of Todd McLellan's run in Edmonton and that has to be of concern to coach, players and management. The home record is ghastly, the team is heading on a road trip that traditionally rips them a new one, and there's so very little to build on based on the home stand just ended yesterday. This isn't Nadir's Raiders, but you can see Bonnie Raitt from here. Incredible to see this after a 103-point season.
WHAT TO EXPECT FROM NOVEMBER
At home to: Pittsburgh, New Jersey, Detroit (Expected: 2-1-0) 

(Actual 1-2-0)

On the road to: NYI, New Jersey, NYR, Washington (Expected: 1-2-1) (Actual: 0-0-0)
At home to: Vegas, St. Louis (Expected 1-1-0) (Actual: 0-0-0)
On the road to: Dallas, St. Louis, Detroit, Buffalo, Boston (Expected 2-2-1) (Actual 0-0-0)
At home to: Arizona, Toronto (Expected 1-1-0) (Actual 0-0-0)
Overall expected result: 7-7-2, 16 points in 16 games 
Current results: 1-2-0, two points in three games
I'm feeling like my prediction of 7-7-2 for November may have been too strong, but we'll run with it anyway. Edmonton's eastern road swings have often involved trades and demotions, I think it's fair to wonder if we see something change on the roster before or during the trip.
LAST NIGHT
Klefbom-Benning

went 22-11 including 10-3 with Mark Letestu's line, 9-2 with Strome line. Pairing went 9-5 against Helm-Nielson-Wilson on the evening.

Nurse-Larsson

were 25-21 and 0-1 in goals at 5×5. Went 7-12 with McDavid's line, were 9-19 against Larkin-Abdekader-Glendening.

Russell-Gryba

were 14-9 and 0-2 in goals at 5×5. Were 7-4 with the Strome line and 10-7 against Zetterberg-Tatar-Andreas Athanasiou line (in  7:25). Huh. That's Detroit's second line, no? Interesting.

Cam Talbot

stopped 31 of 35, .886 on the evening.
NaturalStatTrick and NHL.com.
LAST NIGHT, FORWARDS
Jokinen-Strome-Caggiula

had the best possession number, but were -2 and 10-2 SC on the evening. Unimpressed by coverage from the line, specifically Strome (and Jokinen tried but the veteran can't get there). Went 11-2 against Mantha, 0-1 in GF.

Pakarinen-Letestu-Kassian

were 20-10 and had some looks, honestly I thought this line was pretty good. Kassian tried the backhand wraparound 20 times and I swear as God as my witness he broke his stick, looked at it, and played on using his skates but not throwing the stick away. The look on his face was like "screw it, maybe I'll need it later." Never seen that, ever. Not even Pierre Bouchard, who needed his stick to skate.

Lucic-Nuge-Yamamoto

was the best of the skill lines, that is meant as faint praise. Naturalstattrick had the line 6-1 in HDSC's, that seems high but the kid had a fine chance to cash and I was rooting for him.

The McDavid line

was poor. You are never going to read this blog's author rip 97, it's just not going to happen. That said, he was not close to being the player we know and expect. Why? Flu, tight checking, the list of possibles is fairly long. 2-7 in HDSC's, Henrik Zetterberg owned this line's ass from Genesis to Revelations.
ERIC RODGERS NUMBERS
We are blessed to have Eric Rodgers running the numbers for the AHL Bakersfield Condors again this season. Eric began doing this back when the farm team was in Oklahoma City, and just kept on going God bless him.

Sincere apologies for the look, I'm color blind and it looked good in the studio. Gack! Anyway, it shows Dillon Simpson, Keegan Lowe, Mark Fayne and Ryan Stanton are the backbone and that Ethan Bear has the early clubhouse lead among the kids. Caleb Jones is struggling, we'll look for improvement days gone down.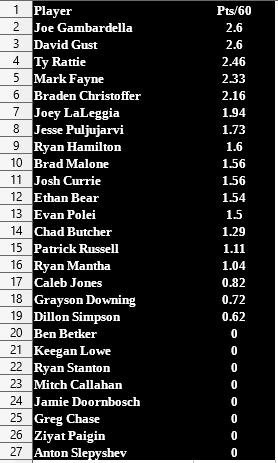 These numbers are based on Rodgers' TOI estimates, we'll drill down on those in the coming days. Interesting to see Joe Gambardella performing well so far, he's a player we discussed as being a possible recall option in the summer. Jesse Puljujarvi's offense is middling so far, among prospects I'd count Ethan Bear as having the most impressive number. Braden Christoffer is off to a surprising start.
https://twitter.com/SportsnetSpec/status/927308545686568961
The single biggest reason to sign Chris Kelly is the penalty kill. A year ago in Ottawa, Kelly's on-ice SA/60 on the PK was 50.14. That number ranked him No. 3 among regular penalty killers (Pageau, Turris) and he replaces Matt Hendricks from a year ago (49.11, Hendricks was No. 3 among regular PK men as well last season).
The single biggest reason not to sign Chris Kelly is foot speed. Edmonton is slow, too slow, and Kelly is going to add more slow boots to the closet. You are going to find all manner of issue framing on the Al Gore today, the collective are carrying shivs and that's fair based on 4-8-1. I'm not one of those who will say "the speed is gone, it's over and we are dead in the ditch" because roster balance is reachable for this team. That said, adding another slow train isn't a good answer and that probably means someone slow is going to sit (it might be Jussi Jokinen).
YAMAMOTO TO SPOKANE?
It makes sense. A fine young forward, he's not ready. It's time for the veterans to turn face to the wind, and time for this young man to dominate junior hockey one more time. We'll see you in 2018, Kailer Yamamoto. I'm astonished at just how similar his season was to Leon's and Jesse's: 10-bell chances uncashed, plenty of promise throughout the piece.
Hearing #NHLBruins F Frank Vatrano's name a lot in trade chatter. @MurphsHockeyLaw #NHLTradeRumors

— MurphysLaw74 (@MurphysLaw74) November 5, 2017
The Boston Bruins fired Peter Chiarelli on April 15, 2015. One of his final moves was signing Frank Vatrano one month previous to being dismissed. In 92 NHL games, Vatrano has 18 goals, and brings speed plus a good shot to his game. I wonder.
LOWDOWN WITH LOWETIDE
At 10 this morning, TSN1260. A lot to talk about and a grand group of guests. Scheduled to appear:
Pierre Lebrun, TSN and The Athletic

. Massive three-way trade and what's next for the Oilers?

Guy Flaming, The Pipeline Show

. What did the Avalanche get?

Jason Gregor, TSN1260

. Oilers & Eskimos discussion, might be a move to discuss by then.

Andy McNamara, TSN

. A fascinating weekend in the NFL.
10-1260 text, @Lowetide on twitter. See you on the radio!